If you have not watched Once Upon A Time it is a must.  Its all our favorite story book characters come not only into our world, but we also get to see them in their world.  With a lot of twists and turns you never saw coming it will suck you in. I was so sad this year when it ended.  Now at least I can watch the whole last season any time I want.  The final season of Once Upon A Time has come to Blu-Ray and I could not be more excited.  I feel like I have spent my whole life with these characters.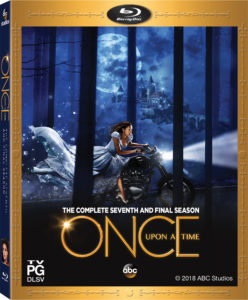 ONCE UPON A TIME S7: Celebrate the epic adventure and enduring magic as television's most bewitchingly tangled tale concludes in "ABC's "Once Upon a Time: The Complete Seventh and Final Season." Take the last leg of this astonishing journey with all 22 episodes—plus bonus extras—in the final, captivating season of the ultimate struggle between good and evil: "Once Upon a Time." Bonus includes deleted scenes and audio commentary.
Make sure to check out the last two seasons of Scandal here
I got this free in exchange for an honest review This post may contain affiliate links.