Have you heard of Goliath games? Chances are that a few of their games are already some of your family favorites.  They have a great line of games that your family is going to love.  When this box showed up my son was so excited.  It does take a lot to get him excited.  We played them all in one day and loved them all.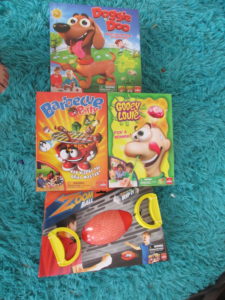 Barbecue Party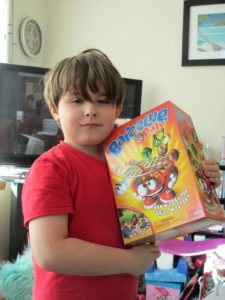 If you have a little one that loved to play with food this is the one for you.  This was so much fun you push down the timer in the middle and put on the griddle.  As you pick your card you use the tongs to place the food on the griddle.  You keep on going around and if the food is there you can pick up and place on your card.  Your goal is to get 3 on your card before anyone else does.  You have to be fast though if it pops all the food goes flying and you have to pull more card to put them back on.  When this would pop my son would get so excited.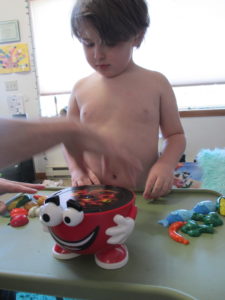 Zoom Ball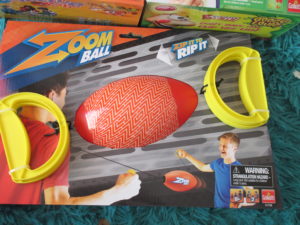 This one was a little too old for my little guy.  He does not really get the concept for this one but hubby and the guys at work love it.  I did not get a chance to get pictures because I take the pictures and I was playing lol.  The goal it kind of like keep away.  You want it to stay away from you so you send it zooming to the other person to hit their handles.  This is a more interactive game with a friend.  Make sure you have enough room and you will have a blast with this one.
Doggie Doo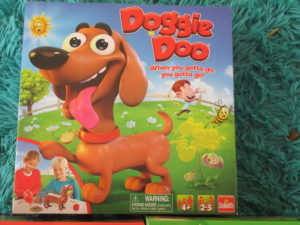 Ok this one is funny.  I also think it's a great way to help tech your kids to pick up after the dog.  So, you place one in the dog's mouth and insert the bone.  Then you spin the spinner and it tells you how many times to squeeze the leash.  When the dog poops it out then that person scoops it up and puts in the bin.  That person gets a token and we are trying to collect the tokens before the other people do.  We thought this was not only fun but it's so funny.
Gooey Louie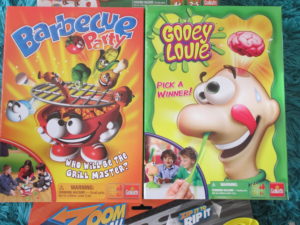 Let's be honest all kids have picked their nose at one time or another.  So as a parent this is just funny.  You load the brain and the boogers and roll the dice you pick as many as it says.  Be careful not to pick the one stuck to the trigger or his brain will pop out.  Now one mistake we did was take the protective coating off the brain do not do this.  That spring really fly's and this is to protect you when it goes.  My husband thought this was so funny he brought it to work and the guys love playing it during their free time.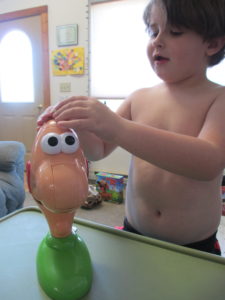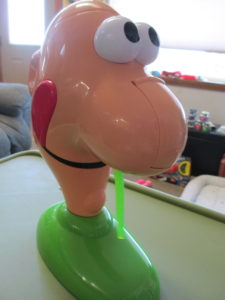 I love the Goliath Games.  We will be looking for more of them for family game nights.  Most of them my little guy could play and we had fun with them.  They are great for the whole family.
I got these free in exchange for an honest review