We got most of the items in the guide free in exchange for an honest review.  All opinions are our own.
Easter has always been a huge day in our home.  Little guy looks forward to this day more then any other he loves the basket and finding eggs.  The funny thing is he is not that into the candy he loves getting other items.  I love that we can fill his basket with fun toys and he is not getting a ton of sugar.  I also love making the rest of the family baskets with great spring items they will love.  We found some awesome basket items the family is going to love.
Creatto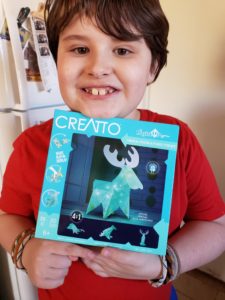 I love giving little guy a toy he can not only build, but will have a purpose after it is built.  Creatto has a great line of our favorite animals that after you are done building they light up.  They make a perfect night light for little guy.  This Magical Moose & Forest Friends set can me 1 of 4 different guys.  Creatto is a simple yet versatile building system that consists of just two primary components that can be woven together into countless 3D creations. The flexible yet durable plastic tiles interlock quickly and easily for all skill levels; no additional materials or hardware required! Each Creatto kit includes assembly instructions for four different configurations, but the possibilities are limited only by your imagination. Add strings of colored LED lights to illuminate your works of art from the inside out. Creatto is available in a variety of designs for $9.95-$29.95 and is for Ages 6+.
Pixicade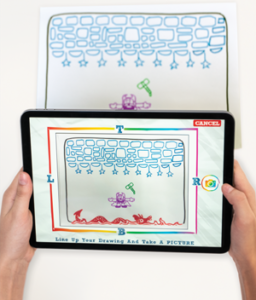 This is a great toy for any kid who loves to draw and create.  Homeschoolers LOVE Pixicade as it can help teach literacy, art, history, and even Bible! Game schooling with Pixicade is easy and can be used with most curriculums. 21st Century skills like analytic reasoning, analysis, teamwork, and critical thinking are taught by the process of using the Pixicade books and turning one's art into games. By creating a game and taking ownership of it, people develop self-esteem, pride, and confidence in themselves. One game, but so many reasons to play!
Stick-O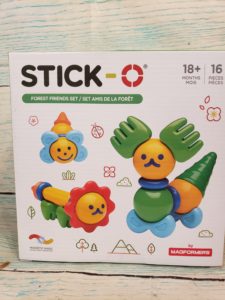 Little guy loved Stick-O they come out with a few new sets and they can all work together.  I love that I can buy him different ones in the series and they make a whole new world for him.  The Forest Friend set makes cute little animals that are adorable.  Stick-O Forest Friends 16Pc Set pieces are big enough for his little hands and easy to use.  Explore the great outdoors with The Stick-O Forest Friends 16Pc Set. Kids can use their imagination to build adorable animal friends including an elephant, duck, caterpillar, bunny and more. The Forest Friends 16Pc Set includes 3 Spheres, 3 Sticks, 2 Discs and other magnetic accessories including bunny ears, flowers, cones, flower pots, and elephant ears. MSRP $24.99; ages 18m+
Mad MattR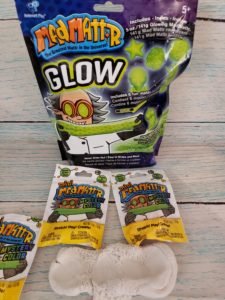 We love the Mad MattR if you have a sensory seeking little one they are going to have a blast.  They have some out with a few new items that would wow any Easter Basket this year.  The mini Mad MattR is awesome.  They come in a reseal package and they are mystery colors. The Glow kit is bigger and like it says it glows which my little guy thinks is awesome, it even comes with a UV light.  Mad MattR is easy to shape and mold and best of all never dries out.  If you are anything like me the Never Dries out sold me.  I can't tell you how many things I have just thrown into the trash after one use because something didn't seal right and it was dried out.
Poppers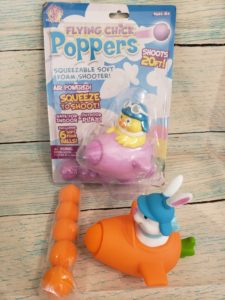 How cute are these for an Easter Basket.  Hours of fun for the kids and even for our puppys.  They come in cute Easter designs and are a perfect no candy gift for your little ones.  Flying Bunny & Flying Chick Poppers (Hog Wild): A whimsical and iconic Easter-themed twist on two of Hog Wild's latest Poppers! The new FLYING BUNNY and FLYING CHICK are super cute additions for Easter baskets everywhere!  (Available on Amazon!)
EggMazing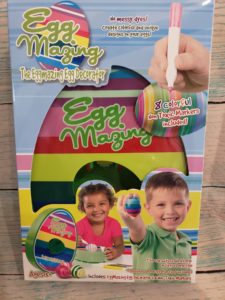 We have loved EggMazing from the first time we got to use it.  Little guy loves that he can decorate eggs and his hand do not get dirty.  It is fun and easy to use. The EggMazing Egg Decorator (Hey Buddy Hey Pal): Mess-free egg decorating! The machine holds and spins hard-boiled eggs; you hold a marker on the egg as it spins, creating stripes, lines and other fun designs! As seen on Shark Tank! Check out the video here: https://bit.ly/2EtW9Gg (Available at TARGET!)
Pop-to-Rock Poppy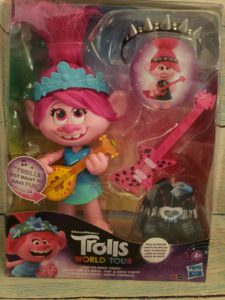 Trolls are a huge hit this year.  I love that they have some of the best toys out there that every troll lover is going to want.  DREAMWORKS TROLLS 
Pop-to-Rock Poppy
Poppy can go from her fun pop look to a hard rock look with this doll, which includes a change of outfits.  I love that you can change her outfits and rock with her.
Tiny Dancers Friend Pack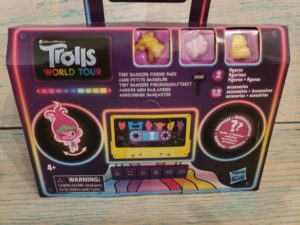 How cute is this for your Troll lover.  This is a perfect Easter Basket stuffer with cute surprises inside for them.
Tiny Dancers Friend Pack
Little figures that shimmy and shake, Tiny Dancers are ready for you to put them on and show them off! Attach them to the included bracelets, add charms and make 'em dance.  Best yet this pack is free shipping and under $5 on amazon.  Any Troll lover is going to fall in love with the charms.
LEGO Pop Village Celebration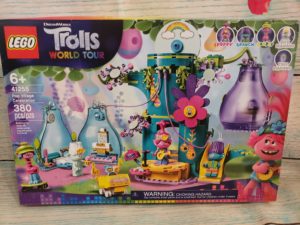 Let's be honest Legos really don't need an explanation. They are awesome and these Troll Legos are not only fun, but I love the colors.  You can build the whole village and have a blast while doing it.
Love Diana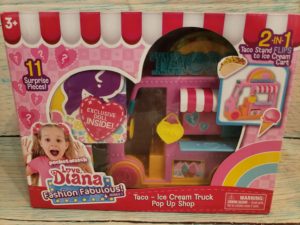 The new Love Diana collection is just to cute for words.  I have a special love for them my moms name is Diana.  This set is a
2 in 1 Taco Stand
that comes with 11 surprise pieces. The 
Love
, 
Diana
 Fashion Fabulous line will feature 10 different 3.5-inch scented dolls perfect to collect.  Each doll comes in a delectable ice cream cone and contains special surprises inside!  The line also includes 10 loveable pets that come with their own coordinating carrying case and with surprise accessories. The Fashion Fabulous Playsets include a 
taco
truck and an ice cream truck and each comes with a unique charming doll.
  Trolls Hot Chocolate Melt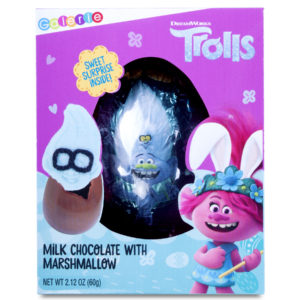 Hot Chocolate Melt's
are huge right now.  I was so excited to see that Trolls have their very own.  They are not only cute, but perfect for the cold nights we are all getting.  A little hot coco and watch a little Trolls what could beat that.  Each magic hot chocolate melt can be dissolved in a cup of hot milk to reveal a marshmallow surprise.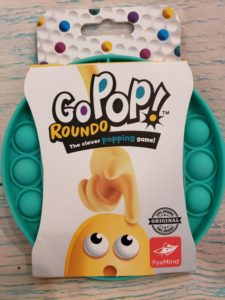 When I saw the 
Go Pop
  I fell in love.  little guy needs great sensory toys that can help him calm down and this was perfect.  It's funny a week before we got it his teacher was suggesting it and bam we saw it and I knew she was right.   This is a great fidget toy they is not loud but will keep there hands busy and their minds calm for a few minutes.  We have used it everyday and I LOVE it.
Chalk of the Town Bunny T-Shirt Kit (Chalk of the Town):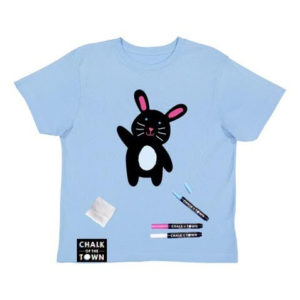 These cool and creative chalkboard tees now come with a Bunny chalkboard, just in time for 

Easter

! Use the included chalk markers to draw on the Bunny chalkboard surface. Plus, the shirts are erasable, re-usable and machine washable, meaning you can design a new bunny every day! 
Available in Youth Sizes XS-XL
.
ChapStick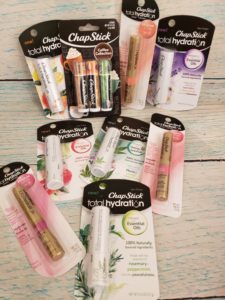 One of my all time favorite Easter Basket fillers is ChapStick They have so many awesome spring scents out.  Even better they have hydrating which I really need this time of year.  They are the perfect side to add to an Easter Basket and if you buy bigger eggs you can even fit one in each egg for hunting.  I like to make sure I am stocked up all year round. Want even better news if you head to their site you can even personalize your Chapstick how awesome is that.  Some of the best out this season are  
ChapStick

 Total Hydration Moisture + Tint + SPF 15,
Total Hydration Essential Oils Chill
 and the 
ChapStick

 Coffee Collection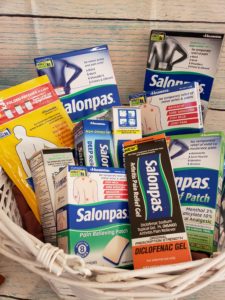 For a lot of us as we get a little older everything hurts.  This is especially true for our family who have broken almost everything.lol 
Salonpas
  has a wide range of products that I use all year round.  This is just the basket I need for a summer of playing hard and let's be honest hurting myself.  When I get hurt I don't get to take a day off.  I need to rally and with
Salonpas
that is not a problem.  I love that they even came out with a great Arthritis Pain Relief Gel.  This gel has really helped me when my legs start acting up while I am trying to sleep. This gel was a life saver, or should I say a sleep saver. lol