I was so excited when these showed up.  Not only did i get a great movie for me and little guy we also got a fun project to do together. This was a fun movie about DUG and his best friend Hognog as they try to unit the early caveman tribes.  This was funny and entertaining to watch.   The Claymation kit was fun for me.  My son kind did his own thing with the clay , but that's the beauty of it they can do anything their imagination can come up with. With the help of a smart phone it can become your very own Claymation movie.   If you are looking for a whole day of fun then this is a perfect way to go.  Play all day with the kit then relax with a great family movie at night.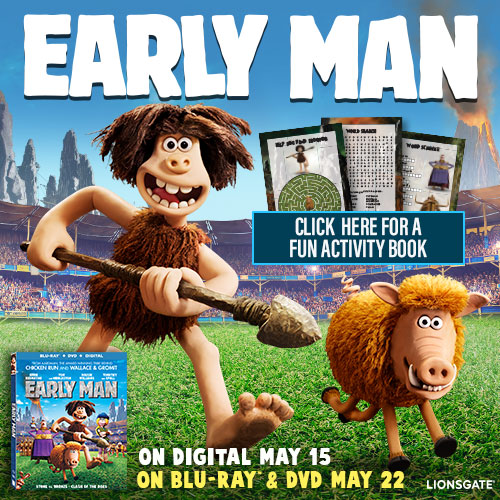 Star-Studded Animated Comedy for the Entire Family!
The Hilarious Tale Rolls onto Digital on May 15 and 
Blu-ray™ Combo Pack and DVD on May 22 from Lionsgate®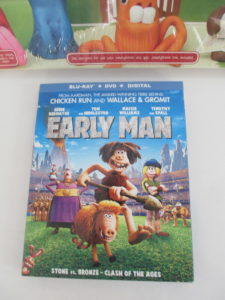 SANTA MONICA, CA (April 17, 2018) – Meet the team that rocked the Stone Age when Early Man arrives on Digital May 15 and on Blu-ray™ Combo Pack (plus DVD and Digital), DVD, and On Demand on May 22 from Lionsgate. From Aardman, the award-winning tribe that brought you Wallace & Gromit, Chicken Run, and Shaun the Sheep Movie, this prehistoric romp tells the epic story of Dug the caveman and his goofy friends who challenge invaders to a game of soccer in order to win back their home. Perfect for the young and young-at-heart alike, the cheerful tale told in charming, well-crafted claymation is Certified Fresh™ on Rotten Tomatoes and is full of "abundant delights" (Ella Taylor, NPR). Starring in the film are Oscar®-winner Eddie Redmayne (Best Actor, The Theory of Everything, 2014; Fantastic Beasts and Where to Find Them), Tom Hiddleston (Thor: Ragnarok, Kong: Skull Island), Maisie Williams (TV's "Game of Thrones"), as well as Timothy Spall (Sweeney Todd: The Demon Barber of Fleet Street, Harry Potter Franchise).
Set at the dawn of time, when prehistoric creatures roamed the Earth, Early Man tells the story of courageous caveman hero Dug (Eddie Redmayne) and his best friend, Hognob, as they unite their tribe against a mighty enemy — Lord Nooth (Tom Hiddleston) and his Bronze Age City — to save their home.
The animated world of Early Man has extensive special features including never-before-seen featurettes that reveal the love, passion, hard work, and magic that goes into creating an Aardman Studios animated film. Early Man will be available on Blu-ray Combo Pack and DVD for the suggested retail price of $24.99 and $29.99, respectively.
BLU-RAY/DVD SPECIAL FEATURES
"Before the Beginning of Time: Creating Early Man" Featurette
"Nick Park: Massaging the Funny" Featurette
"The Valley Meets the Bronze" Featurette
"Hanging at Aardman Studios: A Workshop Exploration" Featurette
For Artwork: www.lionsgatepublicity.com/home-entertainment/earlyman/
Trailer: https://youtu.be/T2w0YiwKqBU
Facebook: https://www.facebook.com/earlymanmovie/
Instagram: @earlymanmovie
Twitter: @earlymanmovie
#EarlyMan
PROGRAM INFORMATION
Year of Production: 2017
Title Copyright: Early Man © 2018 Studiocanal S.A.S. and The British Film Institute. Artwork & Supplementary Materials © 2018 Summit Entertainment, LLC. All Rights Reserved.
Type: Theatrical Release
Rating: PG for Rude Humor and Some Action
Genre: Animation, Comedy, Family
Closed-Captioned: N/A
Subtitles: Spanish, English SDH
Feature Run Time: 89 minutes
BD Format: 1080p High Definition 16×9 Widescreen 2.39:1 Presentation
DVD Format: 16×9 Widescreen 1.85:1 Presentation
BD Audio: English Dolby Atmos, Spanish 5.1 Dolby Digital Audio, English Descriptive Audio
DVD Audio: English 5.1 Dolby Digital Audio, Spanish 5.1 Dolby Digital Audio, English Descriptive Audio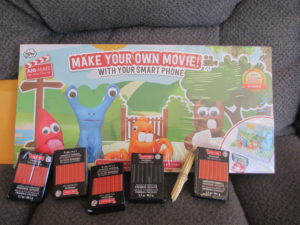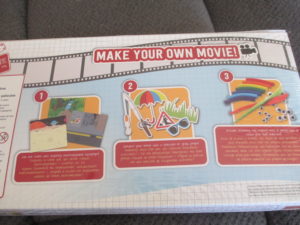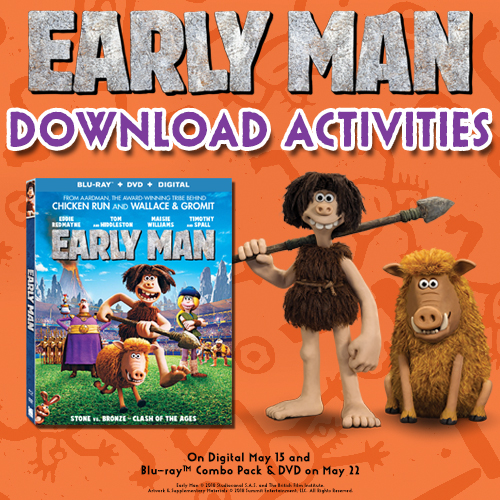 We have a great giveaway  One lucky US winner will win their own set Good luck all
EARLY MAN Movie Claymation kit

I got this free in exchange for an honest review