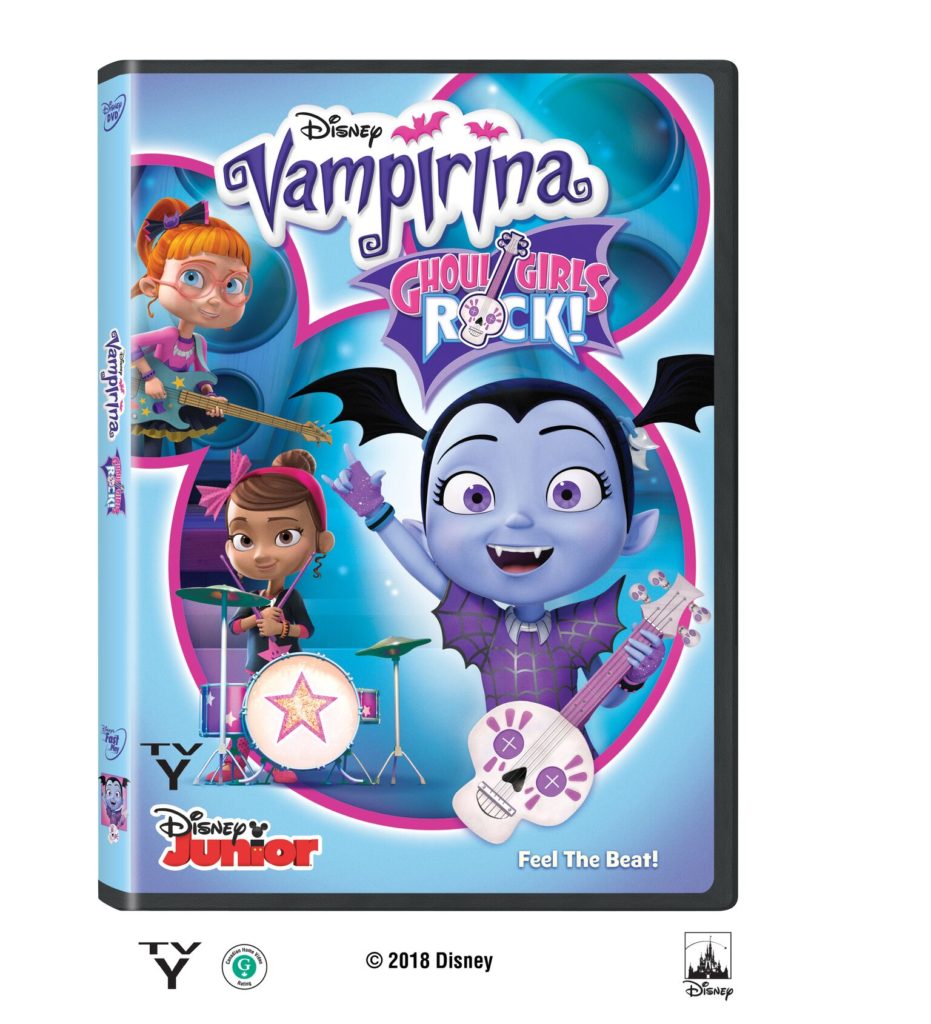 As you all know we love a great Disney show.  About 2 weeks ago I went to visit my sister and had not seen Vampirina yet.  My nephew put on Vampirina and we were sucked in.  I got to see it from episode one me and little loved every episode.   Now the fun can continue at our house any time we want.  No worries about a bunch of episodes tapped on the DVR we have some great episodes here on DVD.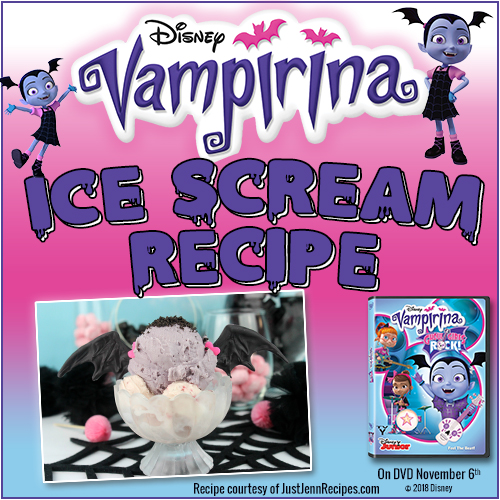 Vampirina is a young girl living with her fellow monster parents trying to fit in and living in the normal person world.  Her best friend is human and knows her secret .  They work together to keep their secret and have some fun.
Rock Out with Vampirina and The Ghoul Girls!
VAMPIRINA: GHOUL GIRLS ROCK!
Bring It Home on Disney DVD November 6th
Includes Six 22-minute Episodes of Disney Junior's Hit Animated Series "Vampirina," Plus Seven Bonus shorts!
Synopsis:                      Follow Vampirina and her two best friends, Poppy and Bridget, as they take the stage and start their very own band: the Ghoul Girls!  Cheer them on as they travel to Transylvania for their first-ever talent competition and go on many more awesome adventures! Amped with six music-filled episodes, plus seven bonus animated shorts, Vampirina: Ghoul Girls Rock! soars to fang-tastic new heights as Vee and her friends learn how to find their inner ghoul and rock out!
Voice Cast:                         Isabella Crovetti as Vampirina; Lauren Graham as Oxana Hauntley; James Van Der Beek as Boris Hauntley; Wanda Sykes as Gregoria; Mitchell Whitfield as Demi;Jordan Alexa Davis as Poppy; ViviAnn Yeeas Bridget; and Dee Bradley Baker as Wolfie.
Executive Producer:        Chris Nee
Episodes:                            Vampire Weekend / The Bird Who Knew Too Much
                                                The Ghoul Girls / Game Night
                                                Oldie But a Ghouldie / Beast in Show
                                                Vampirina Ballerina / Treasure Haunters
                                                Home Scream Home
                                                Countess Vee / Frights, Camera, Action!
Bonus:                                  Vampirina Ghoul Girls Rock! Music Video Shorts:
                                                Living the Scream
                                                Inner Ghoul
                                                Transylvania Girls
                                                Ghoul Glam
                                                Boogieman Boogie
                                                Everybody Scream, Everybody Howl
                                                The Mummy Rap
Release Date:                    November 6, 2018
Ratings:                                TV-Y (US); G (CE/CF)
Total Run Time:                                Approximately 132 minutes
Aspect Ratio:                     1.78:1 Widescreen (Enhanced for 16×9 Televisions)
Audio:                                   2.0 Dolby Digital
Languages:                         English
Subtitles:                            English SDH
 We got this free in exchange for an honest review.