We got this movie free in exchange for an honest review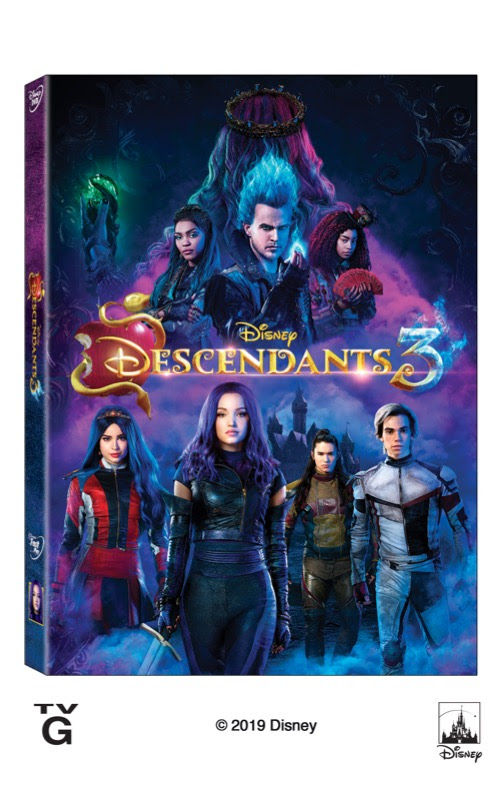 I would like to say that I popped Disney Descendants 3 into the DVD player right away, but I have to be honest.  It took me a few days to watch it.  Not because I was not super excited, but because I was a little sad.  I want to start this review off by saying.  Cameron Boyce you will truly be missed. Camron was not only a great actor he was a good man.  He was truly one we were watching to see all the good he will do in his life. He will not only be missed by his family and friends, he will also be missed by the millions of fans. He has touched our lives and will never be forgotten.
This movie starts off with a bang.  Or should I say a musical number that you will love.  They jump right into the lotto of who will be going to school with them this year.  Then it happens.  Yes it happens and no I'm not telling you what happens but we are all excited for this new twist on our favorite Disney kids lives.  We also have a new set of twins I am very excited to see how they turn out.
Hades is back and looking for revenge. As he breaks through the barrier Mal tries to stop him but something goes terrible wrong. Why is Hades doing this and why does he care so much? As they are trying to help her more is going wrong and they will all have to work together to get things back on track before its too late.
Questions We Need Answered
With two new threats we are in suspense the whole time.  One expected and another one not expected.  As the kids come together to defeat the threats will they be separated in their loyalty or will they stick together again to defeat the evil? Will they close the gate forever?  Who will become the new Queen?  What will those twins get into to? DESCENDANTS 3  will keep you on your toes the whole show. 
Don'r forget to check out all the awesome back to school gear from the Disney store and amazon  you are going to love this year .

This highly anticipated Disney Channel Original Movie continues the contemporary saga of good versus evil as the teenage daughters and sons of Disney's most infamous villains – – Mal, Evie, Carlos and Jay (also known as the villain kids or VKs) — return to the Isle of the Lost to recruit a new batch of villainous offspring to join them at Auradon Prep. The all-star cast returns in the exciting third installment of the Descendants Series