We got the Jungle Bunch movie and giveaway free from Shout Factory in exchange for an honest review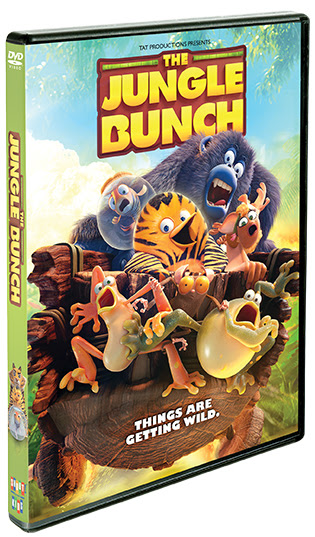 Who is ready for an awesome movie adventure with The Jungle Bunch. The movie starts off with some very cute forest friends playing games.  When the evil Igor comes in to destroy their world.  The Champs jump into action to save all their friends.  When the Igor is getting away a single egg falls from an ice burg.  The friends rush the save the egg when one of them is lost in the fight.
As the years go by we see Maurice grow up while Igor is planning his revenge.  This is a tale of a great group of friends that will stop at nothing to save their home and their friends.  Along with the coming up of Maurice a penguin raise by a tigress. He creates a new bunch of Champs called The Jungle Bunch. Make sure to watch their trilling tale and adventure and be ready to fall in lobe with the penguin who thinks he is a tiger.  He really is a tiger at heart
Los Angeles, CA – Get ready for 
the
 wildest ride of your life! 
The
Jungle
Bunch
 is coming to DVD and digital on August 6 from Shout! Kids, and it's 
a
jungle
 of fun for 
the
 whole family.
Maurice may look like 
a
 penguin – but he's 
a
 real tiger inside! Raised by 
a
 tigress, he's 
the
clumsiest Kung-Fu master ever. Along with his friends, 
The
Jungle
Bunch
, he intends to maintain order and justice in 
the
jungle
, as his mother did before him. But when Igor, an evil koala, wants to destroy 
the
jungle
 once and for all with 
the
 help of his army of silly baboons, Maurice faces his biggest challenge yet.
Your family will go bananas for 
The
Jungle
Bunch
, 
a
 fresh and funny adventure that's full of laughs and memorable characters!
Want even better news 3 lucky U.S winner will get their very own copy shipped by the fantastic Shout Factory