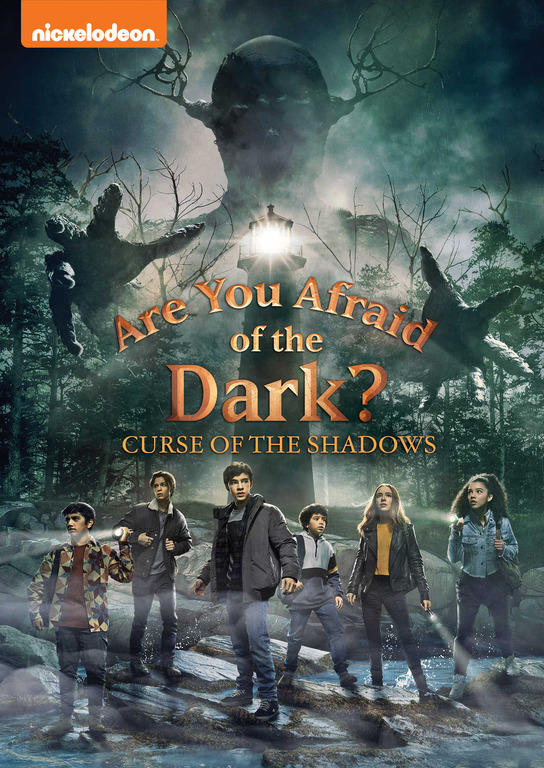 A NEW MIDNIGHT SOCIETY MAKES ITS DEBUT IN
ARE YOU AFRAID OF THE DARK?: CURSE OF THE SHADOWS,
BASED ON THE CHILLING & BELOVED '90S ANTHOLOGY
Available on DVD August 10, 2021
LOS ANGELES–July 6, 2021–
The Midnight Society returns in a follow-up to 2019's reimagined limited series horror anthology in Nickelodeon's 
Are You Afraid of the Dark?: Curse of the Shadows
, on DVD August 10, 2021. Based on the '90s kids' cult classic and featuring a terrifying new story, the second season includes six hour-long episodes that follow an all-new group of kids as they tell the tale of a curse that has been cast over their small seaside town, haunted by a villain named the Shadowman. After their leader goes missing, it's up to the remaining members of the Midnight Society to break the curse and free the Shadowman's victims, before they too disappear into the shadows.
A must-own for old and new fans alike, the Are You Afraid of the Dark?: Curse of the Shadows DVD will be available from Paramount Home Entertainment and Nickelodeon Home Entertainment for the suggested retail price of $13.99.
The members of the newest chapter of the Midnight Society are: Luke, played by Bryce Gheisar (Wonder, Nickelodeon's The Astronauts); Jai, played by Arjun Athalye; Hanna, played by Beatrice Kitsos (Child's Play); Gabby, played by Malia Baker (The Baby-Sitters Club); Seth, played by Dominic Mariche (The Christmas Yule Blog); and Connor, played by Parker Queenan (Party of Five). The Shadowman is played by Kyle Strauts (Flora & Ulysses). 
Are You Afraid of the Dark? Curse of the Shadows Episodes:
The Tale of the Haunted Woods
The Tale of the Night Frights
The Tale of the Phantom Light
The Tale of the Danse Macabre
The Tale of the Midnight Magic
The Tale of the Darkhouse
Are You Afraid of the Dark? Curse of the Shadows Fast Facts:
Street Date: August 10, 2021
Catalog: 1000803017 (US), 1000803018 (CAN)
Episodic Running Time: 4 hr 21 min
Audio: Dolby Digital English 5.1, French Stereo, Spanish Stereo
Subtitles: Closed Captions
US Rating: Not Rated
CAN Rating: PG
US M.S.R.P.: $13.99
CAN M.S.R.P.: $15.99
Are You Afraid of the Dark? Curse of the Shadows Synopsis:
A new setting and a new Midnight Society bring fresh scares when the group's leader suddenly vanishes, prompting the remaining members to search for clues, confront dark forces, and ultimately uncover the truth behind their seaside town's terrifying curse.