We got the download of Child's Play for free All opinions are our own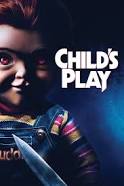 A lot of us know and Loved Buddi.  The new Child's Pay bringing a whole new version of our old favorite Chucky.  The evil doll that will stop at nothing for what he wants.  Our new Buddi is A.I and scarier than ever.
The new Chucky starts off as a kids dream.  He can learn anything from the cloud and for some reason this one swears.  Well we now why but Andy does not lol.  This is a whole new story about who Chucky is.  It's not our normal Serial Killer in the body this Buddi is a whole new Chucky.
Andy, Chuckys owner has a little bit of a hard life a mom who is always working and her boyfriend is not the nicest guy.  When Chucky comes along he wants to help and protect Andy, yet he does not really know the right way to do it.
This is a great horror movie. Remaking a horror movie is not something everyone can do.  We have had a few out that just did not cut it.   I was impressed on the remake and am so excited I can watch it any time.
This movie has everything you need for the Halloween season, Murder, Killer doll, A.I, and a final boy who won't stand for it.  Make sure to download it you are not going to be disappointed.