That is right all the Cat In the Hat is back at it again.  This is a childhood favorite for many of us that silly Cat in the Hat is always up to something.  Now you get to go along with the Cat in the Hat on a camping adventure.   I saved this one till little guys last day of school.  In the movie that Cat in the Hat goes on an adventure on the first day of Summer Vacation.   With Nick Sally and the fish all your favorites are along for the adventure.   My son had always loved the Cat in the Hat and this movie was no different.  He loved watching the little cats getting into trouble and the fish who hates to get dirty.  If you are looking for a fun movie for your little ones this summer make sure to grab The Cat In The Hat Knows A Lot About Camping.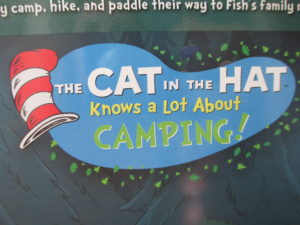 It's the first day of Summer Vacation and The Cat in the Hat whisks Nick, Sally and Fish off on the greatest great outdoor camping adventure ever! Our gang gets back to nature as they hike through the Fickle Fern Forest, camp out overnight, trek over Mt. Weewobble and canoe down the Tickle Drop River….just in time for Fish to meet up with his family for a grand reunion. Along for the ride are Little Cats A, B and C, who discover there's wonder in nature once their electronic devices are powered off!
Nick and Sally help keep the Little Cats out of trouble, while Fish tries to keep his jacket pressed and the mud out of his fancy fishbowl…all while getting up close to some of nature's most awesome sights, and learning how best to respect them. After being lulled to sleep under the stars by a chorus of animals, the morning brings fresh adventure with a spectacular race up Mt. Weewobble, complete with a cliffhanger ending! It's a slippery ride down the slope and into the Tickle Drop River, where a harrowing raft ride finally delivers them to the shores of Fish's family reunion.
The Cat in the Hat and his loveable Little Cat cousins, Nick, Sally, Fish and all his family, gather together in a great Suessian-style musical finale… in which Fish and the gang are celebrated as true adventurers. Everyone agrees it really has been the Greatest Great Outdoors Adventure ever!
I got this free in exchange from Ncircle for an honest review.