I got the chance to try out the Aphrodite costume and I love it.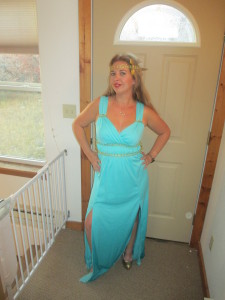 As most of you know I love costumes. Give me a chance to go to a costume party or trick and treating and I am the first person to RSVP. Any chance I get to dress up and be beautiful I take. This has led to me having A LOT of costumes in my house and I've even bought a bunch of Wholesale Silver Jewelry because I was spending so much on finding the perfect jewelry for my costumes! The wholesale costume club has a ton of great costumes and for very great prices. For only $5 dollars a year you can join as a member and get your costumes at a discounted price. This costume as a member would only cost you $33.96. Don't know about joining as a member not a problem you can buy without being a member but once you see the quality of their costumes I think you will jump at the chance to become a member. They have kids costumes, Woman's, Men's, Sexy and Plus sizes. If you are looking for a costume for any occasion you will find a great one here.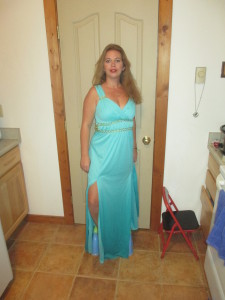 This beautiful dress is made of a cascading blue/mint green Fabric 100% Polyester. That has a slit down the side for each leg and a plunging neck line. Accessories are not hard to find at all for this one. The headband comes with it and add your own gold jewelry to finish off the look. This dress is also great for a college Greek party's. You can pair this dress with so many different accessories you can always have a new an updated look. I personally love that the material was nice and thick not see threw like most other costumes you will come across. The gold bands in the middle were ties in the back which I also loved it made it so I could fit the dress and not squeeze my upper body into it. As you can see the dress is a little long for me, but no worries at 5 foot 2 I am used to adjusting for the clothes. As you can see from one of the pictures above if you are going to a party a great gold heal would go perfect with this. If you are like me and off to go trekking with a 3 year old trick or treating buy a nice gold flat you will be comfy all night long and they would match this dress perfectly. There are so many ways to dress this outfit up you can go as far as your imagination will take you.
I would recommend this costume to everyone
To join them on facebook head here
To tweet with them head here
I would like to note all though I was given this product free to try all opinions are my own I will always be truth-full with you guys.