We got ANNA and the Apocalypse free in exchange for an honest review all opinions are my own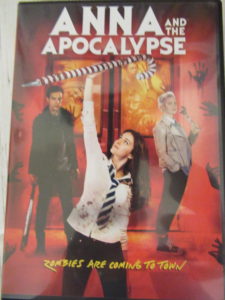 It's like the gods have smiled upon me.  A Christmas Zombie movie.  I don't think I have ever been so excited.  Once I though I could not love this movie more OMG its a musical.  Ok, I think I found my new favorite Christmas movie.
So we start off like all great Zombie movies there is a report of something going around they think its the flu, then they tell everyone its a different kind of virus.
Of course no one is paying attention. Then we meet Anna she is graduating High School and her dad finds out she plans to take a year off before college and he is not happy.
When the world goes down a group of survivors tries to find their family and friends.  Now don't get me wrong even though this is a Christmas, Zombie, Musical funny movie there will be loss.  We are going to loose a few that we thought were going to be final people.
Which in the group of these High School kids will survive?
This group of survivors will stop at nothing to protect each other and make it to their friends and family.