AEOS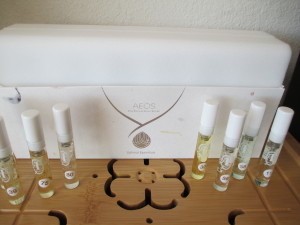 Aeos has a wide range of fantastic face, body and even perfume products. I was so excite when I got a chance to try these. I am always looking for good face products that will help keep my skin looking fresh, young and not break me out.
                               The Aeos Optimal Essentials Blue kit came with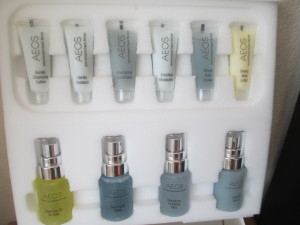 I had no idea that this kit would come with so many fantastic products. When I went to use them I was even more excited to find out that they were sprays. I have never seen a spray wash, cleanser, or serum. They are so easy to use just spray on your face and clean, or work in. One of my favorite things was there was no mess from it. I did not use too much or too little and it did not leak on my counters. It was really very neat to use. I would buy this set just for that.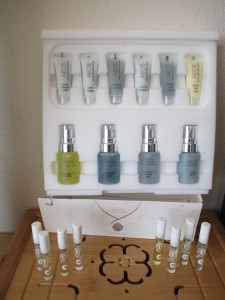 There is so much more I did not have any reaction to any of these products. I have combo sensitive skin and this was fantastic on my skin. No allergic reaction and it cleaned and moisturized fantastic. This is also a perfect travel set. Everything is perfect size for travel and will work wonders on your skin. Why use the cheep stuff from the hotels when you can bring spa quality with you. Everything in this set smells like a spa. I am truly in love with this set.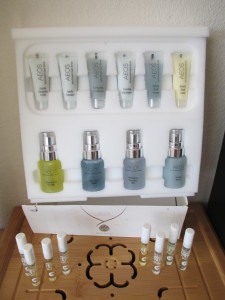 What the set comes with
AEOS Cleansing Oil de-Maq 30ml
       AEOS Dew Facial Wash 30ml
       AEOS Gentle Cleansing Lotion (Blue) 10ml
       AEOS Gentle Exfoliant (Blue) 10ml
       AEOS Energising Conditioner 10ml
       AEOS Refreshing Hydrating Mist 30ml
AEOS Realive Serum 30ml
     AEOS Enriching Moisturiser (Blue) 10ml
       AEOS Beauty Body Shower 10ml
       AEOS Beauty Body Lotion 10ml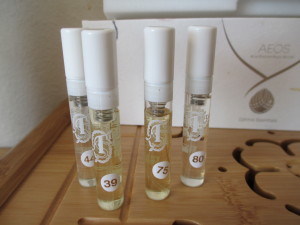 The Perfumes they offer each have their own unique top middle and base notes. Every single one of these has a beautiful smell. If you love the woodsy smell the flower smell or the citrus they have the perfect one for you. I also love that these did not have long hard to remember names. You just have to remember the two digit number and that is the name.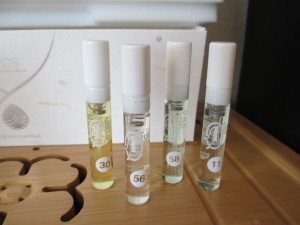 I was especially impressed with 80 it had a very sweet and flowery smell to it. I have never smelled anything like it before. 56 was my second favorite there is just something about the smell of jasmine that I just love. No matter which one you go for you are sure to love it.
                                 Parfum 11
     Top Middle and Base Notes
Lemon, Bergamot, Neroli, Rose, Vetivert
                               Parfum 30
     Top Middle and Base Notes
Bergamot, Olibanum, Oudh, Jasmine, Patchouli, Cedarwood, Amber, Vanilla, Saffron, Vetiver, Musk
                               Parfum 39
     Top Middle and Base Notes
Bergamot, Lemon, Geranium, Black Pepper, Nutmeg, Ylang Ylang, Vanilla, Cedarwood
                                           Parfum 44
   Top Middle and Base Notes
Orris, Cedar Wood, Violet, Precious Woods
                                           Parfum 56
   Top Middle and Base Notes
Nutmeg, Violet, Ylang Ylang, Jasmine, Powder Notes, Sandalwood, Amber, Musk
                                           Parfum 58
     Top Middle and Base Notes
Bergamot, Lime, Geranium, Basil, Lavender, Black Pepper, Rose, Sandalwood, Vetivert
                                         Parfum 75
     Top Middle and Base Notes
Orange, Jasmine, Neroli, Patchouli, Vanilla
                                        Parfum 80
     Top Middle and Base Notes
Ylang Ylang, Jasmine, Lily, Carnation, Cinnamon, Benzoin, Rose, Vanilla
These products were fantastic. If you are looking for the spa experience in your own home these are a must.
  Fine more AEOS here

I would like to note all though this was a sponsored post all opinions are my own I will always be truth-full with you guys.