We got Adventure Time: Distant Lands free in exchange for an honest post all opinions are our own.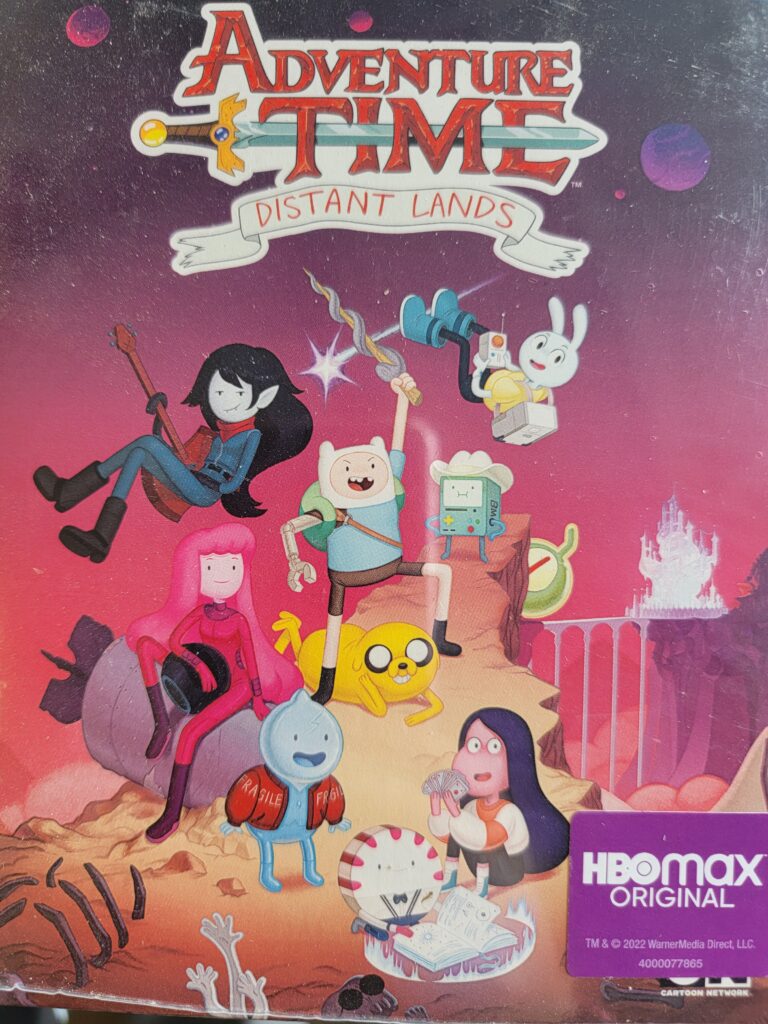 We love when a new Adventure Time comes out.  We have a collection and we watch them all the time.  Adventure time is not only fun for my son to watch , but I love that it has jokes that only I get.  In the Adventure Time: Distant Lands we get Dragons, Mars and so much more it is an adventure every time 🙂
Different Worlds, Same Epic Energy
Adventure Time: Distant Lands
Return to the Land of Ooo when the
Blu-ray™ & DVD Arrive On March 8, 2022
BURBANK, CA (January 12, 2022) Oh My Glob! Get ready embark on a magical journey through the Land of Ooo and beyond when Warner Bros. Home Entertainment brings the Emmy-nominated Max Original, Adventure Time: Distant Lands to Blu-ray and DVD on March 8, 2022.
Binge all four specials from the limited series and explore the unseen corners of their world with characters both familiar and brand-new. Adventure Time: Distant Lands is priced to own on Blu-ray for $19.98 SRP ($24.98 in Canada) and on DVD for $14.98 SRP ($19.98 in Canada).
Based on the Emmy- and Peabody Award-winning animated series, Adventure Time, created by Pendleton Ward and executive produced by Adam Muto, Adventure Time is a critically acclaimed series that garnered numerous accolades over its 10 season run on Cartoon Network. Originally airing on HBO Max, Adventure Time: Distant Lands is among the streamer's most popular original animated series/specials. Adventure Time: Distant Lands is produced by Cartoon Network Studios.
With Blu-ray's unsurpassed picture and sound, Adventure Time: Distant Lands Blu-ray release will include 1080p Full HD Video with DTS-HD Master Audio for English 5.1. Featuring all 4 episodes in high definition.
FOUR SPECIALS
 BMO – follows the lovable little robot from Adventure Time. When there's a deadly space emergency in the farthest reaches of the galaxy, there's only one hero to call, and it's probably not BMO. Except that this time it is!
Obsidian – features Marceline & Princess Bubblegum as they journey to the imposing, beautiful Glass Kingdom—and deep into their tumultuous past—to prevent an earthshaking catastrophe.
Together Again – brings best buds Finn and Jake together again to rediscover their brotherly bond and embark on the most important adventure of their lives.
Wizard City – follows Peppermint Butler, starting over at the beginning, as just another inexperienced Wizard School student. When mysterious events at the campus cast suspicion on Pep, and his checkered past, can he master the mystic arts in time to prove his innocence?
STREAMING
Produced by Cartoon Network Studios, all seasons of Adventure Time are now available exclusively on HBO Max.
BASICS
Release Date: March 8, 2022
Presented in 16×9 widescreen format
DVD Price: $14.98 SRP ($19.98 in Canada)
1 DVD-9s
BD Price: $19.98 SRP ($24.98 in Canada)
1 BD-50
Running Time: Feature: Approx. 3 hours
Audio: English 5.1 Surround, Francais and Español
Subtitles: English SDH and Francais