Hi there,

Ready, set, rescue! PAW Patrol: Pups Save Rocket Ryder is now available on DVD only at Walmart, and we are excited to share this paw-some recipe for stoplight brownies inspired by the series!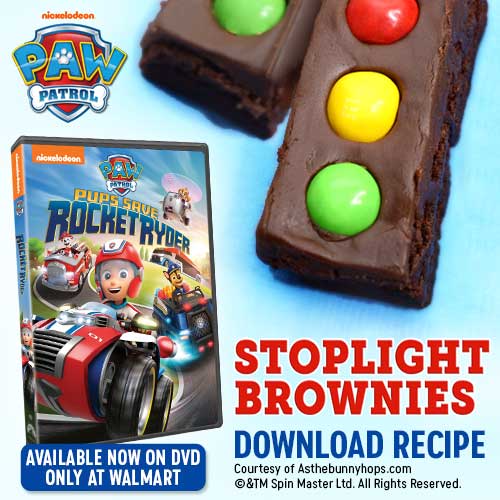 PAW PATROL TO THE PAW PATROLLER!
PAW PATROL: PUPS SAVE THE ROCKET RYDER
Available on DVD March 1, 2022!
LOS ANGELES–January 27, 2022 – 
Even Rescue Ryder sometimes needs a little help; good thing the PAW Patrol is ready for the rescue in the brand-new DVD release, 
PAW Patrol: Pups Save Rescue Ryder
! Available on March 1, 2022, this DVD features 8 action packed 
adventures
 from the hit preschool series 
PAW Patrol
, airing on Nickelodeon and produced by Spin Master Entertainment. The 
PAW Patrol
 is ready for action as they rescue Rocket Ryder, help stranded zip-liners in the jungle, round up runaway chickens, and more!
PAW Patrol: Pups Save Rocket Ryder 
will be available on DVD Only at Walmart from Paramount Home Entertainment and Nickelodeon Home Entertainment on March 1, 2022, for the suggested retail price of $10.99.
PAW Patrol: Pups Save Rocket Ryder 
episodes:
Pups Save Rocket Ryder
Pups Save the Dizzy Dust Express
Pups Save the Treetop Trekkers
Pups Save the Treasure Cruise
Pups Save the Bookmobile
Pups Save a Tour Bus
Pups Save Election Day
Pups Save a Runaway Rooster
PAW Patrol: Pups Save Rocket Ryder synopsis:
PAW Patrol, to the PAW Patroller! Launch to the rescue with 8 pup-tastic adventures! First, the PAW Patrol must stop the Dizzy Dust Express, a runaway train, and find the missing passengers. Then, the pups rescue Ryder when his rocket-powered ATV goes out of control. They also rescue friends stranded in treetops during a jungle zip-lining adventure, save a treasure cruise gone awry, and so much more!
PAW Patrol: Pups Save Rocket Ryder fast facts:
Street Date: March 1, 2022
Catalog: 191329213384 (US)
Running Time: 1 hr 38 min
Audio: Dolby Digital English 5.1, French Stereo, Spanish Stereo
US Rating: Not Rated
US M.S.R.P.: $10.99