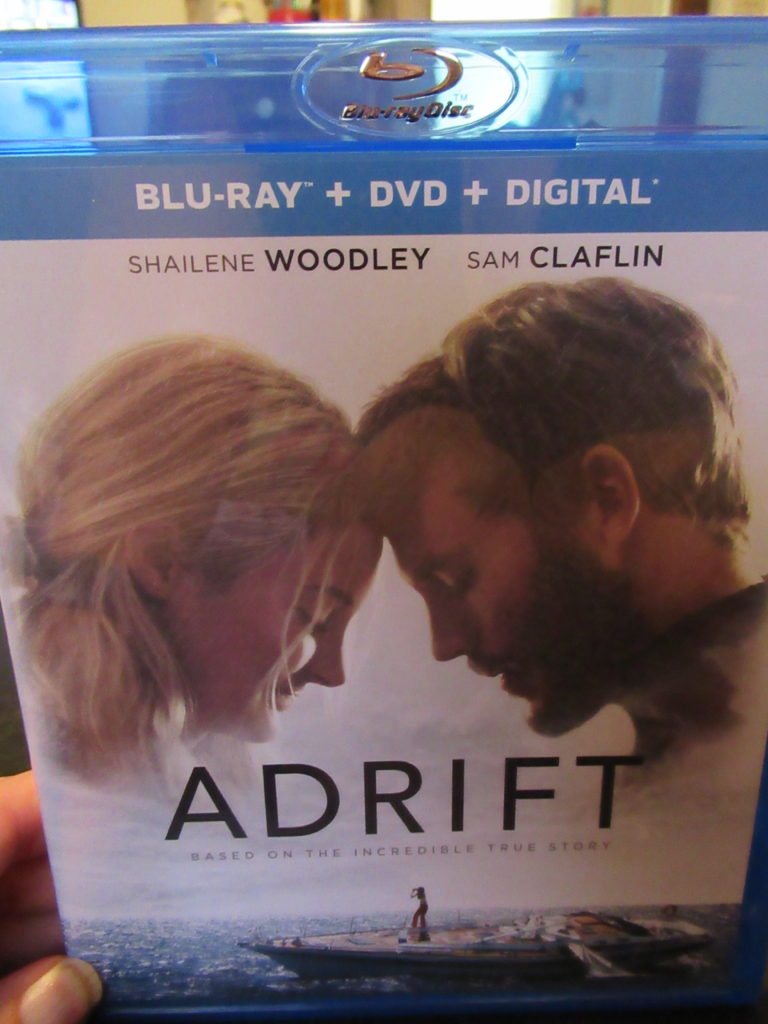 Normally I don't watch true story's.  They are always more hearth breaking then the make believe ones.  I have to say I am happy I watched this one. Adrift was entertaining from start to end.  I love that they started it off with a bang.  They did not go on with the love story for the first hour and twenty minutes.  This movie jumps back and forth so you get the action and the story at the same time.  I don't want to ruin the ending of Adrift so all I will tell you is that this story will keep you on your toes and still surprise you in the last 10 minutes.   A story of true love and disaster all about how it can all go wrong.  
When you are lost at sea with no help what would you do?  Do you think your could survive? 
SHAILENE WOODLEY AND SAM CLAFLIN SET SAIL IN THE INSPIRATIONAL AND BREATHTAKING DRAMA BASED ON AN EXTRAORDINARY TRUE STORY
ADRIFT
AVAILABLE ON DIGITAL AUGUST 21, 2018
AND ON BLU-RAY™ AND DVD SEPTEMBER 4, 2018
"A WHITE-KNUCKLE SURVIVAL TALE"
─ CHRIS NASHAWATY, ENTERTAINMENT WEEKLY
PROGRAM DESCRIPTION
When all is lost, hope and strength keeps Tami Oldham alive in the dynamic edge-of-your-seat drama, Adrift, arriving on Digital on August 21, 2018 and on Blu-rayTMCombo Pack, DVD and On Demand on September 4, 2018 from STXfilms and Universal Pictures Home Entertainment. An unforgettable story about the resilience of the human spirit and the transcendent power of love, Adrift is "a true, harrowing, emotion-driven survival thriller" (Indiewire) and filled with messages of female empowerment. Starring Shailene Woodley (Fault in Our Stars, Divergent franchise) and Sam Claflin (Me Before You, The Hunger Games franchise), Adrift is based on the inspiring true story of two free spirits whose chance encounter leads them first to love, and then to the adventure of a lifetime.
OFFICIAL SYNOPSIS
As the two sailors set out on a journey across the ocean, Tami Oldham (Woodley) and Richard Sharp (Claflin) couldn't anticipate they would be sailing directly into one of the most catastrophic hurricanes in recorded history. In the aftermath of the storm, Tami awakens to find Richard badly injured and their boat in ruins. With no hope for rescue, Tami must find the strength and determination to save herself and the only man she has ever loved.
BONUS FEATURES ON BLU-RAYTM, DVD AND DIGITAL
Deleted Scenes
Survival at Sea – An interview with the cast and filmmakers 
Braving the Elements – A behind-the-scenes look at filming in the open waters
Journey– Shailene Woodley takes viewers on a journey into Adrift
Theatrical Trailer #1
Theatrical Trailer #2
Feature Commentary with Director Baltasar Kormákur and Shailene Woodley
Adrift will be available on Blu-ray™, DVD and Digital.
Blu-ray™ unleashes the power of your HDTV and is the best way to watch movies at home, featuring 6X the picture resolution of DVD, exclusive extras and theater-quality surround sound.
DVD offers the flexibility and convenience of playing movies in more places, both at home and away.
Digital lets fans watch movies anywhere on their favorite devices. Users can instantly stream or download.

FILMMAKERS
Cast: Shailene Woodley, Sam Claflin
Music By: Volker Bertelmann
Edited By: John Gilbert, ACE
Production Designer: Heimir Sverrisson
Director of Photography: Robert Richardson, ASC
Executive Producers: Ralph Winter, Magnús Viðar Sigurðsson, Andrea Scarso, Stephen Fuss, Tom Rosenberg, Gary Lucchesi, Eric Reid, Wang Zhongjun, Wang Zhonglei, Felice Bee, Robert Simonds, Adam Fogelson, David Kosse
Produced By: Baltasar Kormákur, P.G.A., Aaron Kandell, Jordan Kandell, Shailene Woodley
Based on the Book By: Tami Oldham Ashcraft with Susea McGearhart
Screenplay By: Aaron Kandell & Jordan Kandell and David Branson Smith
Directed By: Baltasar Kormákur