As you all know we have loved Green Toys for years. Now they went and got even better. They have teamed up with Sesame Street to bring us some great outdoors toys yours kids are going to love. I don't know many kids that were not in love with Sesame Street. Even my son who did not like many shows was obsessed with the Elmo and his friends.
For the 2018 collection they have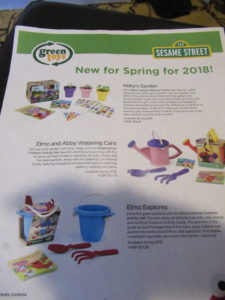 Abby's Garden which has some really cute planning pots, seeds, soil pucks, plant markets and stickers. My son would go nuts for this one he loves planting and taking care of what he calls his baby plants. I love watching the kids playing around the yard, acting like little adults, I think it's the cutest thing. The toys are very similar to proper gardening equipment so they pretty much are doing the real thing.
Elmo and Abby Watering cans this is a cute set to go along wit Abby's garden set. A must for any gardener in your life.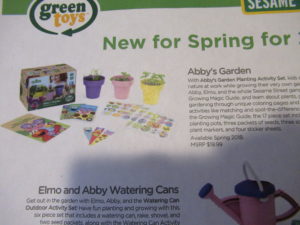 Elmo Explores this is a cute set for my son to dig and have fun in the backyard. It comes with a bucket, rake, and shovel. He can now dig around the back yard and have fun discovering everything new.
I love that all these toys from Green Toys are interactive fun. They are getting kids outside and working. I am true believer that every kid should know how to grow food and take care of the plants. Now I can get my son started early and he loves that the tools are all Sesame Street. Gets him a little more excited that Elmo and Abby are helping him every day.
green toys has a wide range of toys your kids are going to love. The toys are 100% recycled you are giving your kids a great new toy and helping to recycle. What can be better. They are also Made in the USA which you all know I love. Make sure to check out their whole collection for your holiday needs this year.
I got this free in exchange for an honest review