According to the most recent statistics available from the U.S. Energy Information Administration, heating and cooling accounts for 48 percent of all energy consumption in U.S. homes. Naturally, lowering this percentage could also help you lower your utility bills every month.
Upgrading to a smart thermostat is one of the easiest ways to improve the energy efficiency in your home. As with most new technologies, however, choosing one can be confusing for people. Consider the following three factors when you're thinking about upgrading to a smart thermostat.
Think About Ease of Use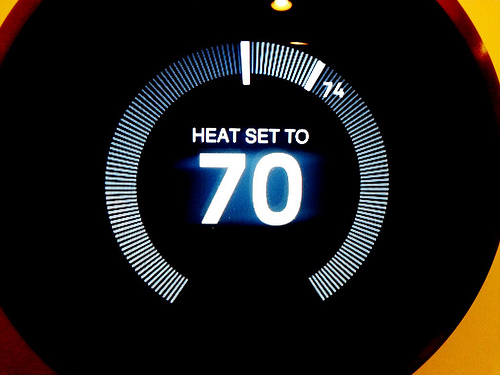 Image via Flickr by brendan-c
One of the reasons many families spend so much money on home heating and cooling is because they aren't vigilant about adjusting the thermostat before going to bed or leaving the house. Programmable thermostats exist for this reason, and they have been around for many years now. Unfortunately, these thermostats aren't making as making as much of a difference as most buyers hope. Check out this post by my trusted contractor for more advice on thermostat placement and problems.
To see results, you need to use programmable thermostats correctly and consistently to lower energy consumption, but too many people aren't cooperating. One study found that only 47 percent of programmable thermostat owners left their thermostats in "program" mode.
Smart thermostats are capable of doing a great deal on their own. They are easier to use than programmable thermostats in many ways, but you still want to make sure to choose one that is easy for you to understand. They are a great way to turn your home into a smart home, and if you want to learn more about this, check out this guide to smart homes.
Check Compatibility With Existing HVAC Units
Smart thermostats will work with many existing HVAC units, but each brand has its exceptions. You can usually find this information on the manufacturer's website for the unit you've chosen. Until now, you have relied on your HVAC to do a number of different things, such as heating and cooling down your home. Getting in touch with a company similar to these Indoor Comfort Specialists can help to ensure that your system is effectively working in the meantime, as well as being able to tell you everything you need to know about your system, in order to increase the chances of your HVAC being compatible with a smart thermostat. That's why you need to know what type of unit you have.
Zoned HVAC:

A single HVAC unit individually controls heating or cooling in different areas of the home.

One-stage heating and cooling:

This type of system applies if you have different units for heating and air conditioning,

Two-stage or multi-stage heating and cooling:

These staging tiers work for units that have both high and low speeds.

24mV:

This unit type often coordinates with a fireplace, wall, or floor furnace.

Direct line voltage:

Some older homes have 110 or 240 direct current power source to run the thermostat.
Research Usage Information
The main difference between programmable thermostats and smart thermostats is that smart thermostats adjust themselves to your behavior instead of requiring you to tell them how to behave. For example, smart thermostats can tell when the house is empty and they will shut themselves off.
Basically, smart thermostats are always gathering data about your behavior, and they share that data with you so that you can see where you need to make changes to your home energy use habits. Even better, some smart thermostats such as the Carrier Cor smart thermostat will give you precise reports on your heating and cooling consumption that can help you save more money on your utility bills.
What's the Bottom Line?
Smart thermostats have all types of cool features, such as the ability to control them with a smartphone or other devices when you aren't home. But to get the one most suitable for your needs on the first try, keep the above three considerations in mind when you're comparing models and manufacturers.