Ever wished your hair was fuller? You're not alone. The desire for thicker hair is high on many women's hair wishlist, reflected in the number of volumizing products that are appearing on the market.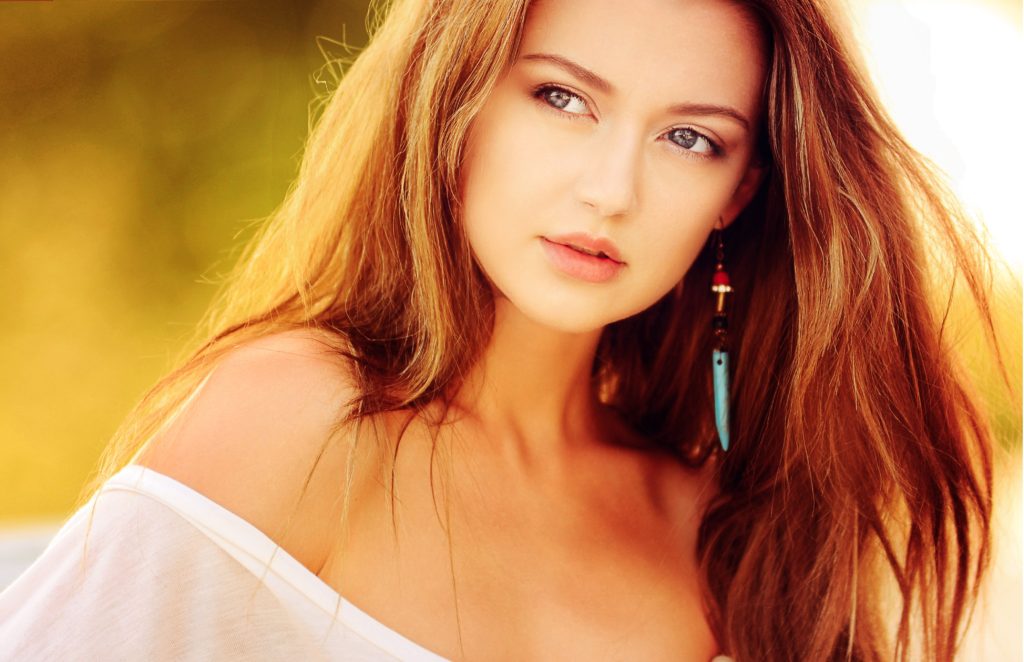 Image: Pxhere
If you weren't born with a head of horse mane locks, then achieving fuller-looking hair is going to take some work. There is always the option of nbr hair extensions but some people prefer to work with their real hair. There are many tried and tested methods to help your hair look thicker and more volumized, which you can read more about below.
Help take your hair to new heights with these ten tips for thicker-looking hair.
Get the right cut
The first step to achieving thicker-looking hair is to get the right cut. The right hairstyle can help to make your hair look fuller, either through movement or by blunting the ends, that will also make it easier to style. Take a look at hairstyles for thin hair to give you an idea of the types of cuts that will add volume. Speak to your stylist about which cuts will work well for you and make sure you pay attention to how they style your hair.
2. Take supplements
Taking hair supplements can be a good way to stimulate hair growth as well as make hair stronger and fuller. There are some recommended hair supplements on the market that are used by many A-listers to grow their locks thicker and longer. Having children and getting older can cause your hair to thin, so many women have turned to supplements to try and help restore what's been lost. Make sure you read the instructions carefully and talk to your doctor if you have any concerns about taking supplements.
3. Use hair extensions
Hair extensions are a popular way to add volume and thickness to your hair, and can add length too if needed. If you want volume in a hurry, then apply clip-in hair extensions to help you achieve that volume in minutes. More permanent hair extensions such as pre-bonds and micro-loops can be expensive to have put in and maintained, so think about your budget and patience before you take the plunge. You could always go for a free consultation at somewhere like Hair by Dr. Jeana Ned before comitting to anything. This way, you can discuss which extensions might be best for your hair!
4. Use volumizing products
As explained earlier, there is a growing market for volumizing products, which makes it easy to pick up some great products to create thicker looking hair. Volumizing shampoos and conditioners are ideal for thickening the fibers in your hair, while thickening sprays are fantastic for adding bulk while styling. With top volumizing hair products to suit all hair types, you'll find something to suit your needs and budget.
5. Get teasing
Teasing your hair is another cool way to add some instant volume and make your hair look thicker at the roots and the ends. If you want to know how to tease your hair, it's actually quite simple. All you need is some sectioning clips, a tail comb and some hairspray to help tease your hair to perfection. Backcomb at the roots underneath your section of hair, then you can lay hair above it to keep your style looking sleek and flawless. Adding hairspray will help to lock the style in place for volume that will last all day.
6. Use rollers
Rollers can help you create some volume as well as adding a wave to your hair for a bit of glamor. Rollers come in velcro and heated varieties, with each working to create volume in your hair. A sneaky tip to add some volume to your hair is to put in some rollers at the roots and crown of your hair while you do your makeup so that you can take them out afterwards for additional volume. Avoid using heated rollers too often, as like all styling tools they can begin to damage your hair.
7. Nourish your hair
It's important that you nourish your hair in order to keep it in a healthy condition that makes it easier to grow. Use hair oils regularly as a mask or applied to the ends of your hair to help keep it looking strong and shiny. The right hair oils for healthy hair can make a big difference to its texture and appearance, so try to apply them 1-2 times a week for glossy, thicker looking hair.
8. Add waves
For fine-haired beauties, it's great news that the latest hair trends favor waves and curls instead of the poker-straight styles of the 00s. Waves make hair look much thicker, as hair that's laid flat can look particularly thin. You can add cool, natural-looking waves by spraying your hair with sea salt water or you can use a heated tool to add in some waves, before brushing them out with your fingers to create the volume.
9. Try balayage
Balayage is the latest coloring technique that uses hand-painted colour to create subtle tones and highlights. Having highlights can make hair look thicker, particularly as adding lightening products to the hair makes the cuticles swell. When done right, balayage can frame the face and give hair volume in all the right places, so it's a technique worth trying if you're looking for a colour change. Did you know that you can even try balayage for asian hair? Some people often think that this is not possible, but it is actually more achievable than you think. Even to the point where you can try a grey or purple color for your hair. That's why you shouldn't be afraid to try something new.
10. Up your blow dry game
If you've ever been for a salon blow dry, then you'll know how much volume it's possible to achieve. With a bit of practice and the right tools, you can recreate the perfect blow dry at home and enjoy long-lasting volume with sleek results. Round brushes are the perfect tool for creating the perfect blow dry, so make sure you've got one to hand. If you're truly terrible at blow drying your own hair, ask your stylist for a blow dry tutorial the next time you're in the salon.
Having fine hair might get you down from time to time, but the good news is that there are things you can do to help give it a fuller appearance. Use the tips above to transform your hair into a style you can be proud of, leaving you looking and feeling like someone out of a shampoo advert when you walk down the street.