Zymbol Pendent Review
I got a fantastic Zymbol pendent and love it.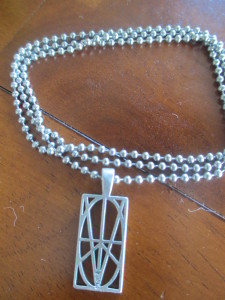 This is a fantastic necklace that looks beautiful and even has a wonderful story behind it. As you know I don't usually copy from their web site but this is their story and I believe no one can tell the story like the owner of the story.
"Zymbol was 'accidentally' created when company founder Sally Short was doodling, and wrote down the phrase 'LOVE IS ALL U NEED' stacking each letter on top of the next, and then adding a peace sign to complete the design.   The Short Family later saw it sitting on its side and a 'K' stood out.  This led to their discovery of the entire ALPHABET and every NUMBER….hidden in plain sight! "
The necklace is beautiful and when you are gifting it to that special person you can even write them a special message in the cute card they send with it.   I found myself plenty of times wearing this necklace and spelling things out with my finger on it.  Yes you all even a bad speller can appreciate this necklace let's be honest I don't know I am spelling it wrong.lol   As you all know I have a beautiful baby boy and he is also in love with the necklace.  As most little ones he likes to play with the necklaces around my neck and we play with it and he finds letters and gets so excited when he finds one.   For every Zymbol pendent sold one is gifted to a child in the hospital.  This is such a great thing to do and I love a company that gives back.
This will make a fantastic present for your hard to buy for person on your list.  It is beautiful and has a fantastic story behind it.  Zymbol comes in pendants, bracelets, earrings, and charms.  They have different colors and sizes you can spend from $16.00 and up.  They have so many different ones to choose from.  If you cannot choose the perfect one as a gift it is not a problem you can buy a gift certificate and let them pick their favorite.  The web site is very easy to use and will make ordering a snap.
I would recommend the Zymbol jewelry to everyone.
To join them on facebook head here
To tweet with them head here
To buy your own head here
They have even offered us a fantastic giveaway for a small pewter Zymbol for your very own.
I received one or more of the products mentioned above for free using Tomoson.com. Regardless, I only recommend products or services I use personally