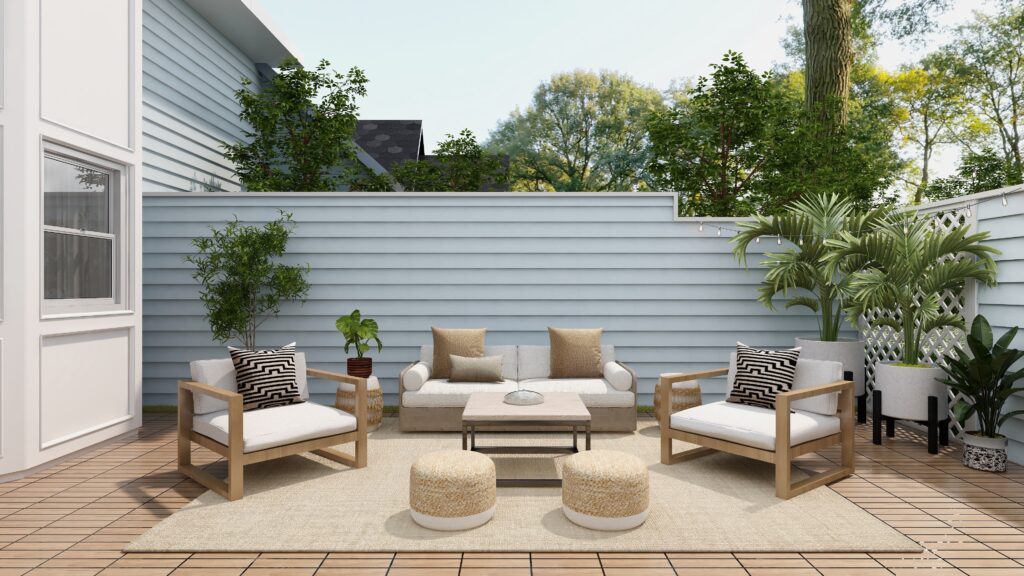 Summer is the time to enjoy the outdoors, and what better way to do that than by upgrading your patio? A patio can be a great place to relax, entertain guests, and enjoy the weather. However, many people don't take advantage of their patios because they think it will be too expensive to upgrade them. This blog post will discuss pocket-friendly ideas for upgrading your patio!
1) Add some greenery: 
Planting a few plants on your patio can instantly add life and beauty to the space. Whether you opt for tropical plants like palm trees or more traditional choices such as lavender, flowers are an inexpensive way to make your patio look more inviting and welcoming.
2) Purchase a few pieces of outdoor furniture: 
Outdoor furniture doesn't have to be expensive! Look for discounted or second-hand pieces that are still in great condition. This will allow you to add more seating and comfort to your patio without breaking the bank.
3) Install an outdoor rug: 
An outdoor rug can help define your patio space and also make it look more polished. Choose a patterned rug that won't show dirt easily and will last through multiple seasons.
4) Hang up some string lights: 
String lights are an easy way to upgrade your patio's atmosphere at night. Hang them up on trees, posts, or your house for a beautiful ambiance that won't break the bank. A string of lights will also make your patios more inviting and cozy.
5) Get creative with DIY projects: 
There are tons of DIY projects that you can use to upgrade your patio without spending too much money. For example, you could recycle old wood pallets to create a one-of-a-kind outdoor couch or table or repurpose an old ladder into a plant stand!
6) Install some outdoor speakers: 
Outdoor speakers will allow you to play music from inside your house while still enjoying the outdoors. You don't need expensive equipment; just purchase a pair of wireless speakers and install them in a discreet spot on your patio for an instant party atmosphere!
7) Install a firepit: 
Firepits are becoming increasingly popular, and they're a great way to keep your patio warm in the cooler months. Look for affordable models that don't require any complex installation process.
8) Add some pillows and throws: 
Pillows and throws can instantly cozy up your patio and will be relatively inexpensive. Choose colors that complement the rest of your outdoor decor, or go bold with vivid hues!
9) Incorporate natural materials: 
Adding natural materials to your patio flooring is an easy way to give it a more rustic feel without having to do much work. You can also incorporate natural elements like stones or driftwood into your decor for a more refined look.
10) Create private zones: 
If you're looking for more privacy, consider building a few walls or fences around your patio. This will also add some much-needed shade in the summer months.
11) Put up an awning: 
An awning is another great way to keep cool during the hot summer days and create some extra shade and privacy. Look for waterproof models that will last through multiple seasons.
12) Paint it up: 
Give your patio a completely new look with just a few cans of paint! You can use vibrant colors to make your space feel alive or choose neutrals if you prefer something subtler.
13) Patio doors: 
Replace your existing patio door with a new one to add an updated look and also keep the space warm during the winter months. New patio doors will make the area more secure and also give it a modern feel. Visit Everett Window Replacement to get the best replacement windows and doors. 
14) Add a hammock: 
If you're looking for some R&R, hang up a hammock in your patio area. This is an inexpensive way to add extra seating as well as an inviting spot for lounging and relaxing. Hang a few blankets or pillows for added comfort!
15) Install a water feature: 
Water features are both beautiful and calming. Look for small, simple fountains that don't require too much maintenance. This will add some life to your patio and give it a more peaceful atmosphere.
16) Put up some curtains: 
Hanging curtains around your patio is an easy way to block out the sun's rays during the summer months. Choose sheer fabrics in light colors so they won't block out too much light.
17) Your garden can become part of the patio: 
If your garden is close to your patio, why not use it as part of your outdoor decor? Plant colorful flowers and shrubs around the edge of your patio for a more inviting atmosphere.
There are a variety of simple, inexpensive ways to upgrade your patio. From DIY projects to hanging curtains and adding water features, you can easily create a beautiful outdoor oasis without breaking the bank. So don't wait any longer – start transforming your patio today!