"Sponsored post written by me on behalf of Tyson Foods, Inc. All opinions are entirely my own."
In our house, we do special nights in. -When you have a little one who has OCD, it is hard to do nights out with him. -Nights in, on the other hand, are a blast for the whole family, plus in the winter no worrying about driving in the bad weather. Jimmy Dean®, State Fair®, and Tyson® products are the perfect solution for a night in. They are great snacks that my son loves and now when you shop at Walmart you can get free movie nights too.
This is so easy to participate in just head to your local Walmart Supercenters or Walmart Neighborhood store and buy 2 participating Jimmy Dean, State Farm, or Tyson products in one transaction. You can find the products at www.TysonFreeMovieNight.com. Then you just snap a picture of your receipt, and head here to download it. Then you will get two codes each good for a free movie night from Redbox.*
It's that easy, you can be enjoying a movie night with your family just for doing what you are already doing. I love that they have come together to help make a special night for my family. When you are thinking of what to do for a special night with you and your family this week make sure to remember #TysonFreeMovieNight. It can be a great meal (corndogs for him chicken nuggets for me) and a lot of fun for the whole night. I love the fact that we can get a movie to watch with my little guy, and another to watch with my hubby for when he goes to bed.
Going out for my family is not really an option. Making a great night staying in with his favorite foods and a great movie is possible. It's nights like these that I hope my son will remember forever.  I love that we are buying what we normally would and getting a great gift with it.
For more details, see below!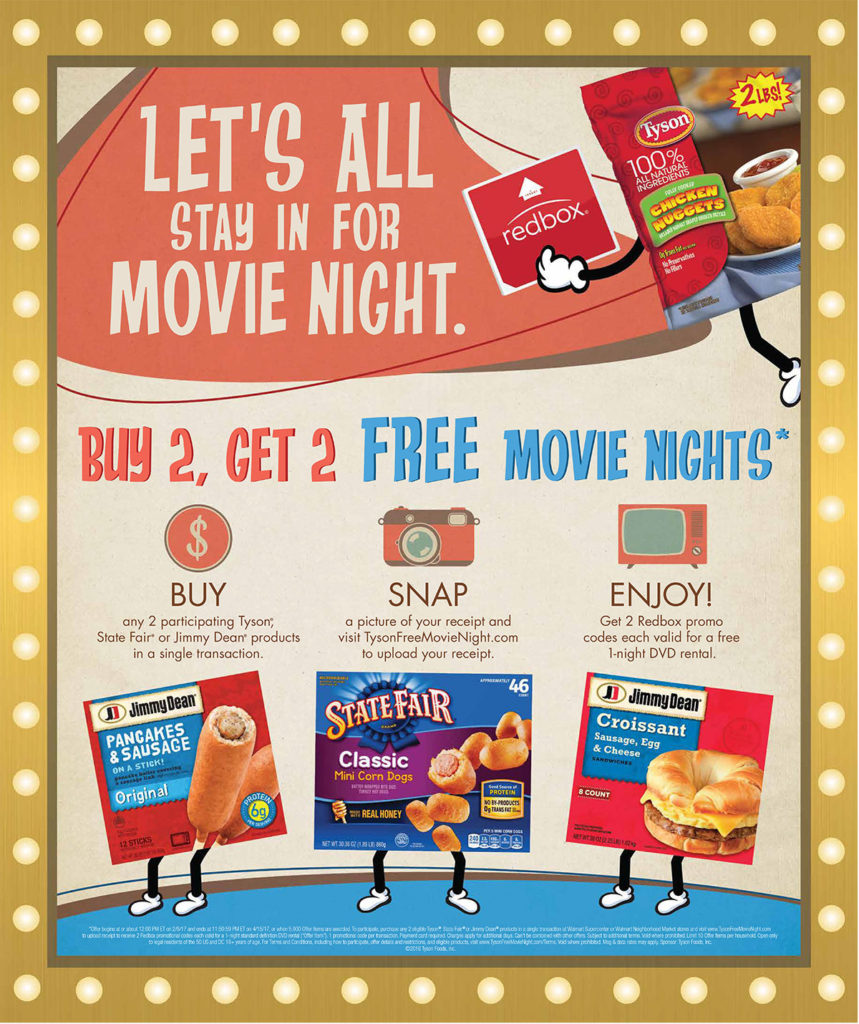 *1 promotional code per transaction. Payment card required. Charges apply for additional days. Can't be combined with other offers. Subject to additional terms. Void where prohibited.