We are so excited for The House With a Clock in Its Walls  to come out.  As most of you know we don't get to g to the movies.  With my little guy we have to wait for it to come out on DVD that's when we get to see all the great ones.  We have been watching the previews for this and are so excited to see this new magical adventure.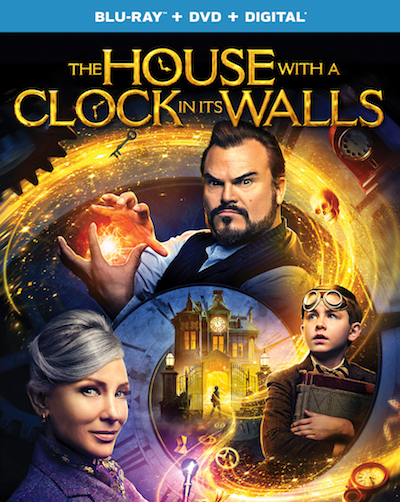 A house full of magic, mystery and madness comes to life in The House With a Clock in Its Walls, arriving on Digital November 27, 2018 4K Ultra HD, Blu-Ray and DVD December 18, 2018 from Universal Pictures Home Entertainment. Featuring Jack Black, Cate Blanchett and Owen Vaccaro, this family-based thrill ride is one to remember!
AVAILABLE ON DIGITAL NOVEMBER 27, 2018
4K ULTRA HD, BLU-RAYTM AND DVD DECEMBER 18, 2018
FROM UNIVERSAL PICTURES HOME ENTERTAINMENT
Universal City, California, October 30, 2018 – Enjoy the delightfully thrilling tale of a mysterious house where things, including the inhabitants, are not what they seem to be. The House With a Clock in its Walls arrives on Digital and via the digital movie app MOVIES ANYWHERE on November 27, 2018, as well as on 4K Ultra HD, Blu-rayTM, DVD and On Demand on December 18, 2018. Based on the classic children's book and praised as "creaky, freaky haunted-mansion fun" (LA Times),The House With a Clock in its Walls features over 60 minutes of bonus content including an alternate beginning and ending, stunning featurettes, deleted scenes, a hilarious gag reel, and feature commentary. Enchanting from start to finish, it's the perfect adventure for families during the holidays.
Full of wonder and adventure, The House With a Clock in its Walls mesmerizes audiences of all ages and keeps the magic alive when stars Jack Black (Jumanji: Welcome to the Jungle, Kung Fu Panda), Cate Blanchett (Ocean's 8, Thor: Ragnarok) and Owen Vaccaro (Daddy's Home, Mother's Day) arrive as Uncle Jonathan, Mrs. Zimmerman and Lewis Barnavelt. In the most unexpected places, fantastical events, miraculous twists and suspense filled moments ensue in this "zany kids adventure" (The Hollywood Reporter) that soon captivates adults as well. In the tradition of Amblin classics, master frightener and director Eli Roth's The House With a Clock in its Walls is a family-friendly fantasy film that "stands alongside the 'just for kids' classics of the 1980's and 1990's" (Forbes).
In The House With a Clock in its Walls directed by Eli Roth (The Green Inferno, Cabin Fever), Lewis Barnavelt (Vaccaro) goes to live with his Uncle Jonathan (Black) in a creaky and creepy mansion with an eerie tick-tocking heart. But when Lewis soon finds out he's in the presence of magic practiced by his uncle and neighbor Mrs. Zimmerman (Blanchett), his new town's dreary aura boosts to life in an exciting and dangerous way. Based on the beloved children's classic book written by John Bellairs and illustrated by Edward Gorey, The House With a Clock in its Walls is written by Eric Kripke (creator of TV's "Supernatural") and co-stars Kyle MacLachlan ("Twin Peaks," Inside Out), Colleen Camp (Clue), Renée Elise Goldsberry ("One Life to Live"), and Sunny Suljic (Mid90s, The Killing of a Sacred Deer). It is produced by Mythology Entertainment's Brad Fischer (Shutter Island) and James Vanderbilt (Zodiac), as well as Kripke.