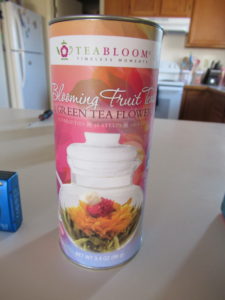 Are you a true tea lover?  I love everything tea from the teas themselves to the beautiful tea sets cups and more I love it all.  When I saw tea bloom I was so excited I love fruity teas and the blooms are beautiful.  Of course, I just moved and can not find my tea pot for the life of me, but that would not stop me from trying these fantastic teas.  So, you get to see this bloom from a beautiful Pyrex.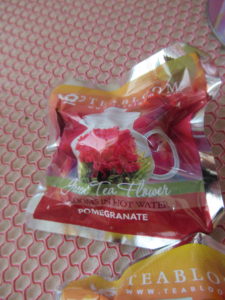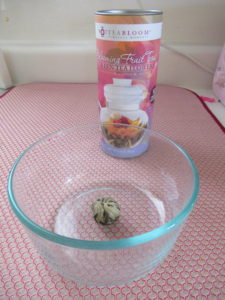 This is so easy to use Heat your water to a boil. Place one tea flower in the tea pot or mug.  In my case a Pyrex so you all can see the beauty. Cover it with hot water and let steep until the leaves have opened fully.  Swirl the tea when done to balance the flavor and enjoy.  Each flower can be Steeped 2-3 times so you can enjoy more then once.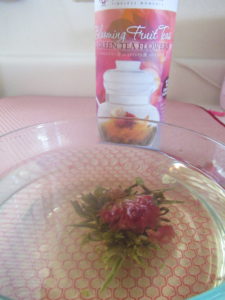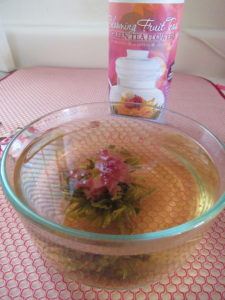 I choose the Blooming Fruit Teas it has 12 tea flowers in this can 1 of each
Apple Cinnamon
Tangerine Spice
Pomegranate
Strawberry
Acai Berry
Pineapple
Orange
Mango
Vanilla
Melon
Litchi
Peach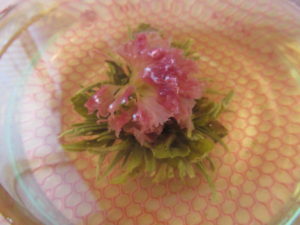 I love that if you don't know which one you are going to love you get one of each to try in this Blooming Fruit Teas Gift Set.  This tea had a very clean fresh taste.  It was great hot and also cold.  As a busy mom sometimes I do not get the chance to drink it while its still hot.  So, in the fridge it goes and I have a great iced tea after a little while.  I love a tea that can go from hot to cold and still be fantastic.
TEABLOOM has a wide range of teas, cups and more if you have a tea lover in the family then make sure to save this page and be ready for the holidays.  These are not only a great gift for the tea lover in your family but would also make a great hostess gift this year.  I want to make a note right now they are having an epic sale so stock up now and you want have to worry about it later.
Want to check out the cups?  Make sure to check out Chatty Pattys Place review here 
I got this free in exchange for an honest review.