Price: $24.97
Roll, let the dice spin and follow the directions (which can be followed by emerging and non-emerging readers) to find where the bear goes next. Use the cute bear position dice to work on toddler language activities and positional words. Introduces vocabulary – shorter, taller, bigger ,smaller. Family concepts with Mama, Papa and Baby bears. You can roll 2 or even 3 dice at once for added complexity. Available on Amazon.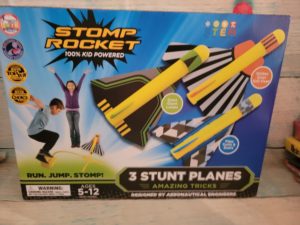 I don't think this needs much convincing .  It's a great fun time outside with a little learning and a lot of fun.  Stomp and let them fly and you can do it over and over.  Just a heads up don't let the dogs get them. lol
Original Stomp Rocket® Stunt Planes
Price: $29.99
The ORIGINAL Stomp Rocket®  not only gets kids out and moving, but it also helps enrich those STEM skills. Plus, kids can easily work it themselves — just attach to the launcher and STOMP! No batteries required, and the soft tips means fun that is safe. Stomp Rocket® toys give kids an understanding of gravity, motion and force, all of which are STEM principles. The Stunt Planes shown here were designed by Aeronautical Engineers–they come with three planes; Looper – which does giant loops, Glider – which can glide over 100 feet, and Wild Cat – you never know where it will go! Available on Amazon.
Price: Single Box – $49.95, Monthly Subscription – $39.95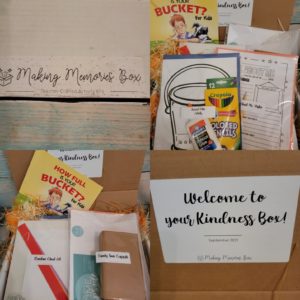 Making Memories Box is everything you need to create lasting family memories this summer! Take the hassle and fuss out of planning engaging activities, shopping for crafting essentials, and prepping. Making Memories Box offers monthly curated boxes of creative supplies and outlined instructions to take the guesswork out and get straight to the fun! Choose a single box or save by subscribing monthly. Each box includes five main categories: A Family Activity, a Kid's Art/Craft, a Game, Kid's Activity, and a Keepsake. Boxes may also include a seasonal surprise! Save time and money and enjoy quality time with your cutie patooties.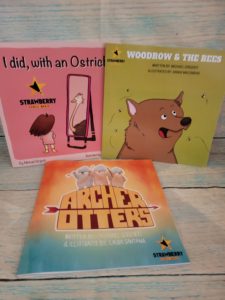 We love to read.  We try and read at least one book a day some days we read 3 or 4.  I love that he liked these books so much we have read them each a few times and he is just as excited to read them every time.
Price: $7.55 – $13.69
Strawberry Pencil Magic is colorful children's picture books that allow a child's imagination to flourish! The books are sold in select Barnes & Noble stores, Barnes & Noble online and on Amazon. Recently shared by celebrity Chris Brown's daughter "Royalty Brown" @missroyaltybrown on Instagram. Royalty Brown just posted about one of the author's latest stories: Peri and Her Plant." SPM also has a shoutout from Mark Wahlberg's business called Municipal! The author, Michael Girgenti, loves the limitlessness of children's books and writes his stories without fear of failing. From Girgenti's original stories about talking shirts and socks taking an adventure from the mall to the ocean, to the bestselling book with otters wearing helmets and using their archery skills to defend their den and family, your child will be entertained and ask for more SPM! Strawberry Pencil Magic entertains and inspires the creative minds of the future by creating stories without limits.
Price: $150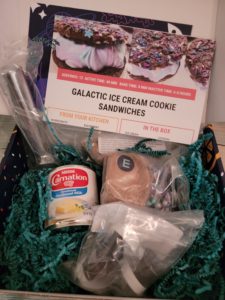 Enjoy the campfire vibe from the comforts of your own kitchen with the new Kids Baking Boxes! You get THREE recipes in one box; Campfire Cupcakes, Sandcastle Cake and Galactic Ice Cream Sandwiches. Box 1 – Explore the mountains with s'mores campfire cupcakes and learn about the history of the US National Parks. Box 2 – Head over to the beach to make a sandcastle cake and learn about sharks. Box 3 – Finally, pick a starry night to learn about constellations while eating galactic ice cream cookie sandwiches. Each kit includes all the nonperishable ingredients to make the box, educational activities, and a kitchen gift: Star shaped piping tip, white chocolate seashell candy mold, ice cream scoop.
Lunii, My Fabulous Storyteller 
Price: $80
Back to school season is the perfect time to discover the world of Lunii and witness how eager it makes kids want to read, learn, and explore. Its My Fabulous Storyteller is the perfect travel essential this summer that gets them ready for back-to-school season in the most fun way. Jimmy Fallon is a big fan!
This educational "story-maker" is screen-free, WiFi-free, and develops children's imagination and creativity. It's the must-have companion that can easily be carried along this season, hosting thousands of curated stories in eight languages.
My Fabulous Storyteller is a creative library full of adventures to interest young explorers. They can visit such places as Toronto, Cabo San Lucas, New York, and discover the wonders of our national parks.
And if you do give them screen time… make sure to protect their eyes!
Pixel Eyewear Blue Light Glasses 
Price: $75
With endless Zoom calls and screen time, Pixel Eyewear offers stylish blue light protection. Pixel Eyewear has a large selection of unisex styles to choose from including amber glasses for nightshift workers and gamers, reading glasses, and blue light glasses for both kids and adults. Pixel Eyewear provides breakthrough lens technology that filters 50 percent of blue light and up to 95 percent at the strongest wavelengths, without the yellow tint. Lenses also contain nanotechnology that reduce smudges and repel water and dust. For comfort, each lens has an anti-reflective coating, eliminating computer glare and reducing the stress on your eyes.
And to keep the hunger at bay. . .
Dick & Jane Educational Snacks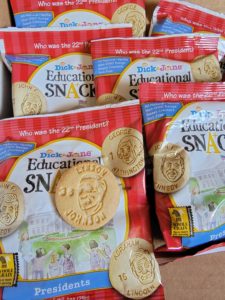 Guys these snacks tasted awesome and I love that they also give us a chance to learn a little something while having snack time.
Price: $25 for 30 bags (variety pack)
Dick & Jane Educational Snacks are delicious, all-natural, and loaded with learning. Think education on an animal cracker. These tasty treats are made with non-GMO ingredients and are 100% nut-free. Choose from six snack varieties including States & Capitals, Presidents, English & Spanish, Food & Nutrition, Fun & Fitness, and Farmers Market. Kids never stop learning so treat them to a snack that is an enjoyable way to keep their minds engaged and that encourages healthy eating year-round. Available on Amazon.