I have been in love with Try The World Subscription Boxes for awhile now.  I love to sample food from around the world every month.  You can imagine my excitement when I found out they have a snack box now too.  Every month for just $15.00 you can get some great snacks from around the world.  Want even better news you can get 15% off your order with code

tabbyspantry15

. 
Truffettes de France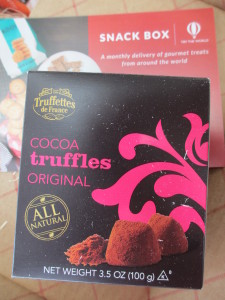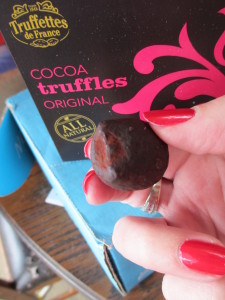 COCOA truffles from Canada.  I love these I got some in the Christmas box and was in love.  I would have been excited with just these in the box.  They melt in your mouth and are fantastic chocolaty goodness.  You won't want to share a bite of these.
   Nyakers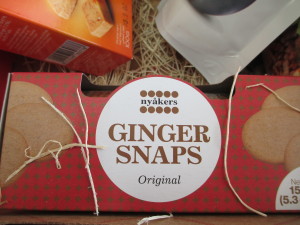 Gingersnaps from Sweden.  I also got to try these in the Christmas box.  Hubby and I both loved them so much that when he saw them I did not even get one from this box.  They were gone in minutes.  They had a great flavor in a nice crispy cracker.
Orientines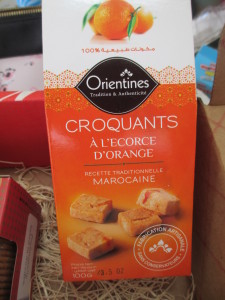 Cookies from Morocco.   Last time I got to try the butter cookies and they were fantastic.  This time I got to try the orange cookies and they were just as good as the butter.  A fantastic buttery flavored cookie with pieces of dried oranges. 
Biokia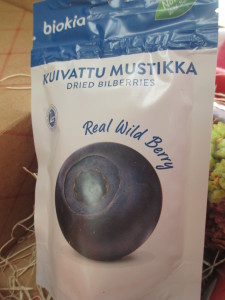 Berries from Finland.  I got the dried blueberries and I loved to add these to the top of my ice-cream.  I love that I was adding a little good to my bad food.  They added a perfect kick of flavor to my nightly routine.
Siammit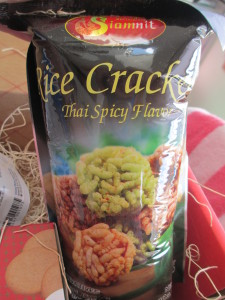 Rice Crackers from Thailand.   I am not normally a lover of spicy food, but these were fantastic.  They were rice crackers with Thai seasoning.  They had a little kick to them and they filled me up.  These were great.
  I loved everything that I got in this box and I would suggest it to everyone.  They have a little bit for everyone from spice to sweet you will be looking forward to his box every month.
get 15% off your order with code

tabbyspantry15
I would like to note all though this was a sponsored post all opinions are my own I will always be truth-full with you guys.