We got this Hape scooter free in exchange for an honest post.  All opinions are our own.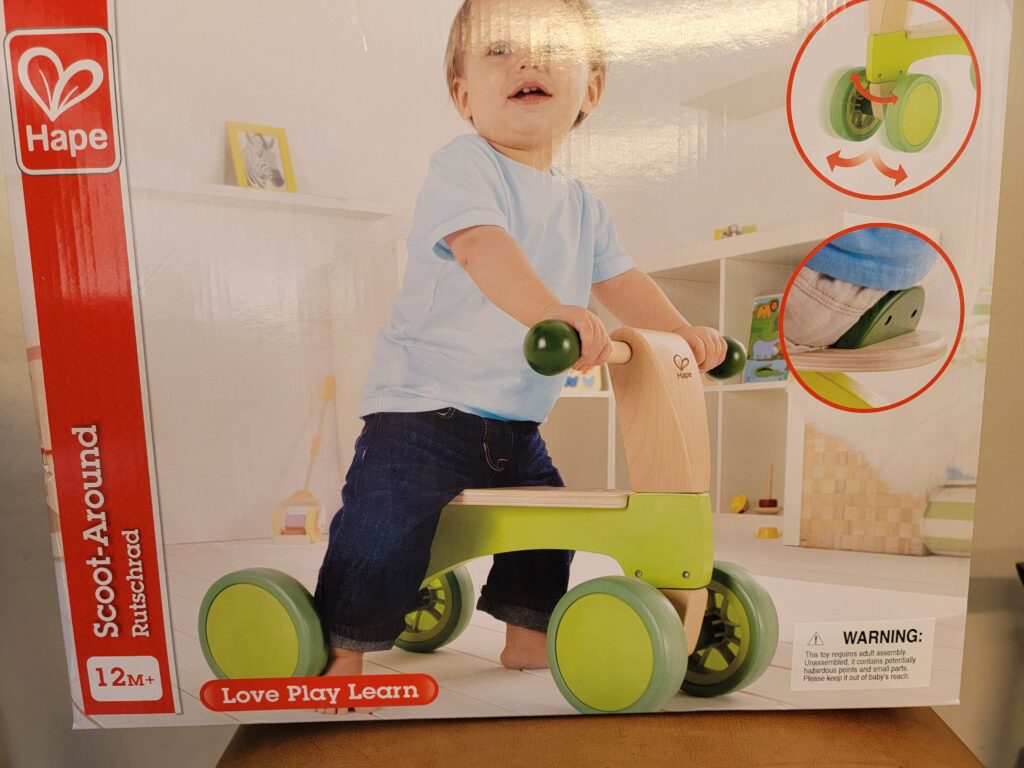 Its that time of year.  It is starting to get warmer and we are getting back outside.  I love that Hape makes a wide range of toys to get our family outside this year.
As the weather's getting warmer and your toddlers are itching to get outdoors, the 
Hape
Scoot-Around Balance Bike
 is here to keep them entertained! This vibrant four-wheel push bike is perfect for outdoor or in-home scuff free riding that is sure to help strengthen muscle movement and develop good balance.
The front handlebar swivel action enables kids to practice turning directions and developing gross motor skills in tandem with building their muscle strength.
As children master their push-ride skills, they can practice riding and balancing on the wooden back wheels for a scooter-like experience!
Purchase on 
Amazon
 (Affiliate link) As an Amazon affiliate, I receive a small incentive when purchase is made using my link.
Description
The Hape Scoot Around is the perfect first push bike toddler scooter. Toddlers aged 12 months and older can enjoy this four-wheel foot-powered, wooden rider while reaping the benefits of increased muscle strength and improved balance.
The rubber wheels will ensure that the scoot around does not damage floors and is super durable while your young ones are on their speedy escapades over any surface.
Skills Development
The Hape Scoot Around will help your child test their mobility and strengthen their muscles while developing active motor skills. The scoot around will also instill confidence in your young ones as they experience the freedom of zipping around.
Easy Transport Toy
The push scooter is an easy transport toy for trips to the park and perfect for riding around the home. It can even be used as a push or pull toy for your young ones, allowing you to spend quality time bonding with them.
Award Winning Product
The Hape Scoot Around Ride On Wooden Bike was the winner of the 2013 Oppenheim Toy Portfolio Gold Seal Award and the 2013 Parent's Choice Recommended Award.
Made with wood sourced from environmentally sustainable forests. Durable child safe bright green paint finish and solid wood construction make this a toy your child will love for years to come.