"Warner Bros. Home Entertainment provided me with a free copy of the DVD I reviewed in this Blog Post. The opinions I share are my own."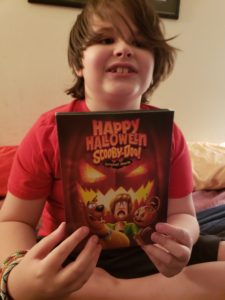 The Scooby gang solve the mystery just in time to celebrate Halloween.  As Shaggy and Scooby are trying to get their candy on Fred discovers the Mystery Machine is broken.  While Fred is trying to figure out how to fix it Shaggy and Scooby discover a new mystery and no one believes them.  Bill Nye sends them a new Mystery Machine Fred is not so happy but Velma is as happy as can be.  What will become of the Scobby gang will they finally believe Shaggy and Scooby will Fred get his Mystery Machine back?  You will have to watch and see.
Happy Halloween, Scooby-Doo! will also be available to own on Digital for $14.99 SRP (US and Canada) on October 6, 2020.
Scooby-Doo and Shaggy's favorite holiday is upon us! With fake monsters and candy galore, Halloween is heaven for these hungry foodies going door-to-door. But this year, their sweet holiday turns sour when the neighborhood pumpkin patch is infected by toxic ooze, creating high-flying jack-o-lanters, and a king-sized pumpkin leader squashing everything in its path. It's up to Scooby-Doo and the gang as they team up with their pals, Bill Nye the Science Guy and Elvira, Mistress of the Dark, to solve this mystery of gigantic proportions and save Crystal Cove!
"Happy Halloween, Scooby-Doo! is an entertaining new, Halloween-themed adventure that delivers all the spooky-fun you would expect from Scooby-Doo!", said Mary Ellen Thomas, Warner Bros. Home Entertainment Senior Vice President, Originals, Animation and Family Marketing. She added, "It's a great family film that's packed with humor, fun plot twists and eye-catching animation. "Happy Halloween, Scooby-Doo! is a captivating new mystery that every Scooby-Doo fan will want to add to their collection.
Happy Halloween Scooby-Doo! features the familiar voice talents of Frank Welker as Scooby-Doo/Fred Jones, Grey Griffin as Daphne Blake, Matthew Lillard as Shaggy Rogers and Kate Micucci as Velma Dinkley.  The film also stars Cassandra Peterson as Elvira, Mistress of the Dark and Bill Nye as himself. Happy Halloween Scooby-Doo! was executive produced by Sam Register (Looney Tunes Cartoons). The film was written, produced and directed by Maxwell Atoms.