POP CULTURE ICONS MEET THEIR CARTOON COUNTERPARTS ON
SCOOBY-DOO! AND GUESS WHO?: THE COMPLETE FIRST SEASON
AVAILABLE ON DVD JANUARY 19, 2021
FROM WARNER BROS. HOME ENTERTAINMENT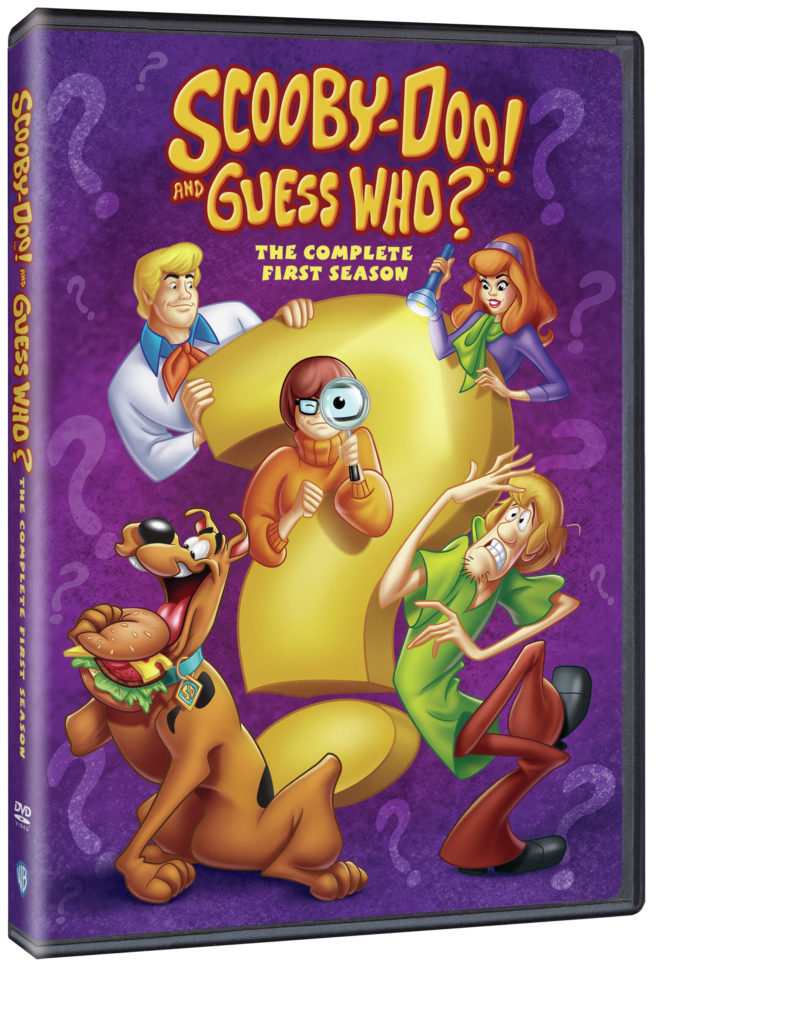 Release Features 26 Captivating New Mysteries From the Animated Series' First Season
Join the Mystery Inc. gang as they team up with their superstar friends to solve all-new spooky mysteries around the world in SCOOBY-DOO! AND GUESS WHO?: THE COMPLETE FIRST SEASON on DVD 1/19 from @WBHomeEnt.
Scooby-Doo! and Guess Who?: The Complete First Season features the familiar voice talents of Frank Welker as Scooby-Doo/Fred Jones, Grey Griffin as Daphne Blake, Matthew Lillard as Shaggy Rogers and Kate Micucci as Velma Dinkley. Scooby-Doo! and Guess Who?: The Complete First Season is executive produced by Sam Register. Chris Bailey serves as producer.
26, 22-Minute Episodes:
| | |
| --- | --- |
| 1.Revenge of the Swamp Monster! | 14. Space Station Scooby! |
| 2.A Mystery Solving Gang Divided! | 15. The Nightmare Ghost of Psychic U! |
| 3.Peebles' Pet Shop of Terrible Terrors! | 16. The Sword, The Fox and the Scooby Doo! |
| 4.Elementary, My Dear Shaggy! | 17. One Minute Mysteries! |
| Ollie Ollie In-come Free! | 18. Hollywood Knights! |
| 6.The Scooby of a Thousand Faces! | 19. The New York Underground! |
| 7.The Cursed Cabinet of Professor Madds Markson! | 20. Fear of the Fire Beast! |
| 8.When Urkel-Bots Go Bad! | 21. Too Many Dummies! |
| 9.The Fastest Fast Food Fiend! | 22. Dance Matron of Mayhem! |
| 10.Attack of the Weird Al-losaurus! | 23. The Wedding Witch of Wainsly Hall! |
| 11.Now You Sia, Now You Don't! | 24. A Run Cycle Through Time! |
| 12.Quit Clowning! | 25. I Put A Hex on You! |
| 13. What a Night for a Dark Knight! | 26. The High School Wolfman's Musical Lament! |
Digital
Scooby-Doo! and Guess Who?: The Complete First Season is available to own on Digital now. Digital purchase allows consumers to instantly stream and download to watch anywhere and anytime on their favorite devices. Digital movies and TV shows are available from various digital retailers including Amazon Video, iTunes, Google Play, Vudu and others.