I have to say I was really intrigued after reading what this was all about.  It sounded like some of the crazy drams I have had in my life.  I was just as sucked in to this movie as I could be.  With everyone turning into something else and the adventure how could you not love it.
GKIDS AND SHOUT! FACTORY PRESENT
SATELLITE
GIRL
 AND MILK COW
ON BLU-RAY/DVD AND DVD
"Exhilarating and hilarious! A one-of-a-kind tale!" – Hollywood News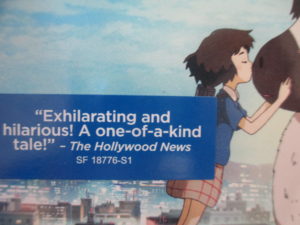 Los Angeles, CA – GKIDS and Shout! Factory have announced the release of the charming fantasy/science fiction romance 
Satellite

 

Girl

 and Milk Cow 
on Blu-ray/DVD on 
June 5, 2018
. Bonus features include the short film Coffee Vending Machine And Its Sword, and trailers.
The debut feature-length film from Korean director 
Chang Hyung-yun
, acclaimed creator of animated short films that have premiered and won prizes at festivals worldwide, the highly original 
Satellite
Girl
 and Milk Cow was produced by Cho Young-kag (The Fake, The King of Pigs), and received an Asia Pacific Screen Award nomination for Best Animated Feature.
An out of commission 
satellite
 picks up a lovelorn ballad on her radio antenna and descends to Earth to find the source of such sincere emotions. But on the way she is caught in a raging magical battle and transforms into 
Satellite
Girl
, complete with rocket shoes and weapon-firing limbs. Meanwhile, the balladeer in question – a loser twentysomething at a café open mic – meets the fate that befalls all broken-hearted lovers: he is turned into a farm animal. But love knows no bounds, and aided by the wise and powerful Merlin – a wizard who has been turned into a roll of toilet paper – our duo must evade the all-consuming incinerator monster, the wily pig witch, and other nefarious adversaries in an attempt to be together.
Bonus features
·        Coffee Vending Machine And Its Sword Short Film
·        Trailers
Want even better news 3 U.S or Canada winner's will get their very own copy Enter below Want to just buy now head here for your own copy
Satellite Girl and Milk Cow DVD

We got this in exchange for an honest review all opinions are my own.