My family is so excited for more DuckTales adventures.  I grew up watching DuckTales and I am so excited that I can not watch them with my little guy.   Your family is going to love the adventures Huey, Dewy, and Louie go on with of course Scrooge McDuck.   This is the first time these adventures have been on DVD this will make a great family movie night DVD.  It also comes with 2 classic episodes which I love I knew them as soon as they started.  If you were a DuckTales fan when you were younger make sure to pick up these great episodes.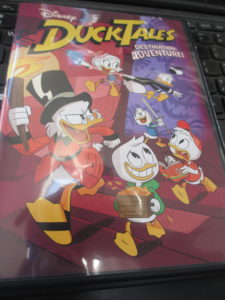 Join Huey, Dewey, Louie and Webby on Their Global Adventures!
DUCKTALES: DESTINATION ADVENTURE!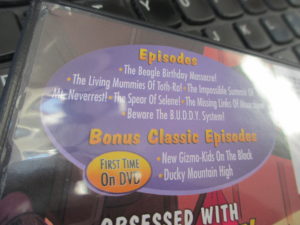 Bring Home Over 2 Hours of Humor on Disney DVD June 5th!
Synopsis:                      An ancient tomb in Toth-Ra, the mountain peak of Mt. Neverrest, a vacation island for Greek gods…global expeditions await! Thanks to Huey, Dewey, Louie and Webby, trillionaire Scrooge McDuck is back in action, leading the way to death-defying exploits stretching all the way from Duckburg to legendary destinations around the world. Let the greatest family adventures begin!
Voice Cast:                         David Tennant as Scrooge McDuck; Danny Pudi as Huey Duck; Ben Schwartz as Dewey      Duck; Bobby Moynihan as Louie Duck; Kate Micucci as Webbigail (Webby) Vanderquack; Beck Bennett as Launchpad McQuack; Toks Olagundoye as Mrs. Beakley; andTony Anselmo as Donald Duck
Guest Voice Cast:            Lin-Manuel Miranda as Fenton Crackshell-Cabrera aka Gizmoduck (featured in one episode*)
Executive Producer:      Matt Youngberg
Co-Producer/
Story Editor:                       Francisco Angones
Episodes:                            The Beagle Birthday Breakout!
The Living Mummies of Toth-Ra!
The Impossible Summit of Mt. Neverrest!
The Spear of Selene!
The Missing Links of Moorshire!
Beware the B.U.D.D.Y. System!*
Bonus:                                 2 Classic DuckTales Episodes:
                                                New Gizmo-Kids on the Block
Ducky Mountain High
Release Date:               June 5, 2018
Ratings:                                TV-Y7 (US); G (CE/CF)
Run Time:                           176 minutes (including bonus)
Aspect Ratio:                     1.78:1 Widescreen (Enhanced for 16×9 Televisions)
Audio:                                  English 2.0 Dolby Digital
Subtitles:                      English SDH, French & Spanish
Closed Captions:              English
We got this in exchange for an honest review all opinions are my own.