Warner Bros, Entertainment provided me with a free copy of this DVD I reviewed in the blog post.  The opinions I share are my own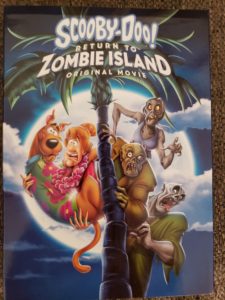 OMG don't tell me the Scooby Doo gang has retired.  This is the end of a era.  Its not time for them to go out and be kids.  No more mysteries no more ghost the mystery machine is gone.  Ya right do we believe that. Ya not for a second even if they did want to quit the mysteries always find them.
When Shaggy wins a vacation he gets to bring 3 guests and one pet with him.  That's when the mystery starts again.  I loved this Scooby-Doo it was fun and exciting and surprising in the end.  I also loved the message of never break a promise to a friend.
Scooby-Doo! Return to Zombie Island will be available on Digital ($14.99 SRP) and DVD ($19.98 SRP).
On Scooby-Doo! Return to Zombie Island, Scooby-Doo and his pals win an all-expense paid vacation and embark on a trip of a lifetime to a tropical paradise. Their destination however, turns out to be Zombie Island. As soon as they arrive, they realize the place looks strangely familiar and is reminiscent of a trip they took years ago, in which they became wrapped up in a mystery involving zombies.  The gang soon learns that their trip to paradise comes with a price when the zombies re-emerge and attack their hotel.  Will Scooby-Doo and the Mystery Inc. gang finally solve the mystery behind Zombie Island?
"Zombies are a very popular theme in entertainment now and we wanted to create a fun, family-friendly version of this genre for Scooby-Doo! fans. So we brought back a Scooby-Doo! classic and continued the original story but created a captivating new plotline," said Mary Ellen Thomas, Vice President Family & Animation Marketing. She added, "Scooby-Doo! Return to Zombie Island is an entertaining, original film that will appeal to a wide audience. It's classic Scooby-Doo! with a contemporary look and feel, a fun storyline and engaging characters. This release is a must for your home entertainment library."
Scooby-Doo Return to Zombie Island features the familiar voice talents of Frank Welker as Scooby-Doo/Fred Jones, Grey Griffin as Daphne Blake, Matthew Lillard as Shaggy Rogers and Kate Micucci as Velma Dinkley.