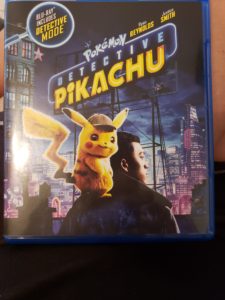 OMG any movie that starts with Mewtwo in the first 10 seconds already has 5 stars in my book. Any true Pokemon lover read that and are already out buying the movie. Then we go on just a few seconds later and Pidgey is flying around. OMG its like my Pokemon dream come true. OMG when all the Bulbasaur's show up I was about in tears. I just wanted to sit in my Pikachu onesie and finally look like a stuffed toy with this fluff it has all over it and watch the movie over and over again!
This is a story that takes place in the Pokemon world. If only we really got to live with these cute friends (some people actually manage to get things pretty close to the real thing in the gaming world – take pixelmon for example, a mod for Minecraft that can be hosted as a server that include Pokemon). Tim is a boy who at one time wanted to be a Pokemon trainer. He now just wants to live his life Pokemon free. What a strange notion for someone living in such a world, right? You'd think anyone who grew up figuring out the Pokemon rom downloads would be happy to swap places with him in this situation! But then his dad goes missing and he goes to see his place. When he gets there, he meets a strange girl and her Psyduck. When he gets to his dads' apartment, he meets his dad's Pokemon Pikachu. Pikachu has no memory just a hat on that says Tim's dad's address. They team up to find out what happened to his dad and why so many Pokemon are going temporarily crazy.
This is such a fantastic film. There are many like me that have always dreamed of this world and I love seeing what could be from another persons eyes. If you are a Pokemon lover then Pokemon Detective Pikachu movie is a must.
I got this free in exchange for an honest review.