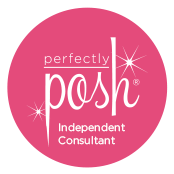 Perfectly Posh has a wide range of bath and body products. After taking a look around on Nicole's site I noticed they have some very interesting mixes and scents. I have to say as a summer lover the summer scents sound fantastic. They have one even called "I Scream Ice Cream". Umm Yes I want to smell that one. I love the smell of a great summer scent all year long.
Some of the ones I got to try were
Honey – Infused Body Cream

We all know I love the scent of honey. This one had a wonderful scent and the body cream soaked right in. It did not leave any oily residue at all.
Poshymallow Coconut Oil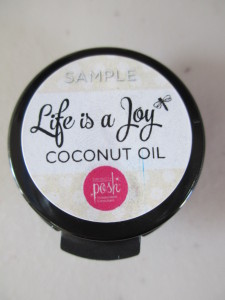 This coconut oil is of course an oil so it will leave a little greasy feeling but it will also leave a fantastic shine on your skin. It also is great on dry skin and on your lips this is a summer do it all.
Makeout Magic lip scrub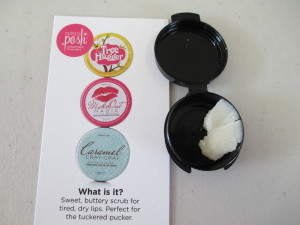 The lip scrub is nice it also dissolves so no leaving chunks. It will help even out your lips so your gloss or lipstick goes on smooth and leaves a nice clean look.
Mini facial kit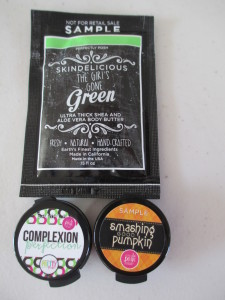 This includes Complexion Perfection, Smashing Good Pumpkin and there newest Skindelicious body butter. When used together this kit is awesome. I have combo skin and it did not leave me greasy or dry at all. I had no allergic reaction. It left my skin feeling nice and smooth.
Hoku Kukui chunk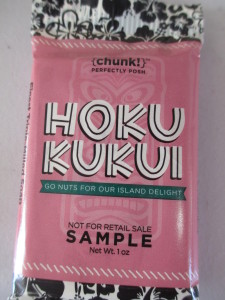 LOL when I first saw this one I though wow they make snack bars. No they don't, don't eat this guys. This is a soap bar that lathers fantastic and has a great scent. I also love that this is a little soap bar I am going to love to bring this along when we travel. It has the comforting scent of kukui nuts and vanilla.
Big Fat Yummy Hand Creams Heaven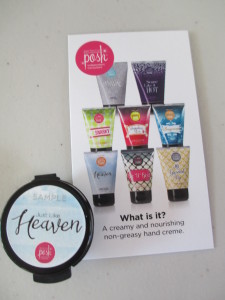 This one had a light flower smell to it. It comes in the perfect size for a hand cream and is ready to go with you when you are out and about.
Skindelicious Moon Over Sedona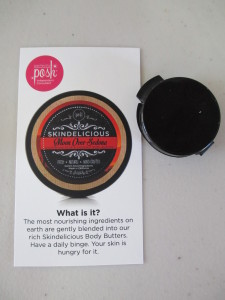 This one had a very citrusy smell. It was a very nice clean crisp smell. I loved it. Like the others it just soaked right into my skin
I was very please with everything I got to try from Perfectly Posh. The hand creams and body creams soaked right in. They had very nice smells to them but they were not overwhelming. The face products were nice and did not give me any allergic reaction. They left my face feeling clean and fresh. I also loved that the price points of the products were right on. They are very affordable and had a low shipping price. I would completely recommend perfectly posh. I also have to note the Nicole was a pleasure to work with. If you are looking for a new consultant she is the way to go. Very knowledgeable and very nice.
Perfectly Posh is a young company that has an amazing line of natural-based pampering products. Each of our products contain natural ingredients like aloe, beeswax, natural oils, and natural fragrances from around the globe. They're spa-grade and made right here in the USA. They're great for your skin and super affordable, as each of our products are under $25. And, no matter how big or small your order is, shipping is always $5.
Posh has amazing lines of hand creams, body butters, lip and face and body scrubs, face and body masks, bath chunks and salts, body wash, hair care products, foot care products, and we even have a men's line! All of them contain natural ingredients and fragrances that will pamper you like you deserve and unlike any other product that you buy.
Her website can be found at www.PoshwithNicole.com.
Facebook is http://www.facebook.com/poshwithnicolecarman.
Instagram is http://www.instagram.com/poshwithnicole.
Twitter is http://www.twitter.com/nikkitheorem.
I would like to note all though this was a sponsored post all opinions are my own I will always be truth-full with you guys.