As parents, we have enough to think about during the day.  Weather our kids are watching the right shows should not have to be one of them NCircle has brought us a great DVD that your kids will not only love but you won't mind letting them watch.  Let's Go Pocoyo playtime is fun and educational for your little one.  This great DVD set also comes with 11 music videos that your little one will love.
Embark on eleven playtime adventures with Pocoyo and friends as they learn the importance of playtime is enjoying it with others. Enjoy playing hide and seek to playing dress up as pirates! Ahoy there, Pocoyo! Learning through laughter has never been this fun! Plus, each episode includes a refresher section in which children are reminded of key words that have been covered during Pocoyos adventures such as colors, animals, and shapes. Each episode ends with a catchy music clip reinforcing one last time those important new words. Every day is an adventure with Pocoyo and friends.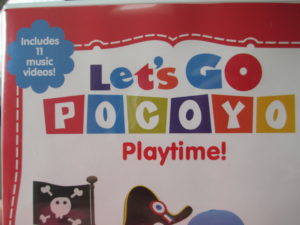 If your little one love color, shapes and animals they are going to love Pocoyo and his adventures with his friends.
I got this DVD free from NCircle all opinions are my own.