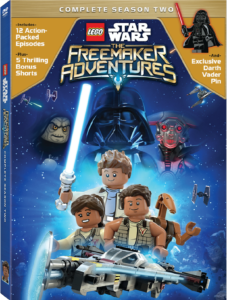 My husband and I have been huge fans of Star Wars for years.  We would love nothing more then for our son to fall in love too.  I was so excited when they started making Lego Star Wars my son gets sucked in and is finally excited for the adventures.  Since we have watched Star Wars for years we also get sucked into the Lego adventures.  This is a great series for the whole family.  Old loved and new loves of Star Wars.
In this awesome adventure you are following the Freemaker family in their quest to stay alive and help the rebel fleet.  This was a cute new adventure for the whole family.  It also came with bonus feature and this really cute exclusive Darth Vader Pin.  If you are a Star Wars fan I would completely recommend you add this to your collection for more Star Wars Fun.
OWN THE COMPLETE SECOND SEASON OF
THE EMMY®-NOMINATED
"LEGO STAR WARS: THE FREEMAKER ADVENTURES"
ON DVD ON MARCH 13
SYNOPSIS:                           In season two of "LEGO Star Wars: The Freemaker Adventures," the three Freemaker siblings—Rowan, Kordi and Zander—have found a new home with the Rebel fleet. But working with the Rebels in their fight to bring down the Empire brings them face to face with brutal Imperial forces, desperate Hutts, conniving Sith Lords and the Emperor's latest plaything, M-OC.
Fans who bring home the second and final season will enjoy all 12 action-packed episodes plus five bonus shorts that follow the Freemakers as they are thrown into battle after they join up with the Rebels – including an adventure that has them embarking on a daring mission to save two of the Rebellion's finest heroes: Lando Calrissian and Chewbacca. Bonus shorts include:
Home One
Thrown Into Battle
Rowan's Secret Adventure
Zander Freemaker, Superstar Pilot Guy
Beware The Gamorrean Flu
"LEGO Star Wars: The Freemaker Adventures," the Emmy®-nominated animated television series on Disney XD, is set between Stars Wars: The Empire Strikes Back and Star Wars: Return of the Jedi and stars three siblings who scour the galaxy for useful debris that they use to build new vehicles of their own design. Rowan Freemaker is a spunky Force-sensitive 12-and-a-half-year-old with a thirst for adventure; his quick-witted older sister, Kordi, manages the family business and is the glue that holds the family together; ace pilot and charming rogue, Zander, is the oldest brother and the family's self-proclaimed starship connoisseur; and R0-GR is their refurbished battle droid from the Clone Wars. When Rowan has visions of an ancient and powerful Jedi starship called The Arrowhead, he and his family set out on an epic quest to rebuild it so they can turn the tide of battle for the Rebellion. Together, they explore new worlds, meet new characters and Star Wars icons, and have unforgettable adventures.
VOICE CAST:                       The season two voice cast includes Nicolas Cantu (Rowan), Vanessa Lengies (Kordi), Eugene Byrd (Zander), Matthew Wood (R0-GR), Trevor Devall (Emperor), Dana Snyder (Graballa), Vanessa Marshall (Hera), Yvette Nicole Brown (Lt. Valeria), Corey Burton (Quarrie), James Urbaniak (M-OC) and Matt Sloan (Darth Vader).
CREATORS/
DIRECTORS:                       Developed for television by Bill Motz and Bob Roth ("Penguins of Madagascar"), they join Torsten Jacobson ("LEGO Star Wars: Droid Tales") and Jill Wilfert ("The LEGO Movie") as executive producers alongside producers Carrie Beck (Star Wars Rebels), Jason Cosler ("LEGO Marvel Super Heroes: Avengers Reassembled!"), Jake Blais and John McCormack.
RELEASE DATE:                March 13, 2018
PACKAGING:                       2-Disc DVD (12 episodes)
EPISODES:                          1. Trouble on Tibalt                                                           8. Flight of the Arrowhead
The Tower of Alistan Nor                            9. A Perilous Rescue
The Embersteel Blade                          10. Escape from Coruscant
The Storms of Taul                           11. Free Fall
Return to the Wheel                          12. Return of the Return of the Jedi
The Lost Crystals of Qalydon
The Pit and the Pinnacle
RATING:                               US: TV-Y7, CE: PG, CF: G
ASPECT RATIO:                1.78:1
AUDIO:                                  English 5.1 Dolby, French 2.0 Dolby, Spanish 2.0 Dolby
SUBTITLES:                        English SDH, Spanish, French
SOCIAL MEDIA:                 Facebook: Facebook.com/starwars
                                                Website: disneyxd.disney.com/lego-star-wars-freemaker
                                                Twitter: twitter.com/starwars
                                                Instagram: Instagram.com/starwars
  I got this free in exchange for an honest review