We got this Laser X Evolution free in exchange for an honest review all opinions are our own.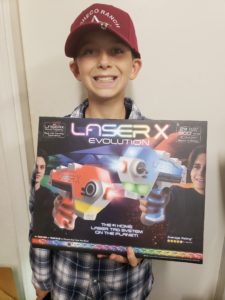 The Laser X Evolution showed up right at the perfect time.  I not only had my little guy here I had my 2 nephews and we love a great game that keep us running around.  The Laser X Evolution is not only easy to use, but also fun.  I would suggest you read the directions.  If you don't read them then its just flashing lights.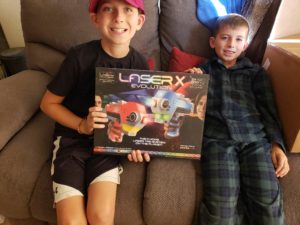 After you realize you are on different color teams and when you set the guns up right the Laser X is easy to play and  blast.  We even made forts to hide behind, and my son loved that he could play and there was nothing flying at his face.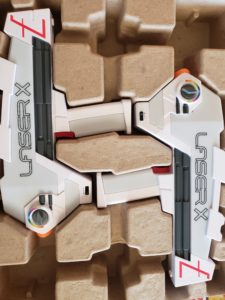 I love that with only a few AAA batteries you are ready to play.  The set up is easy and the batteries last for hours.  Better yet you get 2 guns for around $30.00 so if you have 2 kid this is going to make a great gift for the family.  If you are looking for a great gift this holiday season that will get your family up and moving then the laser X is going to be a great gift.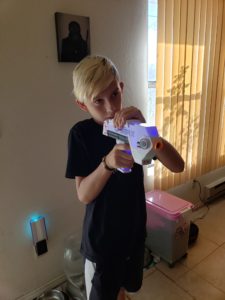 Laser X Evolution, sold exclusively at Walmart, is a new addition to the Laser X family and works with all previous Laser X products!  Laser X is the #1 Home Laser Tag System on the PLANET! Laser X Evolution is like having a laser tag arena in your own backyard! Blast opponents up to 300′ away – inside or out, in darkness or bright sunlight.
Laser X Revolution and Micro Blasters
We love this set. Its a great way to get the family up and running around and I don't have to pick up a mess after. The batteries lasted a long and and a top favorite of mine it was not a pain to open and set up.
You can the Revolution and the Micro Blasters at Target.com.  They are a great set to get together.  I like the Micro the best I can carry two at the same time and be unstoppable.
I love that all the Laser X basters can be used together.  They will be hours of fun for the whole family.