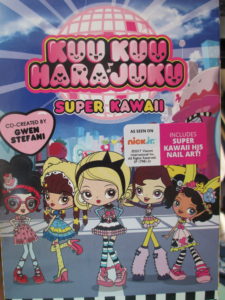 Have you checked out KUU KUU Harajuku yet?  This is a fun-loving cartoon that your little, tween or teen will love.  They are a great singing group that learns that life will always throw a wrench in your plans.  No matter what they try when at the concerts something always comes up and they have to figure out how to solve it.  I love watching them figure out the problems while always keeping a great attitude.   This is a great cartoon co-created by Gwen Stefani.  This also came with great nail art.  So, they can have fun while getting glammed up.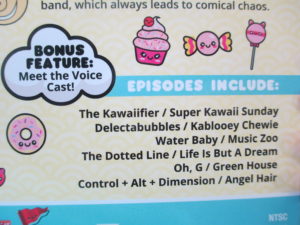 GWEN STEFANI'S ANIMATED SERIES
KUU KUU HARAJUKU: SUPER KAWAII
COMES TO DVD SEPTEMBER 26, 2017
FROM SHOUT! FACTORY
Los Angeles, CA – From the mind of Gwen Stefani comes the world of KUU KUU HARAJUKU. The animated series comes to DVD in North America from Shout! Factory in collaboration with DHX Media. The second installment, KUU KUU HARAJUKU: SUPER KAWAII, contains 12 episodes from Season One, as well as new interviews with the show's voice cast and will be available on DVD on September 26, 2017.
KUU KUU HARAJUKU: SUPER KAWAII is available now for pre-order at Amazon.com andShoutFactory.com. Initial shipments of the DVD contain nail decals of fun KUU KUU HARAJUKU-inspired emoticons (while supplies last). The 2D-animated series currently airs on Nick Jr. in the U.S. and on Family Channel in Canada.
The animated series KUU KUU HARAJUKU follows the fun-filled adventures of the band HJ5 – Love, Angel, Music, Baby and G – through their super cute world of music, fashion and style. The inspiration for this popular animated series came from Grammy® Award-winning musician Stefani who wanted to create an animated series for girls that encourages and celebrates creative self-expression, imagination and individuality.  The show's setting is inspired by the exuberant street fashion and creative youth culture of the Harajuku district but it takes place in a magical fantasy world like nothing you've ever seen before.
Join Love, Angel, Music, Baby and G — five totally talented members of the super cool band HJ5 — as they return with 12 more hard-rocking tales! With help from their loveably incompetent manager Rudie, HJ5 travels all over the globe to put on shows for their fans! That is, of course, if they can actually get through the crazy adventures keeping them from their gigs! But together, HJ5 will do what it takes to perform … and maybe even save the day!
Also, check out the "kawaii" soundtrack to the much-loved TV series, available for download now on itunes.com and Amazon.com, or stream it on Apple Music and Spotify.  HJ5: KUU KUU HARAJUKU features the show theme and five new songs from the hit children's television series including, "Dancing in the Sunlight", "Change It Up" and possibly the cutest call to arms ever, "All For One"!
Also launching is a new KUU KUU HARAJUKU fashion doll and small doll line from Mattel that infuses popular Japanese harajuku fashion, and allows girls to customize and create their own fashions with interchangeable outfits and accessories. The line includes product based on singer G, plus Love, Angel, Music and Baby. Each best pal adds her unique personality to her fashion, band and fun.
KUU KUU HARAJUKU is co-created and produced by Moody Street Kids (Australia), Vision Animation (Malaysia) and Gwen Stefani and commissioned by Network Ten with investment funding from Film Victoria (Australia) and MyCreative Ventures (Malaysia). DHX Media handles international distribution for the series, and licensed the series to Shout! Factory.
KUU KUU HARAJUKU™ and device are trademarks of Harajuku Lovers, LLC. Authorised users Vision Animation Sdn Bhd and Moody Street Kids Pty Ltd
Episodes Include:
The Kawaiifier / Super Kawaii Sunday
Delectabubbles / Kablooey Chewie
Water Baby / Music Zoo
The Dotted Line / Life Is But A Dream
Oh, G / Greenhouse
Control + Alt + Dimension / Angel Hair
I got this free to try in exchange for an honest review
Want even better news one lucky U.S winner is going to get the chance to win their very own copy.  Enter below for your chance.