Snuggle Puppy Hero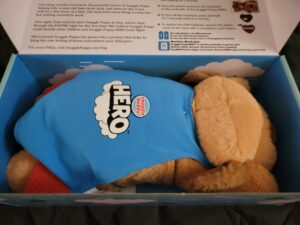 Not just pet's but also people. For over 25 years, Snuggle Puppy® has been the go-to, all natural answer for your anxious pet. Snuggle Puppy HERO® is now landing – ready to give comforting hugs to people, too! Our exclusive Real-Feel Heartbeat® is what makes all the difference.
GooToobz and DoodleJamz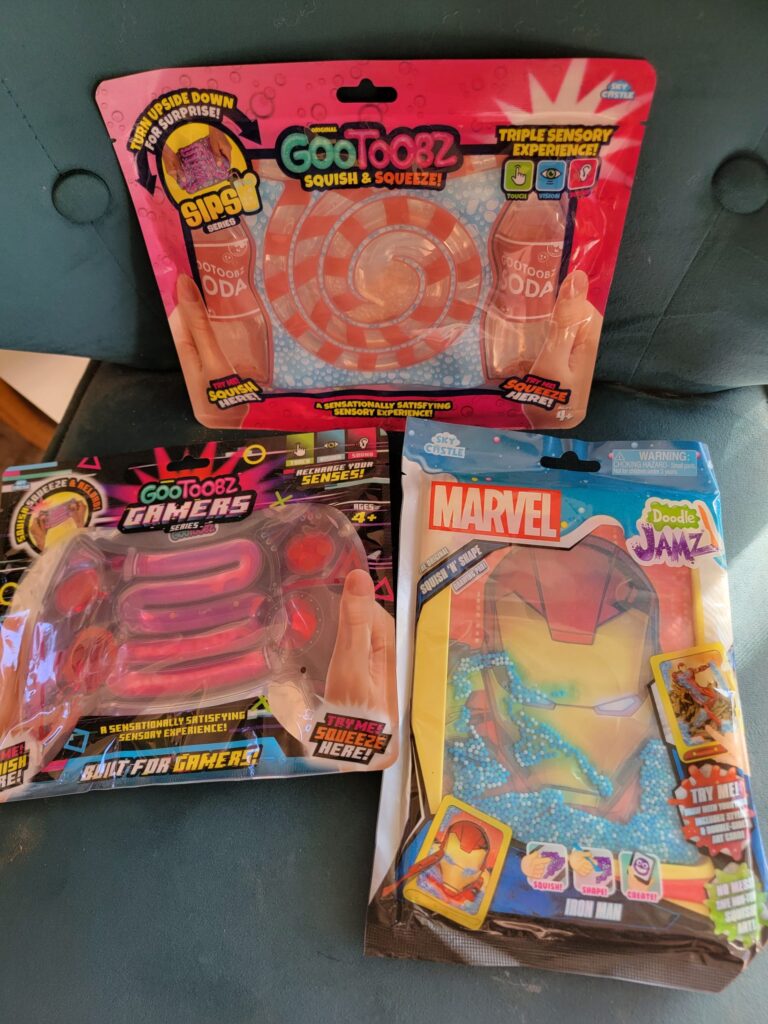 The new GooToobz Sips and GooToobz Gamers are a line of transparent, sensory tubes filled with a satisfying mix of goo, glitter and beads – super on trend! GooToobz Sips are designed to look just like favorite trending drinks like Bubble Tea, Milk Shake and fizzy Soda Pop! GooToobz Gamers are designed to replicate classic video game controllers. Both are available on Amazon!
Palm Pals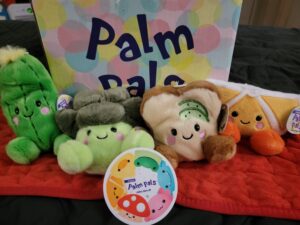 Perfection in the palm of your hand, Palm Pals are wee-sized plushies eager to make your acquaintance. With a variety of collection groups to pick from, watch as your Palm Pals collection grows with crazy cute characters. Collect them all to see each of their personalities shine and see which one will be your next favorite.
NeeDoh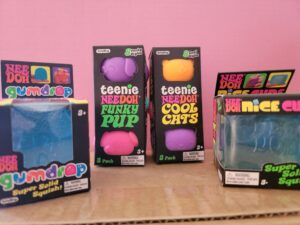 We have been huge fans of NeeDoh for awhile now.  I am always looking for great fidget toys for my little guy and I love that no matter how many times we drop, squeeze, and play with these they have never popped on us.  They are a great toy to keep around the house for when its getting a little too much for little guy.  He can just grab one an play with it to calm down.
MagiCube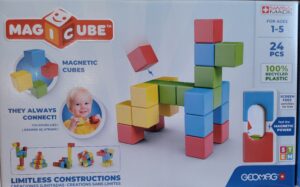 My son loves these.  We have been buying him sets for a few years now and I always find him playing with them.  He loves to build different things and even uses them when we are learning math.  These are not only a fun toys for kids but a great learning tool. What started out as the Original Magicube system has now become a world of magnetic building blocks with the addition of three new shapes: the half cube, quarter circle and the half sphere. The construction possibilities are boundless and your imagination will fly higher and higher! Characters, animals, structures: you will be surprised how many things you can invent.
Buzz Bee Toys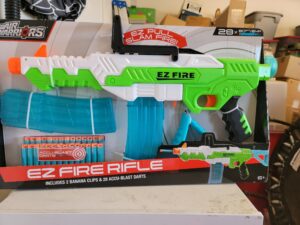 If you have not checked out Buzz Bee Toys yet.  They are a must this holiday season.  I love that the triggers on these are so easy if you have little one that their hands are not that strong they can still play.  They have a ton of different shapes and sizes and they are a blast to play with. The ez- Fire Blasters are going to be the hit of the holidays.  Make sure to get one for everyone in the family you will be having hours of fun.
Pinata Smash Lings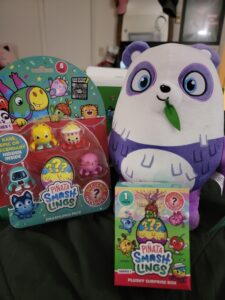 OMG these are so cute and if you have a little one that loves surprise toys then Piñata Smashlings are a must.  They have so many you can collect and they are at a great price point.  I love the mystery boxes for stocking stuffers.
PLAYMOBIL 1.2.3 Adventure Tower with Ice Cream Booth: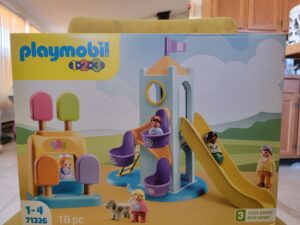 Come play and learn with this PLAYMOBIL 1.2.3 set! Turn the handle and watch as the ferris wheel sets in motion by moving the PLAYMOBIL figures down the slide all by itself! Weee!
Kids
can learn how to match objects and colors by placing the colors of the ice cream sticks to it's holders and placing the figures to the appropriate seat! This kind of creative play with figures also trains fine motor skills and initiates first role play!
Bumpas (Good Soul Brands):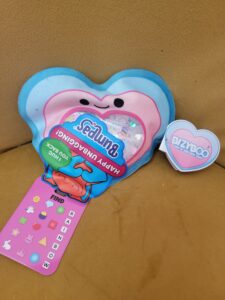 Who doesn't love a good comfort hug? Bumpas are lovable plush toy friends who you can play and cuddle with. This huggable friend is weighted to provide a sense of comfort and security when you need it most! Bumpas' arms are perfectly sized to give realistic-feeling hugs. Choose your favorite comfort friend from 4 available Bumpas characters: creative and quirky Shin Shin, daring and adventurous Zeek, gentle and soulful Oz, and cheery and encouraging Lucky!
(Ages 3+ / MSRP $45.99) Available on 
Amazon
.
The Original Weighted Infinity Flipper (Good Soul Brands):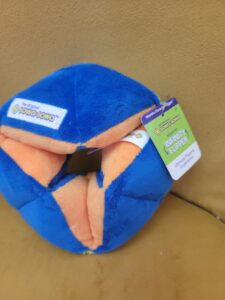 Want the ultimate flipping experience?The Original Weighted Infinity Flipper delivers hours of endless fun, comfort AND a tactile experience for your fingertips! Simply flip it back and forth, to create a mesmerizing motion that keeps your hands engaged and your mind focused. Available with a variety of textures and colors, each delivering sensory stimulation which can help ease stress and anxiety for all!
Squinkies Collector Pack (Blip Toys):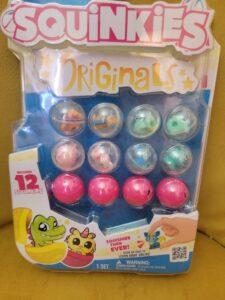 Squinkies are B-A-C-K! Collect all 72 Squinkie figures! The TOTY (Toy of the Year)-award-winning, super squashy, micro collectible characters and playsets that took the toy world by storm in 2010 are back and squishier than ever! Considered the original unboxing and first micro collectible toy, over 500 million have been sold in over 2000 different styles!nStart your Squinkies collection with this 12 pack of original characters – 8 in traditional clear capsules and 4 in surprise pink capsules!!  (MSRP $14.99; Ages 5+) Available on 
Amazon
.
NINJA
KIDZ
TV Giant Mystery
Ninja
Ball (Blip Toys):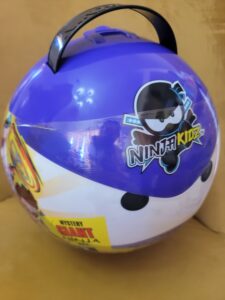 Kidz

 can become 

ninjas

 with each ball containing 25+ surprises!
 5 

Ninja

 

Kidz

 Action Figures with articulation, 1 

ninja

 mask and belt, 2 pieces 

ninja

 battle gear, 6 

ninja

 throwing stars, 2 sticky stars with 6 sticky star targets, 2 Mission Cards, 1 sticker sheet and 1 collector card. This Giant Mystery 

Ninja

 Ball doubles as a storage container and includes a detachable shield for the ultimate 

ninja

 play!
(MSRP $52.99, Ages 3+) Available on 
Amazon
.
DinoMazing
(Hey Buddy Hey Pal):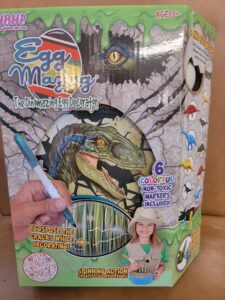 Kids

an explore their inner Paleontologist! Prehistoric fun, decorate your own dinosaur eggs!
Pop in one of the included plastic eggs and let the decorating begin! The machine holds and spins the eggs while you use the marker to create stripes, lines, and other fun designs, all while 
eggs-posing
 the cracks. When finished decorating, 

kids

 can "crack" open the shell to discover a jurassic 'surprise' miniature and collectible dinosaur covered in colored slime!
 The dinosaurs' head and limbs are all interchangeable – swap them out to create your own dino breed! Collect all six dinosaurs, including a T-Rex, Stegosaurus, Triceratops, Pterodactyl, Velociraptor and Ankylosaurus.
(MSRP $34.99, Ages 3+) Available on 
Amazon
.
TreeMendous (Hey Buddy Hey Pal):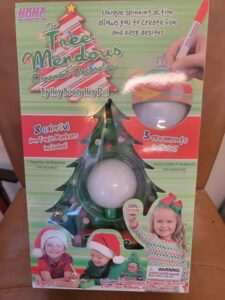 The perfect DIY craft to embrace the holiday season! The TreeMendous Ornament Decorator from Hey Buddy Hey Pal is a fun and easy way to make perfect, hand-decorated ornaments for the holiday tree! Shaped like a Christmas  tree itself, makes it the perfect holiday activity. Place one of the ornaments included with the kit into the tree-shaped decorator and let the fun begin! The machine holds and spins the ornament while the markers are used to create stripes, line and other designs!
(MSRP $29.99, Ages +3+) Available on 
Amazon
.
GooGames (Sky Castle):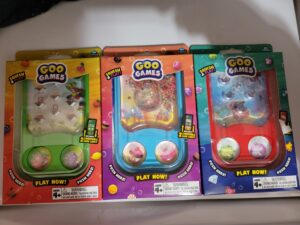 Durable, travel-friendly, and oh-so-fun, GooGames is the perfect toy for your little ones! They're hand-held, sensory water games that you can squish and squish to play! Each GooGame is accompanied by multiple removable challenge cards, each one offering three levels of difficulty – easy, advanced, and expert. Perfect for on-the-go entertainment that feels like a smartphone but without the screen time, GooGames blends play and sensory stimulation into an irresistible, pocket-sized experience! Series 1 offers 3 styles: Candy Craze, Fruit Catcher, Treasure Hunt.
(MSRP $9.99, Ages 3+) Available on
Amazon
October 2023.
You're Getting Old (Vango):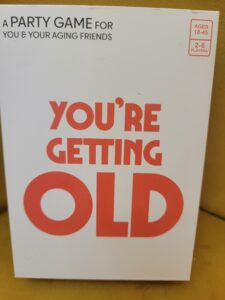 Do you think that age is just a number? Play against your fellow millennial friends to determine who's managed to hold onto some semblance of their youth! With moving your mini-avocado playing piece along your path to getting old card, there are 300 available cards with prompts. Each features two prompts: an "Old" prompt like " You've scrolled through Spotify and thought to yourself, "Who the hell are these people?" If you have, woah you're getting old and need to move forward a space. You can regain your youth by answering the "Redeem" prompts on the cards! The first player to reach the last space is the loser. The player with the lowest space wins the game and gets the satisfaction knowing they are younger…at heart.
(MSRP $19.97, Ages 18-45) Available on 
Amazon
.
BIZYBOO (Vango):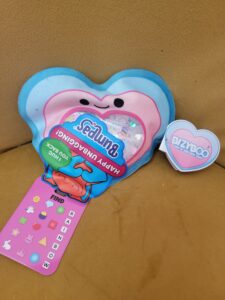 Amid the explosion of toddler busy bags on Etsy and across social media, comes new
BIZYBOO Hide 'N' Seek Busy Bags
from Vango! Soft, fuzzy, portable
and
mess-free, BIZYBOO Hide 'N' Seek Busy Bags have been delightfully reimagined as 12 different preschool-friendly
characters. Toddlers can have fun simply squishing and squeezing their BIZYBOO. Plus, older

kids

can search for different hidden objects themed to each character using the custom attached card that lists both visual and written prompts. They are
are fun way for
kids
ages 2 to 5 to improve their fine motor skills, concentration and problem solving abilities. Plus they are a great way to keep them busy on trips, in a waiting room or a restaurant! (MSRP $8.97, Ages 2+) Available on
Amazon
.
Spudsters By Aurora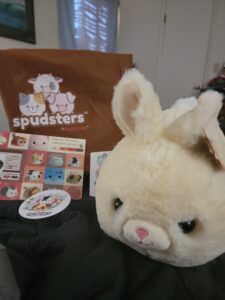 Welcome to Spudsters by Aurora World, where charming potato-shaped plushies bring a playful twist to cuddly companions. These unique potato plush creations blend lovable animal traits with the delightful shape of a spud, offering heartwarming cuteness and creativity.
Spudsters embody playful imagination, merging favorite animals with the whimsy of a potato's form. With their rounded bodies and fluffy texture, they're as soft as mashed potatoes and irresistibly huggable.
Poptaters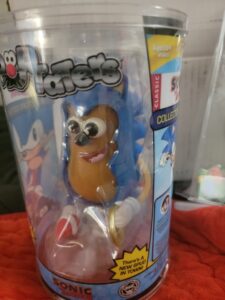 Iconic Potato Head combined with pop-culture legends creates a cool and hilarious collection of Spud Mashups featuring your favorite characters! Poptaters bring excitement to a new generation of Potato Head fans and collectors.
World's Smallest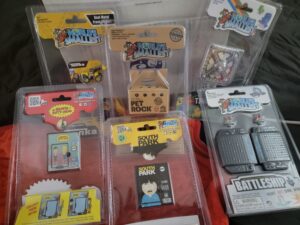 The World's Smallest are so much fun.  These are tiny versions of the big size toys and they are real.  You can really play each game and play with each figurine like the big one.  I love that these are fun to play with and also great accessories for any doll house.
Pudgy Penguins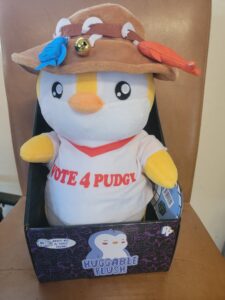 OMG I go to check these out at Sweet Suite this year and they are so cute.  You really do want to collect and cuddle them all
The Pudgy Penguins toys come in a variety of collectible figure forms: 4.5-inch with interchangeable accessories, 6.5-inch with included positive messaging and affirmation signs, and 1.5-inch surprise penguin figure in an Igloo. Each figure comes with an official, scannable, redeemable code that unlocks a digital penguin customization using different trait boxes. That way consumers can obtain rare and epic traits and have a one-of-a-kind forever Pudgy Penguin registered to their name on the blockchain. You can even trade the traits on the Pudgy Penguin marketplace!
Sonic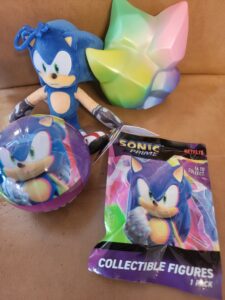 How cute are the new toys celebrating the new Sonic movie.  I can't wait to see what mystery toys I get.