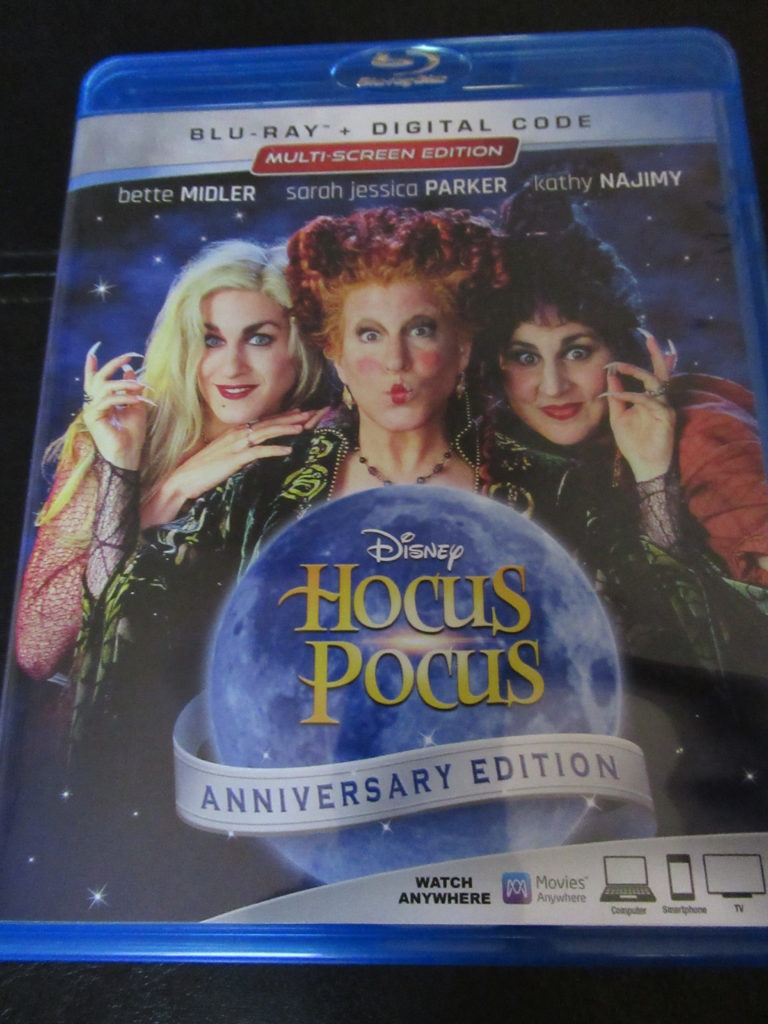 I can't believe I have been watching this movie for 25 years.  Its funny I have saved this movie on my DVR and would not let them upgrade me because I would loose it. Now that I own the Movie I can finally upgrade.  One thing I learned nothing beats the Blu-Ray I did not even know how much was cut out for T.V.  So when I watched this one it was like watching a new movie.  I was sucked in.
With witches from the past a talking cat from the past and kids that really don't seem to know any better this movie could not get better.  It's funny how much I love this star studded cast and every time I watch I am still surprised to see Bette Middler, Sara Jessica Parker, and Kathy Najimy.  They could not have picked a better cast.  This is a great movie for the whole family you will love it as much as I do for the next 25 years.
                                                                 It'll Put a Spell on You.
"Hocus Pocus" 25th Anniversary Edition
Appears on Digital and Blu-ray™ Sept. 2
For the first time ever, Disney's classic comedy will bewitch audiences with
We ♥︎ Hocus Pocus: Trivia and Treats Edition an exciting way to watch the movie!
BURBANK, Calif. (July 31, 2018) — One quarter of a century ago, three 17th century witches—Winifred (Bette Midler), Sarah (Sarah Jessica Parker) and Mary Sanderson (Kathy Najimy)—brewed the perfect magical movie for the whole family: Walt Disney Pictures' live-action comedy/adventure "Hocus Pocus." In celebration of the film's silver anniversary, "Hocus Pocus" is being re-released to home audiences with a spellbinding new way to experience the film: the Trivia and Treats Edition. On Sept. 2, fans can watch it instantly on Digital and Movies Anywhere, and bring it home on Blu-ray™.
"The 25th Anniversary Edition of "Hocus Pocus" includes the original theatrical film and the We ♥︎ Hocus Pocus: Trivia and Treats Edition, featuring pop up video extras including fun facts, trivia, deleted scenes, cast and crew commentary, and behind-the-scenes secrets"… The Multi-Screen Edition of "Hocus Pocus" includes a Blu-ray and Digital Code giving viewers the flexibility to watch the film on different devices.
In "Hocus Pocus," the Sanderson sisters are in for a devil of a time when their restless spirits are accidentally conjured up on Halloween night, in 1993 Salem, Massachusetts. Banished 300 years ago for practicing their sorcery, this trio of triple-threat demons vowed to one day reappear—and now they're back—weaving an outrageous web of comedy and chaos. However, to guarantee their immortality, the things they need are the very things that could bring them down: Max Dennison (Omri Katz), his little sister Dani (Thora Birch), and the Allison (Vinessa Shaw), three kids with the power to make or break the witches' spell. The film is directed by Kenny Ortega ("Hull High," "High School Musical" series) from a screenplay by Mick Garris ("Sleepwalkers," "Critters 2") and Neil Cuthbert ("The Adventures of Pluto Nash," "Mystery Men") and a story by Kirschner ("Frailty," "An American Tail") and Garris.
Bonus Features:
BLU-RAY & DIGITAL*:
We ♥︎ "Hocus Pocus": Trivia and Treats Edition – A spellbinding new way to experience the film with:

Fun facts and trivia
Deleted scenes
Cast and crew commentary
Concept art and storyboards
Behind-the-scenes secrets, and more!

Original 1993 Production Featurette – Discover that witchcraft is cinematic artistry in disguise in this resurrected throwback production featurette.
*Bonus features may vary by retailer
DISC SPECIFICATIONS:
Product SKUs:                    Multi-Screen Edition (Blu-ray, Digital Code, Digital HD/SD, DVD) and DVD
Feature Run Time:                  Approximately 96 minutes
Rating:                                         PG in U.S.
Aspect Ratio:                      Blu-ray Feature Film = 1080p High Definition / 1.85:1
                                          DVD Feature Film = 1.85:1
Audio:                                        Blu-ray = English 5.1 DTS-HDMA, Spanish and French 5.1 Dolby Digital Language Tracks
DVD = English, Spanish, and French 5.1 Dolby Digital Language Tracks
Subtitles:                            English Line 21, English SDH, Spanish, French
SOCIAL MEDIA:
Facebook:                          Facebook.com/DisneyHocusPocus
Website:                            Movies.Disney.com/Hocus-Pocus