We got these gifts free in exchange for an honest post.  All opinions are our own
Lugz
I have been a huge fan of LUGZ for a few years.  They have great styles and a ton of colors to choose from.  They have a great line and their shoes/boots last forever.  I can walk in them all winter long and at the end of the winter they are still in perfect condition.  These are the Woman's Sprig Chukka Boot.   They fur is so soft and they fit like a dream.
Paige Patisserie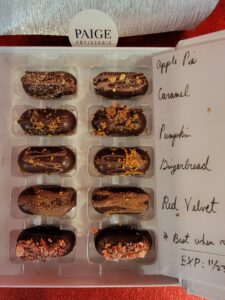 Let's be honest I don't know many girls who would not love Paige Patisserie. They haves such wonderful flavors and they come in the cutest box.  These are truly made with LOVE.  These just melted in my mouth.
Paige Patisserie is a unique dessert company that designs gourmet truffles. We create our products from organic chocolate, imported from Ghana, Haiti and the Dominican Republic. Our chocolate is stone ground using Molinos, and the minimal processing preserves its rich, bold flavors, and gives it a more gritty, natural texture. Also, we buy direct trade, which ensures that the small farms that produce our chocolate receive the payment they deserve. Not only do we deliver locally in our hometown of Raleigh, NC, but also ship our showstopping treats nationwide. Chocolate is our passion, and we create an unrivaled dessert experience. We invite you to give a unique gift to a unique person in your life, because they deserve it.
Our website is paigepatisserie.com
Plusheez Fish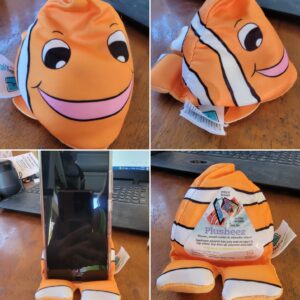 This Plusheez Fish is so cute and a perfect gift for anyone in the family.  I tried it with 3 different phones and they all were held great.  I have to say that this made playing Pokemon Go so much easier.  I can not wait to use it for community day.  THESE ADJUSTABLE SMART PHONE DOCKS COME IN A VARIETY OF STYLISH DESIGNS, MAKING THEM THE PERFECT BIRTHDAY GIFTS FOR MEN, WOMEN AND CHILDREN.
Foot Rest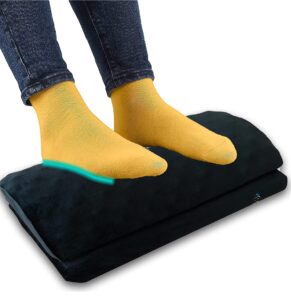 I don't know about you, but after working on the computer all day my back hurts.  I never thought that what I might need is a foot rest.  I love that it is not hard its actually comfortable to rest my feet on and my back really does feel better. PREMIUM FOOT REST FOR UNDER DESK: Keep your feet elevated at work for improved body posture and added comfort with our Soft Foot Rest for Under Desk. Don't let your legs dangle. Measuring 16.5" wide by 11.5" long and 6" high, our footstool ensures enhanced support and engages your feet to rock back and forth for better blood circulation. They are much better than plastic footrests.
Mason-re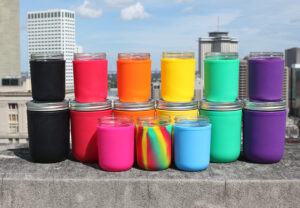 I love to reuse the items at home.  The Mason-re is not only cute, but helps us use less throw away bottles.  You can not get these cute sleeves for your mason jars.  They come in so many different sizes and colors and you can bring them everywhere with you.  I love making my ice tea at home and not I can bring a few cute jars with it and be covered when we are out and about.  They are  a silicone koozie for the mason jar to make the mason jar even more useful- our koozies allow you to drink hot or cold beverages from your mason jar. They protect the jar from breakage and can be dishwashed, microwaved and contain no plastic. You can check out the website at www.mason-re.com.
Eat Play Love – 52 Date Night Ideas: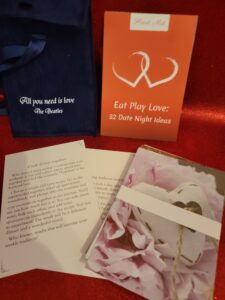 How about giving her 52 different date nights.  These cards are cute and all you have to do is pull one every month and take her on a awesome date.  I read a few of them and they are not only cute date night ideas, but they are ones i would have never though about.  The game has 52 tasks altogether for a whole year, with a single task to perform per week. These tasks have been compiled by a practicing psychologist. Each date is designed to set the scene and walk the user through the process. In the kit, some cards will help the players connect, some will promote subtle intimacy, and others are just there to stretch the relationship boundaries.
Shinesty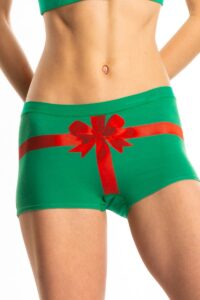 I have had the honor to work with Shinesty for a few years now.  I have to say I am always amazed at their designs and quality.  I love their onsies , outfits and their underwear.  The Christmas collection is not only cute, but they have outfits for going out and staying in.  Their underwear fits great, does not ride up and is so cute.  I would suggest them to everyone. The Unwrap me are one of my new favorite pair I will be wearing them all year round.
Natra Cure
Natra Cure have a whole line of great products that are perfect for anyone in your life that needs to slow down.  Let's be honest even if you don't slow down a lot of their products are still great for on the go.
La Gitanne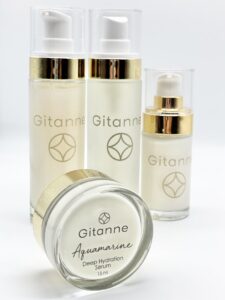 I love getting great beauty products for the holidays.  I need to find products that soak into my skin and will work for my sensitive skin.   I Love that Gitanne not only soaked in but my face still felt fresh and clean after I used them. Gitanne is a vegan, organic, eco-botanical skincare line and is safe for all skin types.  Made in small batches in Sonoma, CA and beautifully bottled in elegant Italian glass, our skin nourishing formulas are created from the finest  ingredients known for their gentleness and effectiveness.  Their products can be purchased and shipped worldwide from our website at www.gitanneskincare.com.
Lisa Rinna LIPS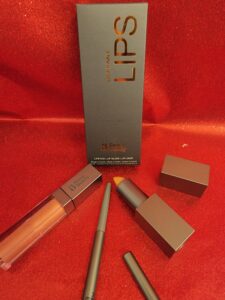 I love to find great lip products.  When I saw her collection on the Real Housewives I knew they would be great.  Lisa Rinna LIPS comes with all three steps to make your lips pop.  The Lip Liner , The Lip stick and the gloss.  All in matching colors so you can have awesome lips in a matter of seconds.  They have a great choice of colors and the lipstick and gloss are not sticky at all.  Ii was truly Impressed.
Sperry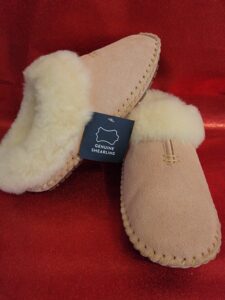 OMG YES slippers for the holidays is always a winner.  Lined slippers that are comfortable even better.  Sperry has a wide range of shoes , slippers and boots that are amazing.  I fell in love with these the second I put them on and will be wearing them all winter long.  I love that they still have soles and I can wear them for a quick trip out to get packages.  For over eighty years, Sperry has built a legacy of effortless, heritage products. Whether for men, women, kids, or babies, Sperry's selection of hand-crafted footwear includes our iconic Sperry boat shoes, sandals, loafers, flats, slippers, espadrilles, boots, sneakers, and oxfords.
Jinjer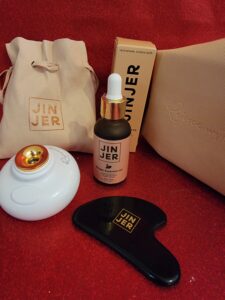 There are some home products that are just amazing.  I would consider this a home relaxation product.  The ginger smell is amazing and the set is so easy to use.  I loved Jinjer. Set Includes: 1x Jinjer's Ginger Essential Oil (30ml), 1x Mini Portable Diffuser, 1x Obsidian Gua Sha Massage Stone, 1x Limited Edition Jinjer Beauty Pouch. Caution: Avoid applying oils to sensitive areas like the nose, ears, eyes, or open wounds. To learn more about JINJER oil, please visit our store page.
Want even better news they offered our readers a discount
Holiday Gift Set: $39.99 ($130 value), after your promo code it will be $31.99
Jinjer Oil: original price $49.90, now discounted $29.90 (until end of year) after your unique promo code applied at checkout it would be $23.92  Here's your coupon code: 20TABBYS 
NW Beauty Works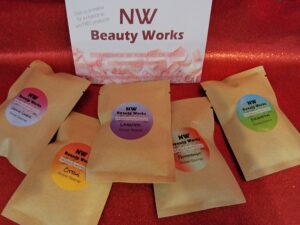 I have heard of the shower steamers for quite some time and I could not wait to try them.  I had no idea there were so many different scents to try and they were all amazing.  I love to that they lasted for more then one shower.  The NW Beauty Works also come in these great packages so you can give a few as a gift or split them up and give a few little gifts. NW Beauty Works – a cruelty-free bath & body company. I think our Shower Bombs would make a great fit for 2021. Shower Steamers ($13) – Like bath bombs, but for the shower – these steamers come in many different scents to create a spa-like experience, using therapeutic oils to relieve symptoms of stress, insomnia, and congestion.
Lyda Beauty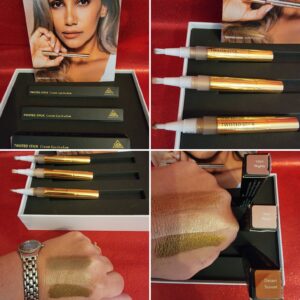 OMG yes beauty products are always a must have.  We love getting the best beauty products and from the first second I opened Lyda Beauty I knew they were going on my list forever.  The packaging is beautiful and it glided on like butter.  It dried very quick and looked amazing.  I am amazed at the quality and beauty of Lyda Beauty.  They are a must check out. These are non-toxic, vegan cream eyeshadow pen with a built in brush, Twisted Stick. It is the first of its kind and delivers a stunning, water resistant, high pigment, buttery hue that lasts all day. Twisted Stick comes in 3 colors Sea Pearl, 1001 Nights, and Desert Sunset. (top to bottom)
KURU Footwear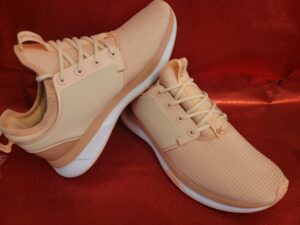 Last year I got my first pair of KURU Footwear and I was in love.  This year they had pink and I am still in love.  These are not only one of the most comfortable pair of shoes I own their colors and designs are perfect.  They have so many to choose from no matter what your style is you will find a pair you love. Every shoe they build contains their patented KURUSOLE which is engineered to eliminate foot pain for their customers. And the technology works incredibly well! They offer styles perfect for travel and outdoor adventures such as hiking, camping, hunting, and more – as well as styles for fitness, casual wear, the office, and more. With a shoe for every occasion, KURU makes it convenient to recover and heal without slowing down.
Top knot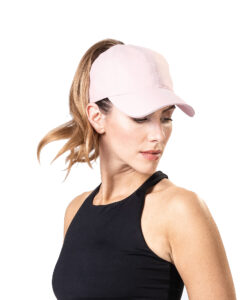 I love wearing hats, but a lot of time my hair does not like them at all.  I love that top knot came out with such a great looking hat that holds my hair in a ponytail.  I can grab a hat and be ready to go,  No worrying about getting my hair ready to put in a hat. Top Knot sells high ponytail hats with a magnetic opening in the back that lets women finally be able to keep their hair tied up while wearing a hat.