We got these awesome Endless Games free in exchange for an honest review.  All opinions are our own
We love a great family game night.  Finding the right games to play with an autistic son gets harder and harder as he gets older.  I not only need one that will keep his attention, but also is fun and colorful.
Endless Games has a wide range of games that will get your child engaged and having a blast.  Korner'd is one of those games.  I love that the game board is double sided for twice as much fun for the whole family.  This is a game of perception.  Little guy is really good at this game.  While I am at the bottom of the winning list. lol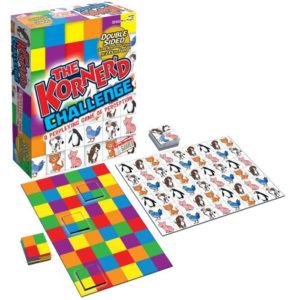 The Korner'd Challenge
 (MSRP $19.99 for 1-6 players ages 8+) is simple in design but deceptive in execution. It's like a puzzle because there is only one match for each tile on the board grid. It becomes more of a game when players have to match all of their tiles on the board before other players.
Brian Turtle, National Sales Manager at Endless Games, said, "Sometimes you find the pattern right away. Other times, it seems like you just can't find the match at all."
The Korner'd Challenge puzzle-game comes with a two-sided board and 36 individual, two-sided tiles. Players choose to play the color block grid or the animal pattern. Tiles are divided evenly among the players and the game begins. The first player to match all of their tiles correctly on the board wins.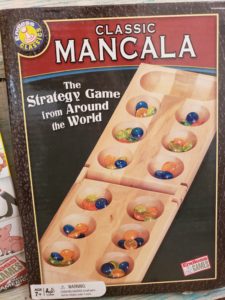 When
Mancala
showed up I was surprised that hubby had never played it.  I thought this was a game that everyone knew of.   This is a strategy game.  My son loves it, but I have to be honest he keeps on wanting to collect the rocks and keep them.  So we have to keep track of them lol.
   Now while I would love to tell you the rules of this game it really is complicated until you start playing.  Once you start it is easy .  I know does not tell you much,  Each person gets a side then you start where you want to on your side and drop one into each opening till you get to your last one.  Then the rules change depending on who's side you land on and if the space is full or empty.
  I love Endless Games and would suggest them to everyone.