We got Free Guy on Digital free in exchange for an honest review.  All opinions are our own.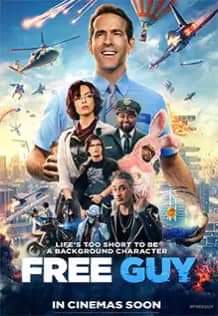 There is nothing better then a movie night with my family.  I had seen the trailer for Free Guy and new it looked awesome, but I had no idea how much I was going to love it. In todays world a lot of people live in an online world.  This movie brings the real world and the online together in one of the funniest movies of the year.  Of course it was going to be funny it has Ryan Reynolds.   I did not realize that this is not only a great comedy , but it turns out it is also a awesome love story. Is the one you are meant to be with still out there?
Guy works every day at a bank where the same thing happens over and over again. Then Guy finally finds the girl of his dreams. He will have to change his entire life, and discover a few big things about his life, before he can get the girl.  When she tells him the truth about who he is he will have to come to terms with it before he can go any farther.  She needs his help not only with an online mission, but also a real life mission. As the world watches his life, he begins to get ahold this world he only knew a part of .  Now he's got the whole world cheering for him to save not only the girl, but his life and his world.
Film Synopsis
A bank teller (Ryan Reynolds) who discovers he is actually a background player in an open-world video game decides to become the hero of his own story – one he rewrites himself. Now, in a world where there are no limits, he is determined to be the guy who saves his world his way… before it's too late.
20th Century Studios' Free Guy Bonus Features*
Deleted and Extended Scenes

Guy and Buddy Hit the Beach
Hot Nuts Gets Blown
NPC Rally (Extended)

Gag Reel
Dude vs Guy – Join Ryan Reynolds, director Shawn Levy and the creative and stunt teams as they reveal the innovative process of creating Free Guy's ultimate showdown between Guy and the wildly amped-up, spray-tanned, frosted-tipped version of himself known as Dude.
Creating Molotovgirl – Jodie Comer transforms from a brilliant programmer to her fierce avatar in Free Guy. Watch as the award-winning action star and filmmakers deconstruct the conceptualization, evolution and execution of bringing Molotovgirl to life.
It's Taika's World – Free Guy's outrageous action may exist in a virtual world, but Taika Waititi makes the real world just as crazy with the over-the-top Antwan. See him at work in this entertaining showcase of a genuinely talented and hilarious performer.
Welcome to Free City – Delve into the reality-skewing universe that is Free City, as revealed by director Shawn Levy, the cast, and its inventive creative teams. Find out how they transformed a real metropolis into a virtual playground where anything is possible
Trailer
Social Media
Twitter: @FreeGuyMovie
Facebook: @FreeGuyMovie
Instagram: @FreeGuyMovie
#FreeGuy