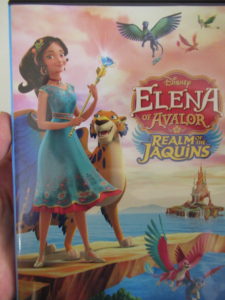 Ok lets first start this off with where do I get a Jaquin.  they are so cute I need a Skylar in my life, a great best friend to any princess.  Which of course I think I am.  You will get to go on a great adventure with Elena and her best friend Skylar to save the Sunbird Oracle to save the kingdom.  Now I have to say Elena is one of my favorite princesses.  Not only her style but her love for life and attitude. If you are looking for a strong princess charter you don't have to look any farther.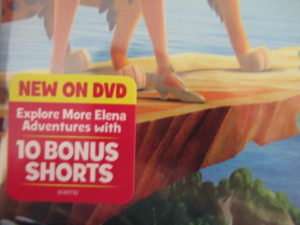 Join Elena as She Travels to the
Magical Land of the Jaquins!
ELENA OF AVALOR: REALM OF THE JAQUINS
Bring Home on Disney DVD August 7th
Includes 10 Bonus Shorts!
Synopsis:                      Join Crown Princess Elena as she soars through a hidden gateway into Vallestrella, the mysterious, dazzling domain of the jaquins. On the way there, she accidentally releases a mythical forest sprite that could endanger Avalor! Now Elena must find the jaquins' magical, legendary Sunbird Oracle to save the kingdom!
Voice Cast:                   Aimee Carrero as Elena; Jane Fonda as Shuriki; Lou Diamond Phillips as Victor Delgado; Cheech Marin as Quita Moz;Noël Wells as Marimonda; Carlos Alazraqui as Skylar; Yvette Nicole Brown as Luna; and Chris Parnell as Migs
Creator/
Executive Producer:       Craig Gerber
Co-Executive Producer/
Story Editor:                      Silvia  Olivas
Episodes:                     Realm of the Jaquins (44-minute episode)
Three Jaquins and a Princess
Shapeshifters
Bonus Features: 10 Bonus Shorts-          
                                    Adventures in Vallestrella – Flight of the Butterfrog
Adventures in Vallestrella – Sleeping Sunbird
Adventures in Vallestrella – Fast Food
Adventures in Vallestrella – Peabunny Boogie
Adventures in Vallestrella – Human Nature
Scepter Training with Zuzo – The Heist
Scepter Training with Zuzo – Royal Treasury Escape
Scepter Training with Zuzo – Nothing But Blaze
Scepter Training with Zuzo – Stoway
Scepter Training with Zuzo – Don't Be Our Guest
Release Date:               August 7, 2018
Ratings:                                TV-Y (US)
Run Time:                           Approx. 90 minutes (not including bonus)
Aspect Ratio:                     1.78:1 Widescreen (Enhanced for 16×9 Televisions)
Audio:                                  English 2.0 Dolby, French 2.0 Dolby & Latin Spanish 2.0 Dolby
Subtitles:                      English Line 21, English SDH, French S & Latin Spanish
Closed Captions:              English