Looking amazing is not difficult or expensive. If you want to make a positive change then the only thing that you need to do is follow these top tips. Take a look below to find out more.
Tie It
Did you know that it is more than possible for you to turn your t-shirt into something spectacular by simply up-styling it? Tie a knot in your shirt and pair it with a mini skirt, whether it's pleated, printed or even voluminous. Knotting your shirt at the waist will easily show off your curves and it will give you a much more polished look too, so keep that in mind.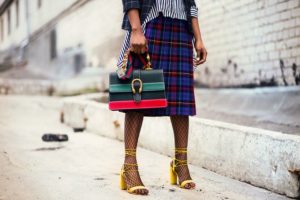 Roll It
If you want an instant update to everything in your wardrobe then simply roll your sleeves up. If you have some long-sleeved shirts then roll them up or even roll the cuffs on your shorts. You can also roll the bottom of your denim jeans up as well if you want. This is a subtle trick that will help you to revolutionise an outfit that you might have worn a million times. As if that wasn't enough, it is also a very low-key way for you to show off what footwear you have as well. When it comes to baggy jeans, it's more about rolling rather than cuffing. After all, you want to stick with the more casual fashion look.
Try out some Accessories
If you can you also need to try and pair some accessories with your outfits. This is very easy to do and you would be surprised at how easy it is for you to get the best look with hardly any effort. If you are going to a really formal event, then why not try and pair your outfit with a 1 carat diamond? When you do this, you will soon find that you are able to look way smarter without having to change your outfit at all. If you're wearing a black dress, then remember that necklaces are the best way for you to add that "wow" factor.
Co-Ordinate
If you are wearing blue jeans, you may think that wearing blue heels is the way to go. This isn't always the case, in fact, it may be possible for you to wear a red shirt with red heels, along with your blue jeans. This outfit is still coordinated but it also gives you the chance to add some more colours to the mix. Vibrant looks like this can help you to make the most out of your outfit and you would be surprised at how easy it is for you to not only make everything work, but for you to also stand out from the crowd.
Of course, it's always easy for you to spice up some of the older outfits you have in your closet and if you follow these tips, then you will soon find that it is easier than ever for you to not only feel better but to also look better too.