Yaaaa  Easter is coming and we have some awesome gifts for your baskets this year.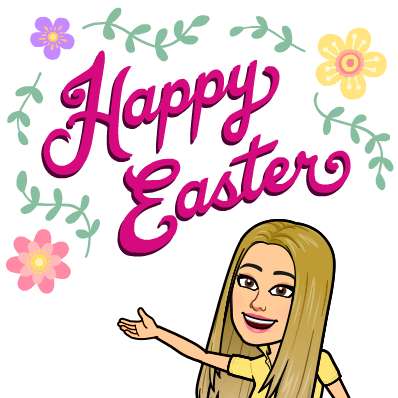 Gift Card Granny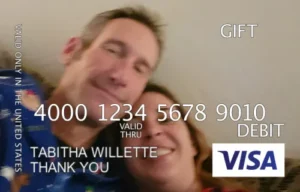 Before you say anything no this is not the card number lol.  I LOVE Gift Card Granny.  Being able to put a personalized picture makes it even more epic. Easter is such a magical and joyous time to celebrate the special people who enrich your life with their presence in mutually shared, loving family or extended family relationships, or through long standing and loyal friendships. This year show your gratitude for these people with a personalized bespoke gift to be treasured. At giftcardgranny.com the Build-a-Card Visa or Mastercard option lets you upload an image which showcases the priceless moments you've shared. It might be a photo of the two of you explaining to your kids that bunnies don't lay eggs, or a snapshot of a mutually mesmerizing Easter sunrise, experienced together, when you first understood the true meaning of this special day. Add a text message which demonstrates all the "feels" your heart holds for your recipient, and the funds which will allow her/him to chose a special Easter/Springtime treat. This e-Gift Card showcases the priceless memories shared and will continue to delight this giftee for years to come.
Kiieer Hair Growth 
Price: $595-$925
Kiierr Hair Growth has put a "cap" on hair loss! The Kiierr Hair Growth laser cap is a powerful, cutting-edge, low-level laser device for treating androgenetic alopecia (pattern baldness). It's a game-changer that brings happiness and confidence to those afflicted with any type of hair loss due to chronic illness or aging. Some even use it as a preventative measure as well. Kiierr uses low-level light therapy (LLLT) in the Kiierr Laser Hair Growth Cap, which is clinically proven to treat hair loss. It's a clean method and doesn't result in dirty or wet hair during or after use. It's also used with other therapies, products, and treatments with no side effects and no harmful chemicals entering the bloodstream, as with other hair growth treatments.
Jelly Belly Gum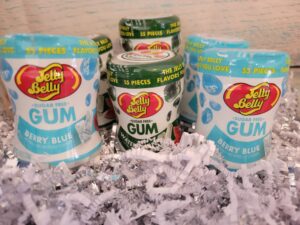 We got to try this gum for the Holiday Gift Guide and fell in love.  My son loves Jelly Belly and the gun is amazing.  It holds its flavor and the flavor is fantastic. The new gum gives Jelly Belly enthusiasts the Jelly Belly flavors they LOVE in a long-lasting gum format. It comes in Watermelon, Berry Blue, Island Punch and Very Cherry and is available nationwide at Party City, Dollar General and Amazon. It's the perfect addition to any Easter basket.  These are an awesome Easter Basket stuffer make sure to stock up.
Revitalize Lavender & Sage Body Butter
Body Butter is a must all times of year.  In the winter my skin gets so dry and, in the summer, when I'm out in the sun all day it is so refreshing to use at night.  I love how the Revitalize Lavender & Sage Body Butter     just soaks right into my skin and it smells wonderful.  It is such a refreshing body butter to put on at night, drifting me right off to sleep. Quench your dry skin with this reviving blend of aloe vera, organic sunflower seed oil, coconut oil and cocoa butter.
Montic Watches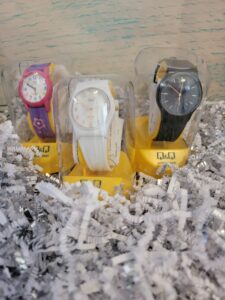 When I saw these Montic Watches I loved the different colors and the fact that I can buy a few and I can now match my watch to my outfit.  They are high quality and work perfect.  They have digital and watch face ones they have a wide range of kids and adults.  As you all know I love the kids ones they have so many vibrant colors and they are beautiful.  I love the idea of getting a few new watches for Easter.
Rinna Beauty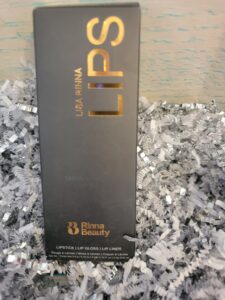 I have always been a huge fan of The Real House Wives,  when I first got the chance to try Rinna Beauty  I was instantly in love.  This set is not only awesome, they have beautiful colors.  I love that the lipstick it self have a little magnetic closure.  I can feel it pop closed so I know I can toss in my bag and go.   I am so a lip girl.  Even if I don't wear any other makeup I always have my lips done and this set is amazing.  I have tested hundreds and I can honestly say this set is amazing.
Dedicated Stars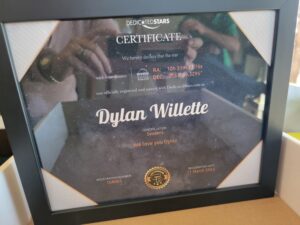 I have always wanted to Dedicated Stars to my little guy.  He loves to look a the stars and now he has one dedicated to him and he loves it.  If you have a little star lover then this is an awesome gift for them.  I love that you can even do couples names for a special memory or person.  This is so easy to do and the web site was so quick.  You can get a framed copy like I did or pay less and get it sent to you to print out.  There are so many options.
Groovy Girl Gifts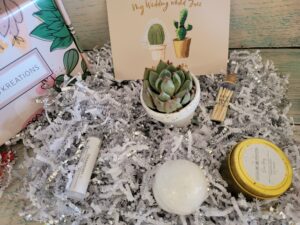 I love that they have awesome gift for any occasion. They have gift boxes and other amazing gifts.  I have never gotten anything from them that was not amazing.  This one is part of the Brides Maids Gift Boutique The Succer Gift Box is amazing. It has everything for not only a bridesmaid gift , it also makes for a perfect Easter Basket. Each box comes with a succulent, a hand-poured soy candle, and a jar of matches. All with a personalized note so you can let her know how much she means to you.
Kidamento Camera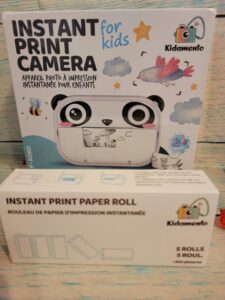 If your little one is anything like mine they love taking pictures.  I love that Kidamento makes cameras just for them.  They have a wide range of cute cameras. These cameras are cute and help your kids learn the basics of taking pictures.  They cameras are a little bigger so they will help with your kids hand eye coordination. If you are looking for a cute non candy item for their Easter basket this year make sure to check out Kidamento Cameras.
Groovy Guy Gifts Cigar Minder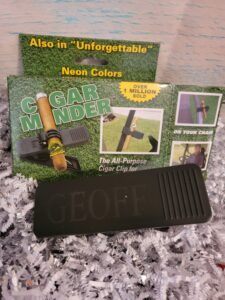 I have a cigar over and his name is never found on anything.  I love the idea of giving him a cigar holder for when he is playing golf and it is even personalized.  Groovy Guy Gifts has a wide selection of golf and cigar gifts that are at a great price.  The Cigar Minder can hold his cigar while golfing and even clips to the cart for when he has to put it down.
Groovy Guy gifts Golf Club Cover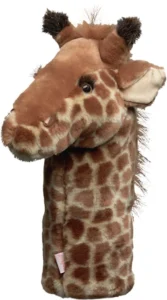 We have a lot of little golfers in our family now and one thing I always loved was the Golf Club Covers.  The ones from Groovy Guy gifts are truly amazing.  They are fuzzy look great and fit our golf clubs perfectly.  I love all the different animals they have the Giraffe is so cute and I can't wait to give it to my nephew next time I go visit.   Just like all their other products they have a great price and quite a few different ones to choose from
Salty Resin Art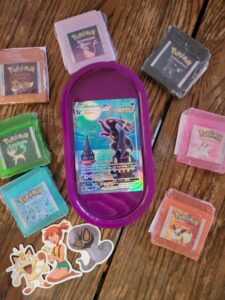 As you all know I LOVE POKEMON and I found Salty Resin Art in out of my fan group and fell in love.  This is a soap dish with Pokemon soaps.  They can make any Pokemon you like and they even glow in the dark.  I was instantly in love.  Make sure to check them out they make so many different items I will so be buying more.
Sunday Citizen Casablanca Throw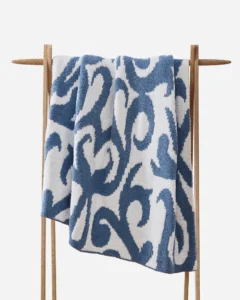 I have blankets all over my house.  I can never have enough. Now I have found the Throw blanket of all throw blankets.    You have to be a pretty good blanket to impress me and I am impressed.  This blanket is not only warm as can be it is so soft. The Casablanca Throw  is an oversized blanket that is like cuddling with a cloud. It is hypoallergenic, double knit and thermoregulating.  You are going to be in love at first cuddle.
Amba heated towel racks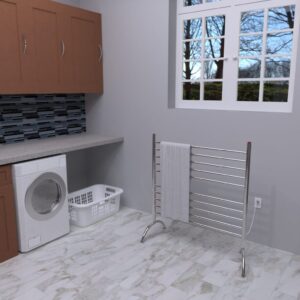 Can you say the perfect gift for a bath lover like me.  My mom had one in her bathroom and I loved putting my towel on it and getting out of the bath to a nice warm towel.  I always thought this was something I would never have.  Little did I know that yes, I can afford one and it is amazing.  A lot of people think that because I live in Arizona that it is always warm.  Nope we get freezing cold here too and their is nothing like getting out of a warm bath and wrapping up in a warm towel. Amba heated towel racks makes a few different ones to choose from so even if you are a renter like me you can have your own heated towel rack and if you move it can just pick up and go with you.
Glo-Up Girls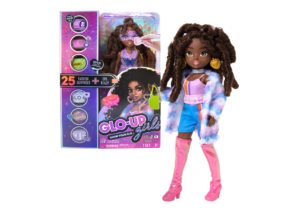 I love the line of Glo-Up Girls from Far Out Toys.  When I was young I was such a doll girl I could never have enough.  Of course anyone my age knows that our  dolls did not even come close to what kids have now.  This is an awesome line that helps show your kids that it is ok to be what you want to be. There is no more of the thinking that you have to be perfect to be accepted all you have to be is you and that alone will make you perfect. This Easter, fill your child's basket with the highly fashionable GLO-Up Girls dolls from Far Out Toys! The GLO-Up Girls fashion doll line builds on the massive cultural phenomenon of #GlowUp – a hashtag with more than 40 billion video views on TikTok. The dolls offer a full "Glo-Up" experience including spa, nails, hair, makeup and fashion play, and even a real beauty mask for the girl! The dolls retail at approximately $19.99 USD each. The fashion doll line was a Toy of the Year Award nominee in the Doll category and is currently sold at Target stores and distributed in the UK, Ireland, and Australia.
Rift Ball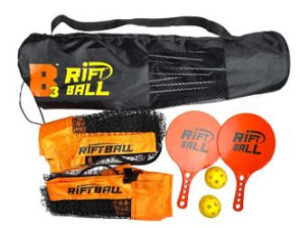 I love when i can give a great gift to the whole family.  Rift Ball  is a great game that you can play with 2 people or more.  As it is warming up we are al getting back outside and this is a game that will let you have fun all summer long. Creative Brainworks has just added a new on-the-go, paddle game to it's B3 games line up. The new Rift Ball is an exciting update to the classic two player net game where players engage in a fast paced rift to keep the ball in play.
Macoma Boutique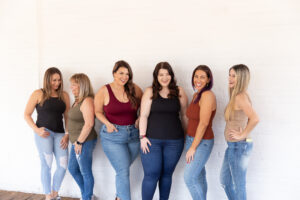 As most of you know I live in tank tops.  I do not wear anything else.  I love when I find new styles and colors and Macoma Boutique has a great collection with a bra built in. Women looking for support for their everyday outfits can now turn to the Brami ribbed style ($44) to help complete the look with four different colors from spice, black, olive & raisin. It also comes in a smoothing tank style ($42) in olive, raisin, mocha & black for a more business look completion. More importantly, Brami styles come in sizes ranging from XS to 3X to support women of all shapes and sizes. More importantly, each shirt is designed and manufactured in the USA by women.