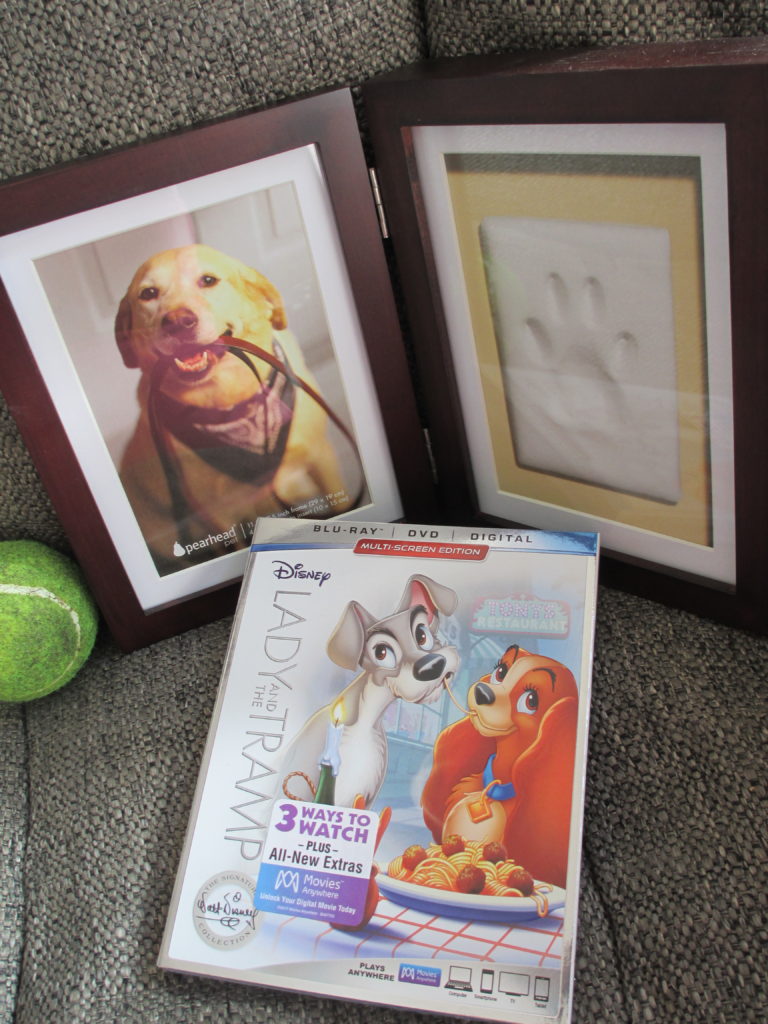 What goes better together than a family movie night and a great memories project for the family.  If your dogs are anything like ours they are a part of the family.  I of course have seen Lady and the Tramp but this was new for my little guy.  He loves dogs and I knew this was going to one of his favorites.  A fantastic story of friendship and love with two dogs from different sides of the track.
The Walt Disney Signature Collection edition offers three exciting ways to watch "Lady and the Tramp"—the original theatrical version, sing-along mode and Walt's story meetings—both Digitally and via the Multi-screen Edition (formerly the Blu-ray Combo Pack). The Multi-screen Edition includes Blu-ray, DVD and a Digital copy, giving in-home consumers the flexibility to watch the film on different devices. In addition to classic bonus features, all-new extras invite viewers to enter Walt Disney's original office suite on the Studio lot, discover Walt's personal passion for pups, and receive a celebrity-hosted spaghetti and meatballs cooking lesson.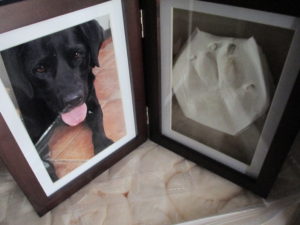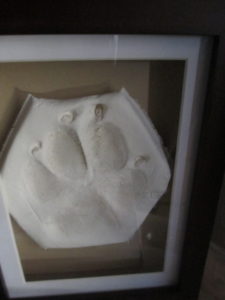 As one of the greatest love stories ever told, "Lady and the Tramp" is sure to melt the hearts of generations with its beloved characters, brilliant animation, memorable music and sweet sentiment. The animated treasure tells the story of Lady, a lovingly pampered cocker spaniel, and Tramp, a freewheeling mutt with a heart of gold. Through the Signature Collection edition, viewers can relive the pair's thrilling adventures, sing along with the film's unforgettable songs like "Bella Notte," and swoon over one of the most memorable movie moments of all time—the iconic scene in which Ladyand Tramp share a plate of spaghetti and an accidental kiss.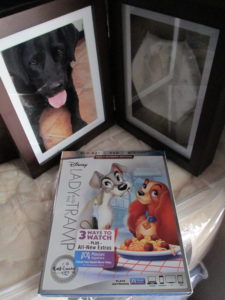 "Lady and the Tramp" is the sixth title to join the Walt Disney Signature Collection, which includes groundbreaking films created or inspired by the imagination and legacy of Walt Disney, featuring timeless stories and characters that have touched generations. The film takes its place alongside "Snow White and the Seven Dwarfs," "Beauty and the Beast," "Pinocchio," "Bambi" and "The Lion King."
Bonus Features:
BLU-RAY & DIGITAL*:
Film Versions
Original Theatrical Edition – Enjoy this cherished Disney classic that captivates audiences of all ages.
Sing-Along Mode – Sing along with all your favorite songs as you watch the movie.
Inside Walt's Story Meetings – As you view the film, hear reenactments of Walt's story sessions with animators and see how their ideas were realized on-screen.
New Signature Bonus
Walt & His Dogs – Through archival recordings and photos, hear the tales of the dogs Walt Disney owned and loved over his lifetime.
Stories from Walt's Office – Take a tour of Walt's office suite on the Studio lot, carefully re-created to look just as it did when he occupied it.
How to Make a Meatball and Other Fun Facts About "Lady and The Tramp" – Watch a delicious lesson on how to make perfect meatballs with teen chef Amber Kelley and Oh My Disney Show Host Alexys Gabrielle.
Songs
"Peace on Earth"
"What Is a Baby/La La Lu"
"The Siamese Cat Song"
"Bella Notte"
"He's a Tramp"
Classic Bonus Features
Diane Disney Miller: Remembering Dad – Walt's daughter shares memories of her father and Disneyland's early days, as well as a look at his apartment above the firehouse.
Never-Recorded Song – "I'm Free as the Breeze" – Take a listen to a song originally meant to be sung by Tramp.
Deleted Scenes
Introduction of Boris – Tramp wasn't always meant to be Lady's only suitor. Meet Boris the aristocrat and Homer the peasant in this deleted scene.
Waiting for Baby – Lady watches as Jim Dear plans out his new son's future in this early storyboard.
Dog Show – See the storyboards for this deleted scene in which Lady and Tramp unexpectedly find themselves in the middle of a dog show.
Classic Bonus Features on Digital Only*
Lady's Pedigree: The Making of "Lady and the Tramp" – A behind-the-scenes look at the making of Walt Disney's first feature-length animated film based on an original story.
Finding Lady: The Art of the Storyboard – Explore the origins of the storyboard and how they're used by filmmakers today.
Original 1943 Storyboard Version of the Film – View a unique presentation of the original 1943 storyboards for "Lady and the Tramp."
PuppyPedia: Going to the Dogs – Wild and wacky comedian Fred Willard takes us on an outing to the dog park to learn all about dogs and their owners.
Deleted Scenes
Turning the Tables – In this story-reel presentation, Tramp dreams of a world where dogs run the show and humans are on the other end of the leash.
The Arrival of Baby – In this alternate scene re-created from original storyboards and with original voice talent, Lady makes way for a new arrival.
Baby Arrives – Lady is baffled by the strange goings-on in the house—the arrival of a squealing bundle only deepens the mystery.
Lady's Sweater – Lady gets a new sweater for her birthday and must figure out an ingenious way to lose it for good.
Trailers
1955 Original Theatrical Trailer – More than just a trailer, this preview features several minutes of footage from the film and introduces each major character.
1972 Theatrical Re-Issue Trailer – This trailer from the 1972 rerelease heralds Disney's "happiest motion picture."
1986 Theatrical Re-Issue Trailer – Released theatrically for the 1986 holiday season, this trailer highlights the love story between Lady and the handsome Tramp.
I thought the impression was going to be hard to make, a bunch of stirring and baking, but it was so easy.  Just open package work for a few minutes, place on tin foil and flatten.  Then it was just getting Hubba to sit down long enough to make the impression and then just leave out to dry.  It really was so easy and it turned out so cute.  Then for the biggest problem.  I did not realize how long it has been since I have actually printed a picture.  In this day and age a lot of us forget to get out pictures printed.  So, a quick trip to the Appstore and my pictures were ready to pick up in less than an hour.
Pearhead's Pawprints Desk Frame and Impression Kit includes everything you need to make your furry buddy's paw print and display it in your home along with their photo. An adorable keepsake frame for any pet owner.
Instructions included to create paw print impression
Photo insert: 4″ x 6″
100% pet safe; Great for dogs or cats!
Espresso-stained wood and standard glass
Capture and cherish your furry one's paw print forever with Pearhead's pawprints desk frame
Includes shadowbox frame, acid-free beveled mat; Easily sits on any desk or table
Includes one package of soft, air drying clay, ruler, and double-sided tape
I got this free in exchange for an honest review