Cate & Chloe Jewelry Subscription box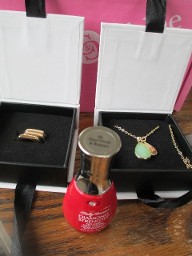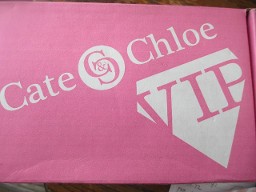 When this pink box shoes up in my mail box I get so excited.  I know I am about to open it up to some beautiful Jewelry.  Cate & Chloe is not only a fantastic subscription box but you can also just shop their store.  If you do decide to do the subscription box it is 39.99 a month but if you use code TABBYS25 you will get 25% off your first box.  The subscription box will give you 2 surprise pieces a month at a great discount.  Every time I have a box show up I love every piece.  You cannot go wrong with them.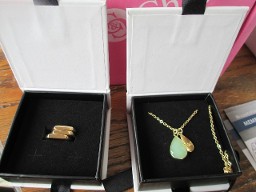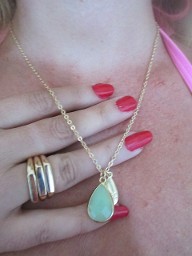 In my box this month I got
Kara "pristine" stacked ring set Retail $55.00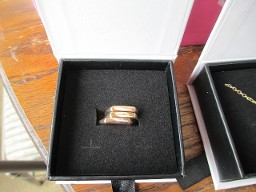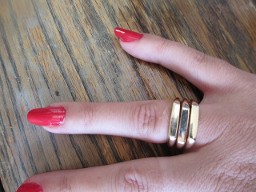 I love these rings.  They are nice and strong not flimsy at all.  You can wear them all together or one on each finger.  You can also just wear one.  The design of these stackable rings is beautiful.
C&C necklace   Retail $89.00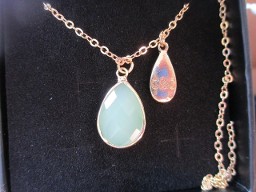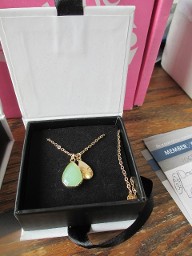 A beautiful gold necklace with a drop green gem.  The design is beautiful and it hands beautifully.  The chain it came on is nice and strong.  It also comes with an extender so you can wear it longer or shorter.  Truly a simple yet elegant piece. This one will go from day to night easily.
Sally Hansen Diamond Strength (Diamonds & ruby)
    You will get a special nail polish if you order before August 4th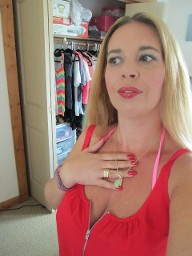 As you can see the Subscription VIP box is more than worth the money you pay. For less than just the price of the ring I got the necklace and the nail polish.   Also if you buy before August 4th you will also get a great Nail polish.  A little something extra that really made my rings pop.  I am truly in love with Cate & Chloe and think everyone should give them a chance.  There is no question in my mind why they had to be part of our Summer Must Have Event.
To join them on facebook head here
To tweet with them head here
To start your Subscription box head here use code TABBYS25
I would like to note all though I was given this product free to try all opinions are my own I will always be truth-full with you guys.