Cate and Chloe Jewelry + bonus makeup brush set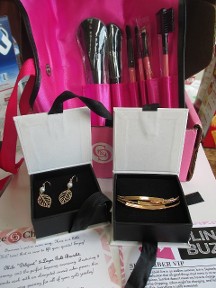 Let me start with OMG they have hit it out of the park again.  I have been a fan of Cate & Chloe for awhile now but once again they have impressed me.  This is not only a fantastic Jewelry subscription box but you can also buy just by the piece.  Every time this box shows up my hearts skips a beat and I know I am about to open pure bliss.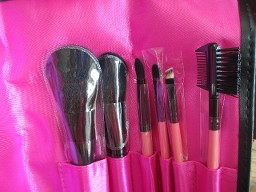 The Cate & Chloe VIP box is a must have not only do you get two great pieces of jewelry every month but you will also get a beauty surprise.  This month I got a makeup brush set that was fantastic.  I took it with me on vacation and the brush set worked like a dream. 
  Mila "diligent "3 layer Gold Bracelet
     Is gorgeous this bracelet can go with anything.  It is a bold look with three chord strands with gold bars in the middle. 
Ashlyn "Nature" Leaf Pearl Earrings
   I cannot say enough on how beautiful these are.  They are very delicate looking but they are actually very strong.  They will truly make a statement with anything you wear.  They hang beautifully and just look amazing on.  Make sure to get a pair of these to go with your fall collection.
Cate & Chloe is truly an amazing company with amazing jewelry. 
   They have even offered us a fantastic offer.
  A special 15% off your first VIP box for our fans only with code TABBYSPANTRY15
  Plus they will also donate 15% off all of October VIP sales to the American Breast Cancer Association
I would like to note all though I was given this product free to try all opinions are my own I will always be truth-full with you guys.