Cate & Chloe Jewlery Review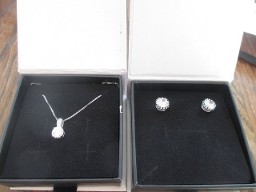 Cate & Chloe is a fantastic jewelry subscription box that you will just fall in love with.  When I got the chance to check it out I was really excited I love jewelry.  When this showed up I had no idea that I would find such beautiful pieces inside.   For only $39.99 a month you will get over $200.00 of designer jewelry.  They have everything from rings, bracelets, necklaces, earrings and more.  You will get them delivered straight to your door once a month.    Don't really want to go the subscription box way?  That is not a worry at all you can buy individual pieces at a fraction of the retail price and its free shipping on orders over $49.99.  I love that if you see something you must have you can just hop on and buy the individual pieces you like.
When this showed up I first fell in love with the box Woo hoo pink.  But I was even more amazed when I opened the box the packaging was beautiful and the boxes the jewelry came in were even more amazing.   Each little jewelry box is very cute and if you were going to give the pieces of jewelry as presents they are  packaged and ready to go.
The jewelry pieces they have are beautiful and very high quality.  In my box I got The Olivia "dignity" studs retail value of $125.00, and the Mary "Motherly" Necklace Retail value of $115.00.  These pieces were so shinny it took me quite awhile to get a good picture so you could see how beautiful these pieces were. The chain on the necklace is a thinner silver chain but I was impressed on how strong it was.  The stones in both the necklace and the earrings were great quality.  Cut perfect and the sine was just unbelievable.  The accents on both of the pieces really made them unique and beautiful.    Weather you are going for the subscription box or just going to buy a few key pieces I would suggest them to everyone.
To join them on facebook head here
To tweet with them head here
To buy your very own head here
I would like to note all though I was given this product free to try all opinions are my own I will always be truth-full with you guys.